Tag: Unated Colors of Benetton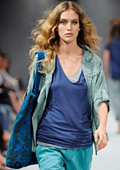 World fashion
ARMY LOVERS - The rigour of military clothing is softened by romantic, ultra-feminine touches. This creates a look that marries two very different but mutually attractive worlds. The key fabric is cotton, all kinds of cotton: gabardine, canvas and jersey for outerwear are turned into trench coats, multi-pocket jackets and parkas. Cotton teamed with linen, silk and viscose creates blouses and shirts, T-shirts, dresses, trousers and skirts. A variety of weights, volumes and layering is instrumental in taking the edge off the basic theme.

The lightness of the muslins and the seemingly random layering of jersey and ultra-fine knitted sweaters offer the appropriate compromise to help us accept this contrast of two styles united to tell a single story. The palette centres around powdery shades of pinks, greens and greys. Optical white ensures occasional flashes of light.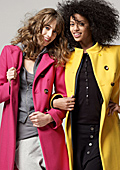 Collections
Freedom is a clear, simple word with many meanings. In this case, freedom is what we allow ourselves in choosing our everyday look. United Colors of Benetton has always followed this path and offers even greater freedom of choice for the new winter season.

SPARKLING DENIM - The theme centres around denim, the quintessential casual fabric. Presented in different versions and teamed with other materials, its versatility is shown to best effect. Denim and faux leather for a bold, edgy woman. Denim and jumbo sequins for tongue-in-cheek fun. Denim and wool cloth to reject the carved-in-stone rules in the books. The palette displays a range of dark shades, starting with black and going through the various stages of blue to finish with flashes of white. The fit is decidedly slim, top and bottom, and puts the accent on leg length.