Kate Hudson in Autumn/Winter 2015 Jimmy Choo campaign
Since her Oscar-nominated performance as enigmatic rock star Penny Lane in 2000's hit Almost Famous, actress and Hollywood royalty Kate Hudson has become a red carpet favourite with her effortless bohemian glamour.
Citing Julie Christie, Anita Pallenberg and Cher as her style inspirations, Kate herself has become a fashion icon, topping best dressed lists by choosing Seventies silhouettes and modernising them with well-chosen accessories.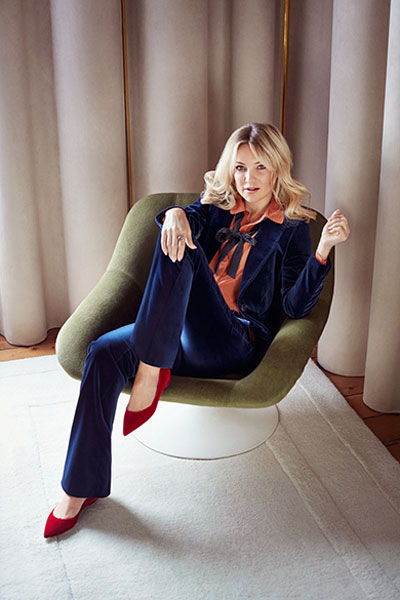 For Autumn Winter 2015, Kate Hudson shares an exclusive interview and photo diary including some of her favourite styles from the ballet-inspired Jimmy Choo collection. An experienced ballet dancer, Kate reveals how she translates the discipline to her acting career and how this self-expression connects her with her characters.
Describe your style and any eras, icons or influences you have?
I would say that my style sort of depends on my mood, but comfort is definitely the common denominator, which means a lot of pieces that are flowy and light. I've always been attracted to the '70s – sexy, with a lot of freedom in the overall aesthetic. My fashion icons are Julie Christie, Anita Pallenberg, Kate Moss and Cher.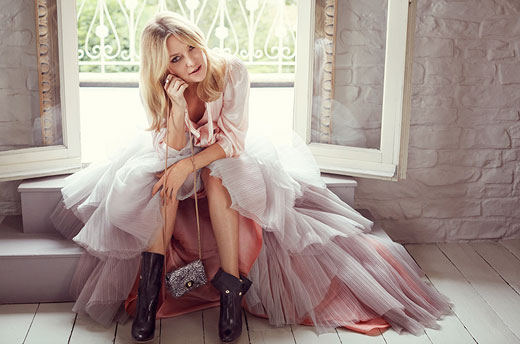 The Autumn Winter Jimmy Choo collection is inspired by ballet – how does the discipline affect your approach to fitness?
I grew up dancing. My mom put me in dance classes since I was three years old and I did ballet up until 12 before she allowed me to take more types of dance, like lyrical. I wasn't allowed to skip class; I just knew I had to go. If you have that kind of discipline as a kid it sort of translates to everything. Dancing really connected me to my body in terms of understanding what my body needs. The beautiful thing about dance is you have this intense discipline and once you have that foundation, you can feel free and let go. It applies to everything, even acting – you rehearse and get connected to the character in order to let go and get inside who that person is.
What are your favourite red carpet (or film costume) outfits - why are they so special?
I feel really lucky because I've gotten to work with great designers and costume designers. I love fashion so I get excited about being able to dress up. Creating the wardrobe is also one of the most fun parts of creating a character for me. I would say my favourites were the costumes on "Nine" and getting to work with Colleen Atwood. For red carpet, I really loved the Versace I wore to the Golden Globes this year and the gold Versace I wore to the Oscars in 2003. I also loved the Valentino print I wore to the Golden Globes in 2003 and the McQueen I wore to the Globes in 2013. There are so many more that I really loved – it's hard to choose just one because I probably wouldn't have worn anything I didn't really love.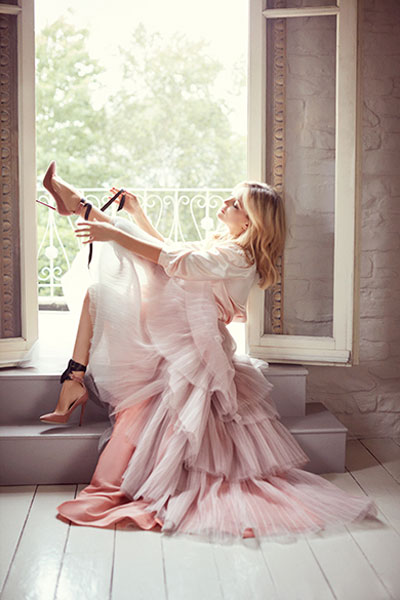 What is your favourite Jimmy Choo style from the Jimmy Choo shoot today?
I think my favourite look was the pink velvet ballet heels with the big skirt we shot in the window. The whole look had a vintage Oscar de la Renta vibe to it; it was so ethereal and relaxed. Those shoes are beautiful and the colour of the shoes made the black dress feel so special.
What is your earliest fashion memory?
I was a little girl and I went with my mom to a fitting with Bob Mackie for a special she was working on. She was in his studio and there was fabric and sequins everywhere. I was in awe; it was like being in a little fashion dream! I remember he made me a package of little sequin bow pins, in all different colours. There were about ten in the package he made me, and it was a moment I will never forget because I was so excited.
What motto or life rules do you live by?
I have a couple of them. I think it starts with authenticity. For me it is something I really struggle with because if I feel like I'm letting people down if I'm trying to conform to what others think I should be. To be authentic and truthful is truly the most important thing for me. It can be scary because not everyone will like your truth but I find when I'm in that space, I'm a lot happier in my life and I feel less pressure and less concerned. Also, the idea that you only live once. The idea of living each day as if it might be the last makes you want to be present and enjoy. Your eyes open up and really see things. I just want to make the most of it while I'm here.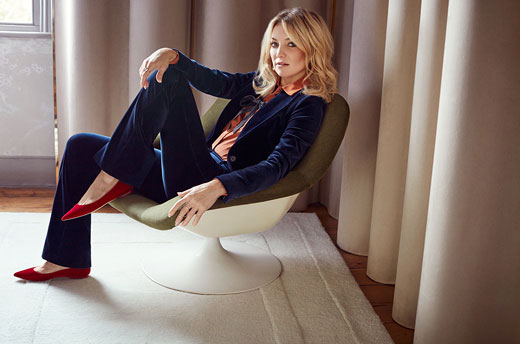 Describe the memories you have of your first pair of 'grown up' heels?
I must have been 12, and it was graduation. My mom didn't let me wear heels back then, but I used to go in her closet and try hers on, of course. I wore a sundress that had a big skirt and it was white with little cherries on it. My mom bought me my first pair of high heels that day; they must have only been an inch or so. They were bright red and she gave them to me all wrapped up. I was so happy! So my first pair of heels were bright red pumps, which I couldn't have been more excited about.
How do you and your Glam Squad decide what to wear to red carpet events?
I work with a lot of the same people and everyone's opinion matters. It is usually a hard choice between two, typically totally different directions. We all weigh in and then really just talk about it. Sometimes it sort of works itself out and sometimes we just play. Putting the hair up, leaving it down, it is like playing dress up, figuring out what makes sense for this look and for you as a person. And it has to feel comfortable, that's key for me.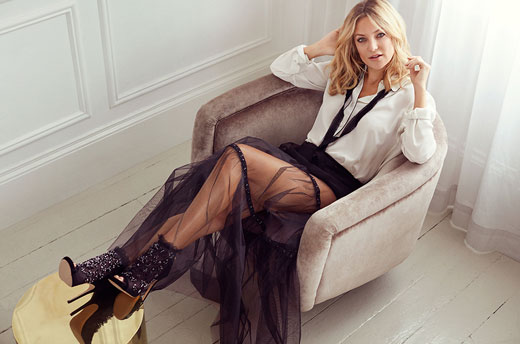 Which performances have you learned the most about yourself since you became an actress?
Even the movies that aren't as well known or successful still have had a huge impact on me as learning experiences. I love being on movie sets and I have learned something on every one I've been on. I love observing the process of making a film, I love to learn so I really try to take it all in. Some movies are longer shoots, so you develop deeper relationships with people. "Almost Famous" was a very long shoot so it is very memorable for me. I also loved working with Robert Altman and experiencing his style of directing, he was all about the freedom of the actors. He once told me that he was the canvas and we were the paint. That is part of what I love about the job, I've learned from so many different filmmakers. But, I've always been attracted to and fascinated by the camera department, and fortunate to watch and work besides such masters as John Toll and Bob Richardson. I asked questions about types of lenses and usage of light – everyone has a different approach. What I've learned is to stay present in the work and not bring my personal life to my job.
What are your best beauty tips?
My mom's makeup artist for years, Tom Case could have four items and would make the most beautiful face. He was a master at contouring and I remember studying him while he would do my mom's make-up. That is where I learned to highlight and shadow. I think the thing about beauty tips is that it is different for everybody. How one person highlights their face isn't always how another person should because we have different bone structures. Inside eye liner for natural makeup is another one. If you put eyeliner on the inside top as well as bottom it really opens your eyes up and make them pop.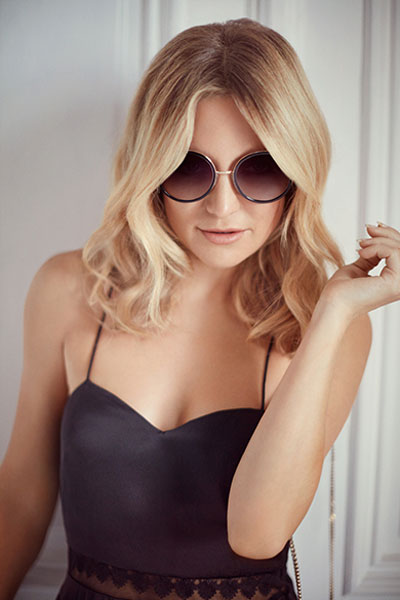 What health/fitness changes should we make to improve their lives?
I would say cutting sugar, or at least being aware of how much you are ingesting in a day and limiting it. That was an eye opener for me; I realized I was craving it like an addict around 4 pm every day. I would crave something sweet and it hit me how much sugar we really eat. That is a game changer. Fitness wise, try to do something active that doesn't feel daunting, and make yourself do it four times a week. It doesn't need to be long; it could be a walk around the park. Anything that gets you moving and your lungs expanding four times a week gets you motivated. It gets your heart rate up and gets you connected to your body. The third would be more about mental health and meditation. My mom and brother have been doing it forever, and I never felt like I had the time with work and my kids. It was my New Year's resolution last year to meditate five to ten minutes a day. That has been the biggest change in my life. I have gone from five minutes to twenty and it starts my day off more grounded and more focused as well as less reactive. It is a tool I go back to throughout the day when I am feeling stressed in order to center myself.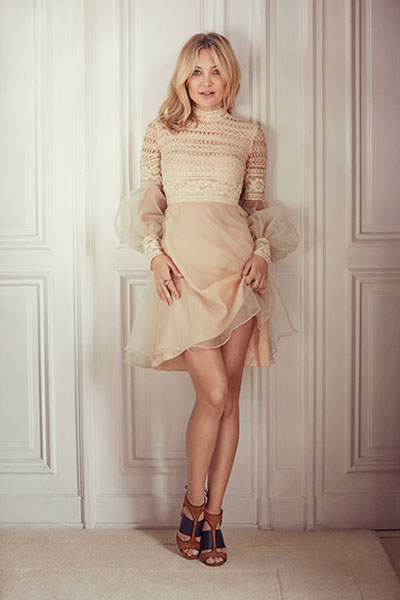 Photos and information: jimmychoo.com


Hits: 6307 | Leave a comment