Dress to impress - draw your own dress
You can draw whatever picture you want or you can even create an application or collage on our template. You can use pencils, markers, pastels, etc. The picture will be printed on white fabric and we will send you the complete dress with your design on the front and back.
And you will also have a unique dress that no one else has!
Everyone has a t-shirt, be unique, create a unique dress!!!
You can even create your own collection!
How to create the dress:
Step 1 Check your size here
Step 2 Download a template according to your size(3, 4, 5, 6, 7, 8...)
Step 3 Print the template and draw your model
Ideas: You can draw your dress to match your favorite accessory - bag, scarf, shoes. You can draw a landscape or another painting - everything that you want to wear, but you don't find in the shops. You can use pastels, pencils, water colors and you can even make a collage. Be careful - everything will be printed the way you have drawn it, so try to make everything within the lines of the template the way you wish it to appear on the dress! It is not a problem if you draw outside the contour.
Step 4 Take a photo of the drawing with a phone/camera with the best possible resolution (more than 5 MP optical zoom) and attach it in the order.
- Take a photo of the drawing on a well lighted place and you should not cast a shadow on it.
- Keep your phone/camera perpendicular to the drawing as close as possible to it to capture all the details.
- Keep the phone/camera steady so that the picture does not blur. It should be in focus and with good contrast.
Step 5 Order your dress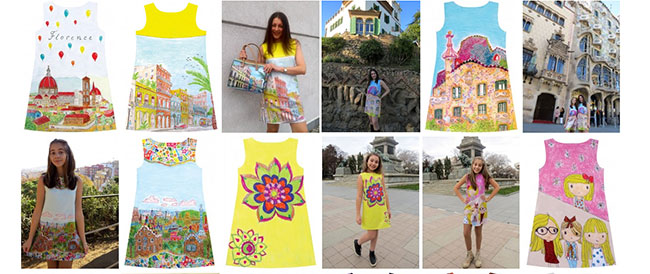 Be a designer of your dresses! Turn your clothes into art!

Hits: 18496 | Leave a comment