Re.Verso & Filatura C4 at Filo
Filatura C4: Re.Verso™ partner of excellence for smart wool yarns for contract and woven fabrics for fashion, is now presenting at Filo its exclusive A/W 2017/2018 "Thanks to a shared philosophy and dedication to sustainable manufacturing and business, both companies have collaborated, with the support of C.L.A.S.S., to present a new dimension in eco-smart re-engineered wool based yarns, signed Re.Verso™ by Filatura C4, now especially targeted for the contract market" declared Alessio Catani, Managing Director of Filatura C4.
Re.Verso™ is the identifying trademark of a new Italian textile system, a fully integrated chain that allows the creation of unique and highly valuable materials. The supply chain is based on pre consumer clippings, never used, given by the best Italian and international brands/producers of the fashion industry. This system allows great savings in terms of energy & water consumption and CO2 emissions as certified by the LCA (Life Cycle Assessment) done by PRIMA Q. The system is certified Global Recycling Standard (GRS), ISO 9001 and SA8000.
A favorite partner for each field: A. Stelloni Collection By Mapel for the fashion textile, Filpucci for hiend knitwear yarns and Filatura C4 for the contract design textile and generally for woven textiles.
This launch demonstrates, further, that the Re.Verso™ concept, after its debut in the fashion market with positive feedback as the Gucci's adoption, is gaining, step by step, a real acknowledgement as leader of the sector due to several relevant factors: it is unique, transparent, traceable and certified, highly technological System and process as well as the definition of selected partnerships.
This joint venture began when Filatura C4 realized the unique added value the Re.Verso™ concept can offer, neatly matching their own business profile and philosophy. That is, since the beginning, the creation of high quality products and performances through Research & Development of materials with low environmental impact as well as the use of sustainable and recycled raw materials.
Re.Verso™ collects sorts and reprocesses pre-consumer textile waste in a new way that is accredited, fully transparent and fully traceable at every stage. This means it completely matches a Filatura C4 creative dedication to be 100% Made in Italy, while making the best quality recuperated yarns that perform without compromise, and can replace virgin yarns use, saving on raw materials, costs and environmental impacts.
RE.VERSO™ COLLECTION
This collection has been created, to meet the increasing demands of the market in the recuperation of textile fibers and to meet environmental responsibility.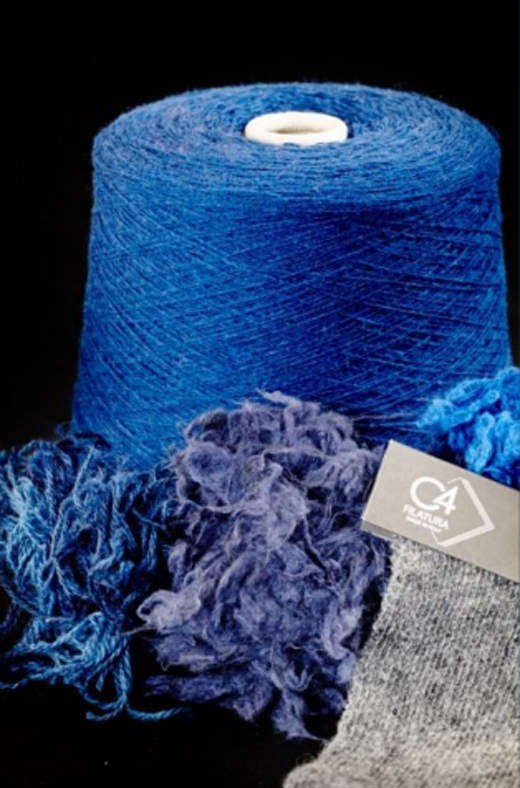 Products by FILATURA C4

The yarns in this Re.Verso™ collection are manufactured from a combination of natural fibers, mainly re-engineered wool coming from pre-consumer textile materials, with artificial, traditional synthetic and technical fibers.

Through this Re.Verso™ line, the company offers products of good quality, with low environmental impact, using eco-sustainable raw materials in an eco-responsible production process. The Re.Verso™ yarn are available in a wide range of counts that may vary from Nm 5.000 to Nm 9.500 and can be offered in single end or twisted.


Hits: 3932 | Leave a comment