Be The Life Of The Party, Get A Piggyback Costume
In case you have a costume party coming up and you don't know what to get dressed with, we know just the right solution. Get a Piggyback Costume and you are all set. This is both funny and cool looking at the same time. In case there are kids around the party you could amuse them by wearing a costume that makes it look like you are carried by a frog, teddy bear or even Santa Claus himself.
Using a carry me costume can be surprisingly comfortable contrary to popular belief. The reason behind this is that they are created from soft materials. Additionally, these costumes have been specially designed so that they can be conveniently stored in small places. This means that you aren't required to wear it all the way to the party and just stuff in your truck and then just strap it on when you arrive.
These costumes have become quite a trend as of late. The internet is filled with pictures with of people wearing them at Halloween parties and all other types of parties. In fact, costume themed parties have become so popular that they are even held by large corporations. A great advantage of acquiring a piggyback fancy dress costume is that there's a whole bunch of different design to choose from. This way, we can be sure that you will be able to find exactly what you need. For example, if you find yourself at a Saint Patrick party the best way to get everyone's attention is by wearing a leprechaun piggy back costume.
Because these types of costumes are created using comfortable materials such as cotton, they are priced rather cheap. In fact, carry me costumes have gotten so popular over the years that their price has dropped significantly. With that being said, we think it's safe to say that you will never regret buying a Carry Me Costume.
Unlike other basic costumes, these ones can be worn at all different types of parties. Starting with the highly popular Halloween and going to children's birthday party. So you know that you'll get your full worth of money.
One other advantage these costumes bring is that they fit all sizes. They have been specially designed so that everyone can wear them and have a great time. When it comes to piggyback costumes no one gets left out. That's why there are different sizes including ones for adults and for kids. In the end, the biggest advantage brought by wearing a costume like this is that you will be unique and everyone will smile when they see you.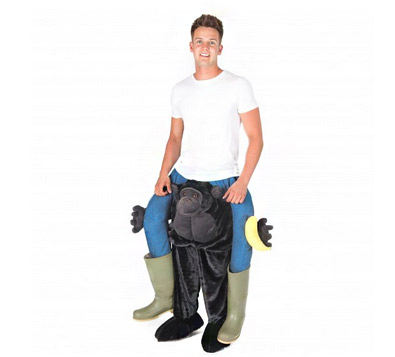 Hits: 2716 | Leave a comment