Inflatable Fancy Dress Costume
What's a better way to make yourself noticed at a party other than wearing an Inflatable Costume? We think it's safe to say that Halloween parties have become more fun with each year. Halloween costumes have gotten even more interesting along the years as well. Everyone is always trying to one up their friends by being dressed more funny and innovative than them.
Many people try to create their own Halloween costumes so they can be unique. While this might sound fun and all, it tends to become quite a hassle. It might sound easy, but it's not. First off they need to acquire all the necessary materials for that specific costume and in some cases even employ a tailor to put them up together. With that being said, it's easy to understand why people have been leaning more towards acquiring a blow up costume instead.
It's a known fact that Blow Up Costume are quite affordable because they are made from cheap materials. Leaving the price aside, what's even cooler about these costumes is that there is a whole array of designs you can choose from. For example, you could pick out a costume which makes you look like a funny bumble bee, or even a green toad. A funny costume like this will definitely put a smile on people's faces.
If you are not the goofy type of person, there are always inflatable fancy dress costumes. Ladies will be surprised to find that different retailers offer inflatable dresses that will transform them into a princess. Also worth mentioning is that this style of costumers are also great for kids. Especially since kids are the ones to go out trick or treating in the neighborhood. Dressing them in a funny panda or ninja suit will definitely help them acquire even more candy during the Halloween night.
Leaving design aside, hands down the best thing about using an inflatable costume is that it is very easy to put on and to get rid of as well. All that you have to do is to strap it on and use a special inflator to blow it up. Additionally, getting it off is just as simple. Just open up the air valve and that's it.
We can be sure that no one is going to regret acquiring a blow up costume. Especially since they are so funny and can be used for different occasions such as a children's birthday party, or any other party while at that. Nonetheless, the most important thing during Halloween night shouldn't be all about the costume you wear but about having fun.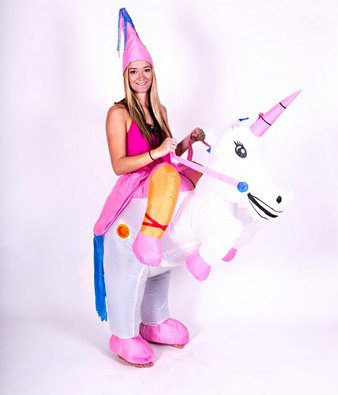 Hits: 3183 | Leave a comment