Cupro: The Circular Economy fiber Balancing Beauty with Smarter Sustainable Values
Experience the unique touch and feel of Cupro. Let it move your emotions through the Asahi Kasei responsible culture of smart innovation. Understand about the company commitment to ongoing improvements, with a mission to make smarter, cleaner products and a production focusing on the real innovation journey where "zero emissions" disposal is one of their goal.
The Asahi Kasei Cupro was born in Japan in 1931, and today, Asahi Kasei is the sole maker of this oneof-a-kind extraordinary, new generation, natural smart material whose elegant beauty and touch is perfect for the modern wardrobe fashions of today.
Cupro is a matchless and original, new generation material made from the smart-tech transformation of a cotton linter, bio-utility waste, converted through a traceable and transparent process, representing a perfect circular economy fiber model since the beginning of its production. An Innovhub 3rd party lab test proves Cupro can claim a fully biodegradable end of life option, and to add an extra layer to its smart credentials, Cupro has just received the GRS certification (Global Recycled Standard) which dovetails with the completed, recent LCA study, signed by ICEA*, securing a quality profile for Cupro. Taken together, they redefine its responsible status today, while paving the way to measure and confirm the smart improvement possibilities for the future.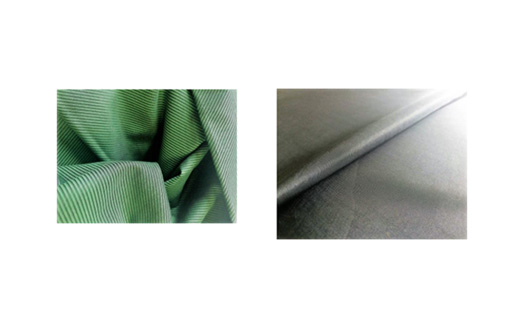 Cupro fabrics fit the latest brand partner styles and silhouettes like a blueprint for best materials, cool design and smart values for contemporary living for womens & mens fashion brands in quality jerseywear and new, relaxed athleisure and casual looks. Cupro is perfect in the new sharp lines of modern tailoring, luxury linings, dress and even in the latest hi-tech hosiery and next-to-skin lingerie.

Leading fashion innovations include:
- Centro Seta – a rich collection of 100% Cupro fabrics for apparel, both plain and with stripes, with a really precious and contemporary touch.
- Ghezzi a leading Italian twisting mill is introducing a very special new twisted yarn made with Cupro full dull with an amazing dull look and special soft touch effect. Not to miss!
- Infinity – a rich and precious collection of Cupro new blends for Fall/Winter season and menswear
- Ipeker – With a first to market, range certified "vegetarian" by the European Vegetarian Union.
- Moririn – a Japanese partner who is applying a new spinning method to a Cupro spun yarn getting very precious shiny look, anti-pilling and easy care characteristics. They present it in 100% Cupro and in blend both with Modal and polyester for functionality and to get a real special hand feel.
- And last but not least Viscotex – with a Cupropolyammide fabric with a special treatment with an improved resin, even more water repellent. Crepe touch, half transparency, a hybrid between "tafettas of couture silk" and "outdoor parachute"…

Concerning lining, at Cupro booth you will find an amazing full range of lining fabrics made in multiple elegant color combinations and designed for both formal and casual styles . Cupro owns the contemporary Sari and ethnic selections in the Modern India Wardrobe and also with leading brand partner style adoptions as Drykorn.

Founded in 1996, southern Germany, DRYKORN developed into an international fashion label just within a few seasons, mainly because of its selected garments, high-value manufacturing and consistent fashionable statements. DRYKORN is internationally distributed and serves more than 1000 customer worldwide. Fabrics are mainly ordered in Italy and France. Furthermore, DRYKORN selected Cupro fabric by Viscotex for its Women Fall/Winter 2017 collection. Within a collection, the concept line On the Road embodies the concise style of the 90's. Activewear meets streetwear – in a cool and casual way.

And with the key sustainable values of Cupro, Premiere Vision has selected it to be a Smart Ambassador within the project 'Smart Creation'. Smart Creation is a way of bringing together and communicating the initiatives and the means towards responsible creation, innovation and production. Key developments in Cupro will be displayed in the Smart Library, located on the Smart Square, Hall 3 of Premiere Vision, take the chance to touch and feel real responsible innovation! The Drykorn outfit, made with Cupro Viscotex fabric, has also been selected as responsibly developed item for the Smart Wardrobe.

Also here at Premiere Vision, Asahi Kasei would like to inform their customers and welcome their new President of Fibers and Textiles SBU, Mr Koushirou Kudou who joined in April this year. His dedication to their mission to meet their customer requirements will build upon the great work done by his predecessor, Mr Toshio Takanashi.


Hits: 4341 | Leave a comment