The 4 Things you Must Have at Your Chateau Wedding
Wedding season wouldn't be complete without making the dreams of little girls the real-life realities of grown adults. Picturing that day with a shining white dress, prince charming, and the castle to go with it all is the fairy tale we all wanted. These dreams don't have to change, only adapt a little as we find our princes and say, "I do." While you think castles are limited to Europe with moats and Middle-Aged drawbridges, there are actually small modern castles, often called chateaus across North America too. A chateau is derived from grand French country houses, majestic and larger enough to fit many guests, many chateaus are also associated with neighboring vineyards or gardens. With these modern castles providing options for all budgets, that fairytale wedding may be closer than you think. Once couples book their chateau wedding venue and reception space to become prince and princess for a day, there are still a few decisions to make.
So what's next?
- Prince - check
- Princess - check
- Castle - check
There's still a few more things you might consider including decor, entertainment, and food. Here are our five favorite must-have 
Cinderella's carriage ride
hile it may not be made from a pumpkin, there's no reason you can't enjoy an elegant horse and carriage ride on your wedding day. If you're going upscale, you may want to look for gorgeous white Fresian mix horses to draw your carriage away. You can find decorative and themed carriages to match your theme, and also inquire about adding your own themed decor. Focusing less on the look and more on the ride experience, you can save on expenses by letting the rental company choose both horse and carriage of their convenience. Have your carriage take you from wedding venue to reception or vice versa.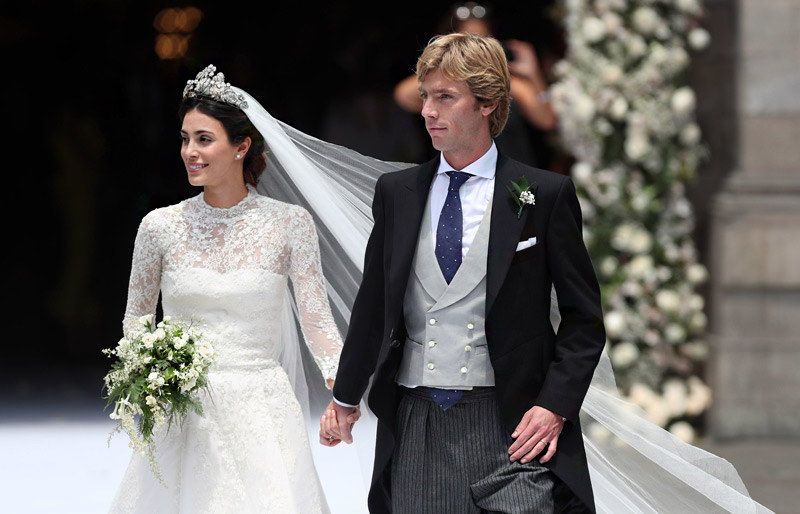 Prince Christian of Hanover and his wife Alessandra de Osma (L) exit the church of San Pedro after their wedding, in Lima, Peru, 16 March 2018. EPA/ERNESTO ARIAS
Tiara and veil headpiece
Every princess deserves a crown, and the good news is how painless it can be to get one for your special day. Tiara's are in standard supply at most wedding retailers and come in options as standalone or to be paired with a gossamer veil. Adding sparkle to your look you can choose from multiple different styles, and also multiple different materials. While crystals and pearls are standard fare, you can choose to go to a jeweler for an upscale piece in the gemstone of your choice too.
A feast fit for king and queen
Going beyond a fanciful and tiered cake, no self-respecting royal would conclude such an occasion without a fantastical feast. For light, fare consider delicate petit fours, refined cucumber sandwiches, and fine china. For heartier dining, channel the fantastical roasts of kings and queens of old with multiple themed courses from soup to supper, finishing in a palate cleanser before your sweet cake desserts. It would be better to get the cake desserts from www.emicakes.com.sg
Your favorite fairytale come to life
It's possible to channel your favorite princess and story without becoming cartoony and literal. Belle can display caged falling roses as centerpieces. Alice may add themes of white rabbits and clocks. Snow White puts the focus on the apple, shiny and irresistible. These examples of modern takes on fairy tales can help you create your wedding dream with class and style, allowing these characters to grow beyond more juvenile depictions. You can scour thrift stores for eclectic items pull together your ideas, find local artists or browse Etsy to create a custom order, and always add the effort to make decor and invites on your own.

Remember, your wedding is only limited by the scope of your ideas. With different options for every budget, you too can be carried away by prince charming to the castle of your dreams-- even if only for a night. Add in the details that will make this dream become a reality with your carriage, crown, and feast. Theme your decor around the characters you dreamed of using ideas from crafts to antiques to artisan orders to design a fairytale that fits you perfectly. 


Hits: 8398 | Leave a comment