Summer BBQ Must Haves
What's more iconic than a classic summer cookout? Nearly everyone loves taking advantage of the warm evenings and longer hours of daylight by spending time outdoors with family and friends. With so much going on over the season - from holidays to summer camps - it's easy to let one or two must-have barbeque items slip from your mind - until you your guests have already arrived). Before you go firing up the grill, check off this list to make sure you're well-prepared for the perfect backyard gathering.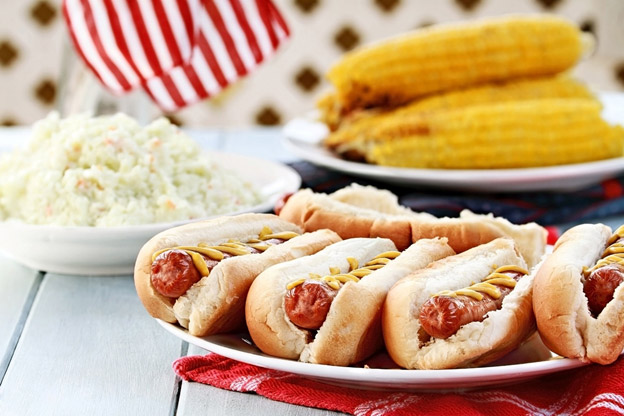 Tableware
Whether you're hosting a private dinner or a neighborhood block party, you need to make sure your table is properly set with the necessary dining materials. Unless you'd prefer your guests to eat with their hands and use their pants as a napkin, make sure to acquire the following before your BBQ:
Tablecloth
Plates and bowls
Cups
Utensils
Serving utensils
Napkins and napkin holders
Pro tip: Purchase the above items in plastic to save yourself some major clean up time later on.
Decorations
The weather may be beautiful in itself, but that doesn't mean your guests won't appreciate a few decorations to liven up the party. Even if you're not throwing a holiday celebration, you should still decorate with appropriate colors and textures befitting the season. Adorn your backyard BBQ with items that can be easily made or cheaply purchased, such as:
Bouquets of vibrant flowers
Pennant banners
Chalkboard menus
Wheelbarrow ice chests
Additional lighting (lanterns, oil lamps, twinkle lights, candles)
Patio furniture
Anything that adds ambience will help improve your guests' experience. If you are throwing a Memorial Day or 4th of July BBQ, think about sporting a pair of American flag shorts to amplify the festive fun.
Grill Items
Even the most seasoned grill gurus can occasionally forget to restock some essential items. Nothing is worse than having to rush over to Home Depot to pick up some propane once your guests arrive and you realize that you're fresh out. Here's a reminder of a few must-haves you'll need:
Charcoal briquettes or propane
Lighter fluid
Lighter or matches
Non-stick spray
Spatula
Tongs
Meat thermometer
Food
The type of fare to serve is probably the first thing that came to mind when brainstorming your grocery store shopping list. Food is the most obvious of necessities at a BBQ, but if you need some inspiration on which dishes to offer, choose from these classics:
Burgers and hot dogs
Buns, kabobs, and/or skewers
Cheese and assorted condiments (lettuce, tomato, onions)
Marinade, dipping sauces, and spread
Salt and pepper
Chips and dip
Corn on the cob
Salads and vegetarian options
Don't forget about dessert! Offer your guests some sweets to snack on after they finish their dinner plate. French macarons are something that will charm your guests. BBQ favorites include ice pops, sorbet and seasonal pie.
Beverages
Everyone likes to cut loose over summer, but when you head over to BevMo to stock up on potables, be sure to include some non-alcoholic choices as well. Your shopping list should cover all the essentials, including:
Beer, liquor, or alcohol of choice
Soft drinks, iced tea, and/or fruit punch
Water
Ice
Bottle or can opener (if you don't have one already)
Your cart should be well-stocked, but don't feel the need to overdo it. There's no shame in encouraging your guests to bring along their favorite beverages, as well, since most people like to show up to a party empty handed.
Entertainment
Drinks may be flowing and the food fantastic, but your attendees will need to be kept entertained before, after and in the interim. Make sure your BBQ offers fun activities such as:
Corn hole
Horse shoe
Arts and crafts for the kids
Outdoor speakers and great dance music
Cleanup
Cleaning up and breaking down your BBQ party is usually the last thought on any hosts' mind. However, making sure you have the right items in place that allow you to clean as you go can make the job significantly easier come the end of the night. Have the following on hand and your future self will certainly thank you:
Grill brush
Aluminum foil and/or plastic wrap
Wipes
Trash bags
Bring this list of must-have items for any summer BBQ along with you to the store and you'll be well on your way to hosting a perfect cookout without a hitch.


Hits: 9991 | Leave a comment