How to Select the Right Clothes for Your Body Shape
The first step to deciding what clothes sit well on your body is figuring out whether you're a rhomboid, inverted triangle, triangle or rectangle. There are plenty of differing physiques, and while you're allowed to wear whatever you please, there are certain patterns, cuts, and fits that are better suited to certain body shapes. By wearing the right clothes, you can balance out your proportions or highlight your most flattering part of your body. This guide can help you feel your best while making you the epitome of stylish.
The Body Shapes
Rhomboid
Deemed the most desirable of body shapes, the rhomboid is a person who is characterized by broad shoulders and chest but who has narrow hips and a small waist. This body shape is relatively easy to dress, and most styles and fits complement this shape as long as you keep yourself looking in proportion. Keep your suits slim-fit and experiment with new trends and bold patterns.
Inverted Triangle
Not to be confused with the rhomboid, the inverted triangle is where you have broad shoulders and a broad chest, but your hips and waist are incredibly narrow. Your upper and lower body can seem imbalanced, so it is vital that you balance this out as much as possible. You should dress in unstructured double-breasted jackets as this will widen your torso; you should also experiment with statement trousers and try patterns, such as check, to help draw the eye downward. You should avoid skinny-fit jeans, as this will make you seem even slimmer. Instead, slim-fit is your best friend when it comes to trousers and jeans.
Rectangle
If your shoulders are as wide as your waist, then you are a rectangle. The key to dressing if you are a rectangle is to narrow down your lower torso so that you can create the illusion that you are in proportion. Wearing structured blazers with shoulder padding will help narrow your waist, and layering your clothes, such as shirts and jumpers, will widen your chest. Avoid prints on t-shirts that are rectangle in shape, such as photographic prints, as this will highlight your rectangular shape.
Triangle
Carrying your weight around your middle and having narrow shoulders makes you a triangle shape, and can make you seem unbalanced. While you may believe baggy clothing can help hide your stomach and larger lower body, it will, in fact, make it seem a lot worse. Instead, you need to focus on wearing well-fitted clothing and well-structured blazers and jackets to hide your sloping shoulders. Darker coloring is more flattering, so wear these on top. Always avoid horizontal stripes.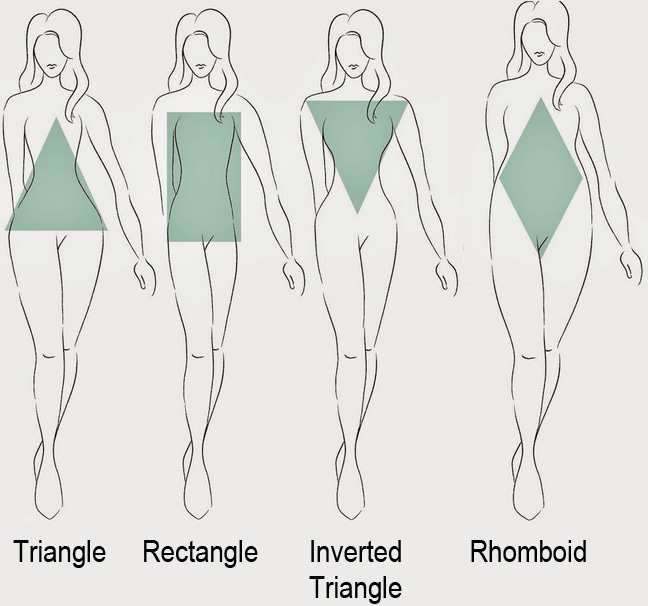 How to Make Your Clothes Fit Better
Lose Weight, Tone Up
Losing weight will help your clothes fit better, or if you're already at your desired weight, toning up can help clothing sit correctly or more comfortably on your shoulder, around your arms, legs and stomach. You should ensure you eat healthily anyway, and workout 30-minutes each day. By doing so, you will tone up your body. To help you meet your desirable weight, body shape, or to help you keep your clothes well-fitted, there are many companies who can enlist you with a diet plan that involves balanced and healthy meals and shakes. By turning to nutritional experts, you can make sure you're fuelling your body with the best ingredients.

Buy the Right Size
Many of us are guilty of buying the wrong sizes or fits. It is vital that you get yourself properly measured so that you can wear clothes that are completely right for your body shape. Head to a tailor and have them measure you so that you know what suit is best for you; once you know what clothes are right for your body, you can employ these strategies to your everyday clothes. If slim-fit is best for you, then fill your wardrobe with fitted shirts and stops, and jeans and trousers that aren't too loose. Everything you buy, from underwear to trousers, to jeans, shirts, suits and even jumpers need to be properly fitted. Otherwise, you could swamp your figure, make your proportions seem 'off' or highlight the wrong part of your body.

Take Away Tips
If your waist and shoulders are proportionate, then you can wear whatever you please, yet if you have broader shoulders and a narrower waist, you should avoid skinny jeans as they can emphasize your waistline and throw you proportions off balance. When it comes to wearing a suit, you should always visit a professional, as they will be able to give you the correct measurements.


Hits: 10445 | Leave a comment