Asahi Kasei launches the Bemberg™ new brand Campaign at Premiere Vision, Paris
The story of a Bemberg™ heritage that has shaped a new future for smart innovation through research, knowledge and expertise to deliver the new face of Bemberg™, the one true original material for modern living.
The presentation of the Bemberg™ new campaign represents a high benchmark in value for smart textile fiber innovations, and one that is built on a long heritage of innovations since 1931. Bemberg™ is the ONE new material definition for responsible luxury. The ONE for cool exquisite confort, and the ONE whose smart heritage is born in a circular economy.
Made by Asahi Kasei, the company is the sole maker of this one-of-a-kind, matchless, high-tech natural material, with a unique and precious touch and feel.
The new campaign will amplify this uniqueness and innate smartness, redefining the brand voice as Bemberg™ at an international level with an openness and positive approach that facilitates a stronger, more focused role in the market while supporting our partner's strengths too.
It is not just another brand name, but about enhancing core values through a now even better, more refined product and process that supports our partner's mission to materially benefit the whole supply chain with beautiful products and open, honest communication. This is the key reason to launch the Bemberg™ global brand, taking the next steps on a journey that redefines a new future of contemporary luxury this unique fiber represents.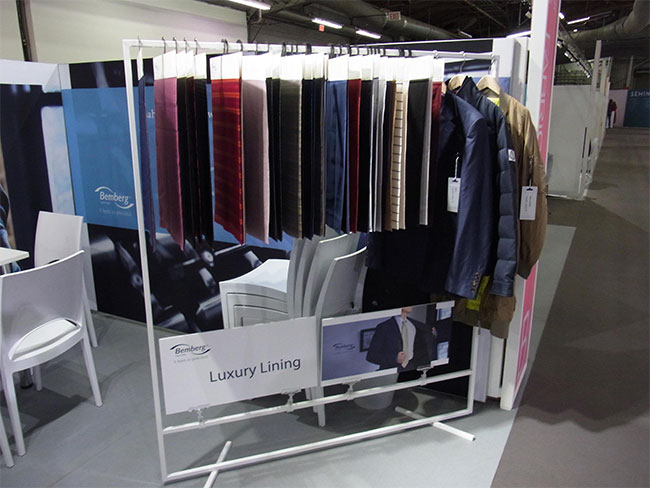 And for this, European manufacture is playing its key role in the global role out of the latest Bemberg™ innovations. Pioneering partner mills featured at the booth include: Euromaglia, Fiveol Textil, Infinity, Ipeker, Jackytex, Lanificio Europa, O'Jersey, SMI Tessuti, Tessitura Uboldi Luigi, TINTEX Textiles, Brunello, G.I. Tessil Foderami, Gianni Crespi Foderami, Manifattura Pezzetti, Marco Pastorelli and more.

The new Bemberg™ booth at Premiere Vision is a contemporary and clean vision of the brand with a glowing, whitened atmosphere of modern architecture and luminous lighting that perfectly frames the new and dynamic identity image to reveal the 'preciousness' essence of the brand, its amazing textiles and leading fashion innovations.

Come and review the 3 fabric galleries, each showing the latest and unique fabric designs for Fashion Forward looks, refined Jersey Dressing and Luxury Athleisure Loungewear. Fashions by Maison Margiela confirm the new status of Bemberg™ as the ONE fiber that moves the luxury of Touch to a new contemporary fashion Feel: the ONE for a cool, liquid drape and movement: the ONE for fresh, exquisite comfort, and the ONE smart material born in the circular economy.

The Bemberg™ new campaign shows a vision from the past in a true classic vintage sheath dress from the 1991 Martina Margiela winter collection using a peach skin finish on a refined, parachute-light fabric in a signature gunmetal grey colour courtesy of Zohra Alami. And also a contemporary representation of fashion from the MM6 MAISON MARGIELA SS2018 collection with a lingerie inspired dressy style in Bemberg™ popeline. This is a multifunctional style to be used as a top or as a dress.

A new technical advance in finishing from Asahi Kasei is presented at the booth. Called Velutine Evo, the finish is comparable to premium peach skin finishes today, but now with a better environmental profile by using less water and energy to produce a durable and refined finish that sets a new benchmark for everyday luxury, demonstrating the company's ongoing commitment to R&D in smarter, market relevant innovations. The results are supported by a preliminary study carried out by ICEA according to the methodology of Life Cycle Assessment (LCA) 3rd party testing from ICEA, on datas provided by TIFAS and focusing on environmental benefits that will accrue to partners efforts to offer value with values.

Moreover, you will be able to enjoy the circularity of the Bemberg™ story: its source, manufacture and end-of-life credentials, as well as checking the LCA study, also signed by ICEA and validated by Paolo Masoni, a step that confirms a new quality profile and standard for Bemberg™ with a more responsible and unique position today. Full GRS certification, Oeko-tex 100, ISO 14001, & Eco-Mark. Also Bemberg™ can add to its premium position on responsible issues, starting from its raw material choice that clearly demonstrates its circular economy approach. Bemberg™ is made from a cotton linter bio-utility waste, a natural derived and abundant source, and a truly unique one in the smart fiber arena that doesn't deplete food or forestry resources.

Bemberg™ has new Compostability Certification. Innovhub-SSI report confirms Bemberg™ filaments disintegrate at 100% value within the limits specified by the UNI EN 13432, point A.3.1 for disintegration in the composting process. Also related is a new Ecotoxicity metric to EN 13432:2000 Annex E, the compost obtained from the Bemberg™ filaments according to ISO 16929:2013 revealed the absence of any ecotoxicity effect respect higher plants. The Bemberg™ filaments tested for the presence of heavy metals and other toxic hazardous substances comply with the requirements specified by the UNI EN 13432, for the substances listed in table A.1.

Asahi Kasei is proud to present the Bemberg™ heritage that delivers a true precious uniqueness through responsible smart innovation and transparency. To make contemporary luxury materials that provoke emotive responses through its rarity, sensuality, research and creativity. The ingrained knowledge and know-how behind the brand adds value to the supply chain, working only with the best, amplifying our partner's knowledge and dynamic commitment too.


Hits: 11912 | Leave a comment