100 Thieves: how this esports and lifestyle company is making waves
If you've heard the brand name "100 Thieves" mentioned a lot more over the last few weeks and don't have a single clue what anyone is talking about, then fear not. This California-based esports organisation and lifestyle/apparel brand has risen in stature recently which is why it has been mentioned all over the place.
As a company that was founded by a professional gamer, an esports player and former Call of Duty world champion named Matthew "Nadeshot" Haag, you're probably thinking why 100 Thieves is worth taking notice of. Why should you, someone who is interested in celebrity, fashion and high-profile luxury brands care about a scrappy esports startup involved in an industry that has a primary focus not at all associated with the aforementioned? Read our explainer on 100 Thieves to find out why you should be paying attention to this brand and what it could do for the worlds of esports, fashion, and celebrity too.
100 Thieves: The Fashion Brand
100 Thieves may be a fashion brand, but not in the traditional sense. You shouldn't expect 100 Thieves clothing to be worn by the world's most stylish men on the red carpet. The brand's fall collection of clothes, for example, includes a black t-shirt which says "Hundred Thieves" and "Los Angeles" in bold lettering, a plain white hoodie with the 100 Thieves logo on it, and a red long-sleeve shirt that features the 100 Thieves logo and topographical patterns. It would be better paired with a fresh pair of Yeezys than a bowtie and a pocket square.
But that doesn't mean that this laidback clothing company is any less popular. Thanks to the simplistic designs and the brand recognition of Nadeshot, the fall collection has completely sold out with just three items. During its first release period in 2017, the clothing line sold out in minutes. 100 Thieves isn't bothering Chanel, Gucci or the other fashion houses but the effortlessly cool style does appeal to a certain demographic.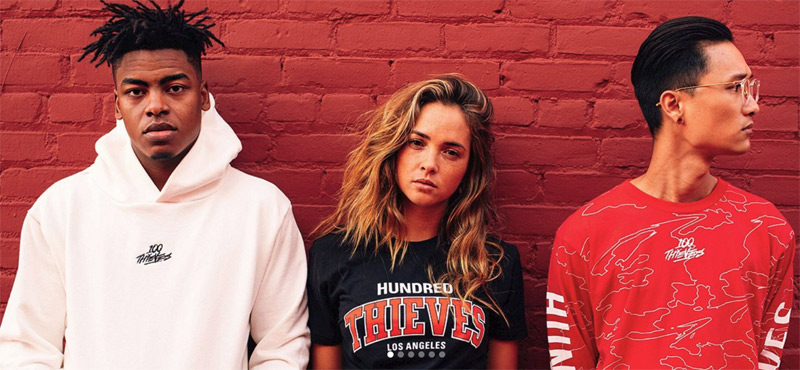 100 Thieves: The Esports Team
100 THIEVES FORTNITE ROSTER ANNOUNCEMENT
In fact, much of what 100 Thieves does is to appeal to its core audience of tuned-in gamers and young men. While Nadeshot was a gaming superstar in his own right, the brand's influence in the gaming space has been on the rise. This is partly due to the fact that Nadeshot continues to gain popularity, live streaming games on Twitch, where he has almost one million followers.

100 Thieves also operates several teams in competitions for the biggest video games in esports including Riot Games MOBA League of Legends, Epic Games Fortnite Battle Royale, and first-person shooting franchise Call of Duty. Not only do these games have hundreds of millions of players but they're massive in esports too, with championships and tournaments offering multi-million prize pots and fans are also able to place bets on these teams. The fact that people love 100 Thieves enough to put money down, suggesting the brand's teams are going to win, shows just how much people stand by this organisation. Considering that esports is an industry very much on the rise, 100 Thieves has lots of room to grow in future as well.

100 Thieves: The Celebrity Darling
Drake invested in my company! (100 Thieves Update)
It's this combination of having an engaged fanbase, its ability to appeal to their wants and needs, and its understanding of the market that has attracted so much interest, including from celebrities. One of the biggest esports stories of the year is when world-famous performing artist and notable, elegant rapper, Drake, became a co-owner of 100 Thieves. During the brand's Series A funding round, Scooter Braun (best known for working with both Justin Bieber and Ariana Grande) also became a co-owner of the company.

As many critics noted following the announcement, 100 Thieves' pull with celebrities isn't totally surprising. Drake previously made headlines when he streamed Fortnite with Ninja, one of the most popular streamers on Twitch. So as the Venn diagram of celebrities and gamers starts to become a circle, the investment made sense.

What this all shows is that esports and esports brands are more mainstream now than ever. From the sold-out clothes, to the investments from some of the world's best-known and most business-savvy people, there's no telling where 100 Thieves could go next.


Hits: 10328 | Leave a comment