How to Buy Shoes Online the Right Way
Buying shoes online, or any type of clothing for that matter, can get tricky. You don't get to hold them in your hands, put them on, or get an up-close look. However, buying shoes online could give you access to a much larger selection and you'll find shoes you'd never be able to find at a regular store. When done correctly, finding the right shoes online becomes easy and you'll diminish the chance of unpleasant surprises. Here are a few tips on how to buy shoes online the right way.
Go with the Right Store
The first thing you have to do is make sure that the store you decide to go for is legit. This is especially important when it comes to luxury brands. Many people may not be aware of this, but counterfeiting in the shoe industry is rampant and simply having a nice website is not a sign of legitimacy. Make sure that you conduct a thorough background check on the shop and see what others have had to say about them.
If you can, you should also privilege stores that have physical locations. Not only will it increase the chance of them being legit, but you'll have the chance to try the shoes in person before you buy. Hot items like Balenciaga sneakers can easily be faked, and unless you know how to spot them, you could be fooled. If you're going to buy luxury sneakers, it's always better to go with a reputed seller with years of history, such as SSENSE. They also have physical locations and a solid reputation for quality. Stores like these will not risk their name by selling you fake shoes. If you want to see their selection, you can visit ssense.com.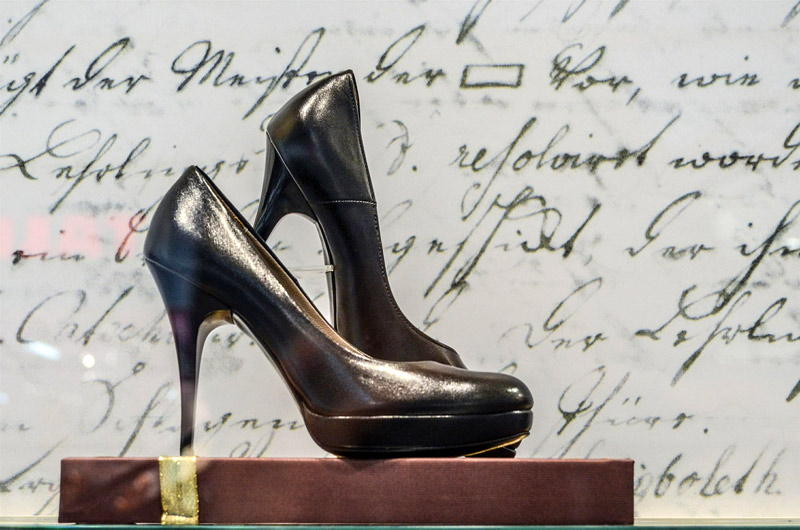 Know Your Real Size
The next thing you should do is make sure that you actually know your size. This is very important since you don't want to have to send shoes back and forth and possibly have to pay for shipping just because you were off by half an inch. Get your feet measured by an actual shoemaker if you want to make sure and check the site's size chart to make sure you pick the right one.
Another thing you have to be careful with is making sure that you know the size of both your feet. A lot of people make the mistake of measuring only one of their feet not knowing that there can be a slight difference in size between the two. So, make sure you get both measurements and go by the bigger foot when picking shoes.
Check the Returns Policy
Shoes are one of those items that get returned a lot for a variety of reasons. Sometimes, it may be the size. But in other cases, you simply might not like the way they look, the material, or didn't expect the colors to look that way in person. For this reason, you should make sure that you read through their return policy first. It would also be wise to check what others had to say online about the process. Reading the policy will allow you to know exactly what you should do, and make sure that you don't invalidate it.
Get as Much Information on the Shoe Before You Buy
Another thing you should do is make sure that you know everything there is to know about the shoe first. While the image can tell you a few things, there are a few things you won't be able to tell. Without being able to actually touch the shoes and weigh them, you'll have difficulty judging the quality of the materials used. Check the description for details and don't hesitate to contact customer service if you need any more information.
Also, you should favor sites that offer you plenty of photos from different angles. Sites that only feature a few photos may not be legitimate, and they could be using pictures from a third party. The more pictures you have, the more you'll be able to see if the shoes are right for you or not.
Treat Your Initial Order as a Test
If this is your first time buying shoes online, or from a particular designer, treat your first order as a test. This will allow you to check how good the store's service is, but also how the shoes fit. Make sure that you don't take off any of the tags and try them indoors. This will make sure that you'll be able to return them if there's anything wrong.

Buying shoes online can be a great way to find deals and exclusives. Make sure that you follow these few tips if you want to find hidden gems and not get swindled or disappointed in the process.


Hits: 5012 | Leave a comment