How to Wear Knee-High Boots
Knee-high boots are the perfect accessory to many different outfits, but it can be hard to know exactly how to pair them. They are a tricky shoe to get right, but they can make you feel empowered when you do wear them properly. Here are some of the ways we would style knee-high boots.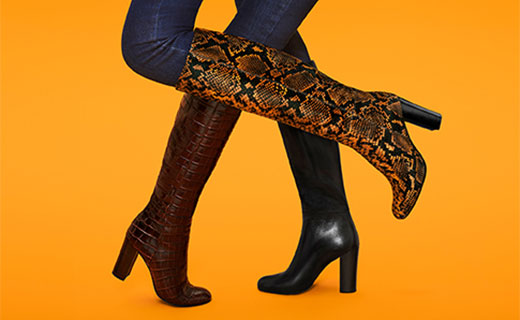 Jeans
A classic look is always knee-high boots over a pair of jeans. This look should always use skinny jeans to make sure they fit inside the boot snugly and don't mess too much with the outline of your leg.
There are many ways you can style a boot and jeans and it all depends on the style of boot. For example, high heeled boots, jeans, a crisp white blouse, and an oversized cardigan is the perfect outfit for brunch with your friends. On the other hand, flat knee-high boots and a tweed jacket is perfect for a relaxed long weekend in the country.
Create the perfect capsule wardrobe to go with your boots. If you have multiple pieces which you can match to your jeans and boots, you will be able to dress for multiple different occasions.
Dresses
When wearing knee-high boots and dresses, it is important that you stick to short dresses. The midi style might look flattering on a lot of people but wearing it with this type of boot is only going to cut you in odd places.
Having the few inches between the hem of your dress and the top of the boot is going to work wonders. It can even make you look taller. There are several different looks you could pursue here depending on your style. A floaty dress with the right boots can be a chic look. Adding a leather jacket can make it a little bit edgy.
Another brilliant look would be a tight dress with knee-high boots. Jumper dresses and oversized hoodies have been very in style when paired with knee-high boots. There are many affordable options out there which would allow you to spend a bit more on the quality of the boots, such as if you were to buy some boots from dunelondon.com.
Skirts
While miniskirts will always look great with a pair of knee-high boots – tying into to mod fashions of the 60s – we think a classic look is a pencil skirt with a slit in one side. This is a great look as it can make the boot pop underneath the skirt while the slit shows a bit of leg while still letting you feel covered. This is a great look for the office. Pair it with a statement shirt or blazer for a big meeting to help you feel empowered and strong.

The best way to wear knee-high boots is always going to be in an outfit which you love. Take the time to play around with your wardrobe to find an outfit you love. Boots are such a staple that you should be able to create many different outfits which show them off perfectly.


Hits: 7113 | Leave a comment