Choosing Quality Scrubs
For those looking for a rewarding career of helping people and who aren't afraid of long hours and hard work, a career in nursing can prove to be a viable and lucrative path. The men and women who choose to take on the role of a nurse are often the most hard-working.
As such, for hard-working men and women, durable and comfortable uniforms are often needed. Choosing leading brands that specialize in hospital garments, and quality of construction is critical for healthcare professionals. Cherokee scrubs uniforms, and other apparel are often needed continuously.
About Nursing Scrubs
Though initially made for surgeons and operating room professionals, scrubs are generally worn by all hospital personnel but are more associated as the primary attire worn by nurses.
Scrubs can be found with numerous designs and patterns, which are often only purchased at the discretion of the user. Each season, scrub manufacturers come out with new and improved lines of quality apparel that is specifically designed to be fashionable and functional, without sacrificing comfort. It enables anyone in the healthcare industry, especially nurses and nursing students, to do their job with ease.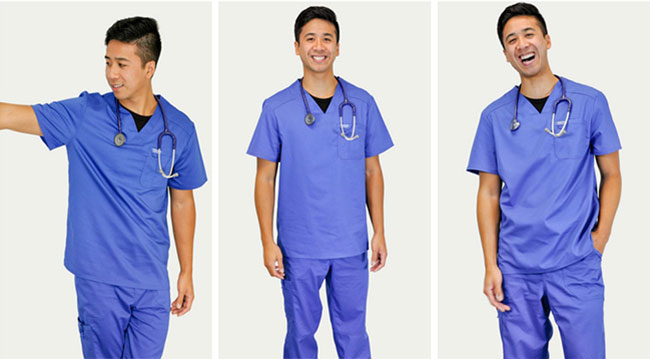 Nursing and healthcare professionals will find that Cherokee scrubs, uniforms, shoes, and other accessories are readily available.
In addition to scrubs, numerous brands offer the following when each new line is introduced:
- Innovative new designs
- An assortment of fabrications
- Fashionable and unique prints
- Optimal performance and quality
Nursing scrubs manufacturers pride themselves on its innovative design along with a known standard of comfort and quality.
Scrubs and Comfort
Men and women who wear nursing uniforms each day and go out of their way to make patients in dire need of medical attention feel welcome, comfortable, and safe.
With this in mind, it's easy to see why choosing a quality brand is much more than a simple fashion or style choice. Top-quality scrubs are both functional and comfortable, and allow you to feel professional at all times.
With all of the movement and physical activity nurses and healthcare professionals must endure throughout a single shift, it's become imperative for clothing to fit comfortably and provide durability to stand up to the rigorous physical activity.
In addition to comfort and functionality, scrubs must be made durable enough to withstand the intense cleaning procedures that most hospitals mandate for scrubs when being cleaned. In many hospital environments, scrubs are cleaned using extremely high temperatures and deep, penetrating chemicals to remove body fluids that can be otherwise hard to remove by conventional means.
With this in mind, scrubs need to be tough to face the demands of both a hospital environment and the physical requirements of nursing professionals daily.
Considering the Options
With all of the options in the market today, it can be challenging to choose scrubs that fit the requirements of a demanding schedule most associated with nursing and other healthcare professionals.

Quality brands are available that have been tested over many years to ensure the quality of their production. Choosing quality is always the best option when considering the variety of scrubs available in the market today.


Hits: 6160 | Leave a comment