Effortless Style: 8 Outfit Ideas for a Casual First Date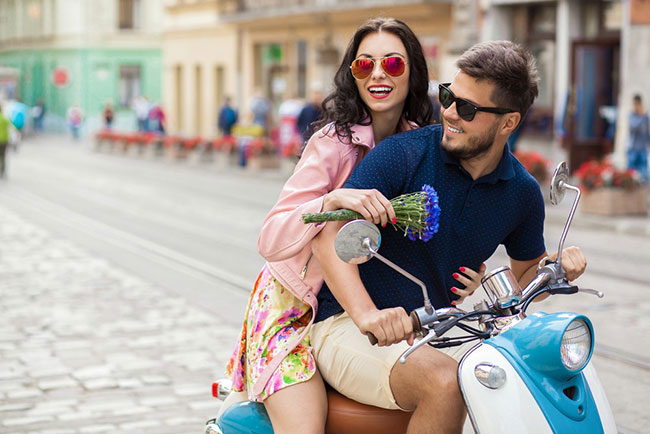 Dating has become a lot more casual in recent years, and, frankly, we're all for it. Uber-romantic dinner dates with someone you just met over Tinder? Um, no thanks. We'll skip the heightened pressure and expense of formal date nights for something more low-key (read: Something we can easily escape from if things start to go south).
The only problem with casual dates is finding the perfect outfit to match their low-key vibe. You don't want to look like a complete slob, but at the same time, you also don't want to look like you're trying too hard to impress.
To help solve this conundrum, we've rounded up a few failsafe date looks that epitomize effortless style. Keep scrolling to find your new go-to outfit for date night and get ready to impress on your first date. Who knows? It might just be your last first date ever…
1. Bomber Jacket + Graphic Tee + Jeans
What's not to love about bomber jackets? They're super practical for transitional weather, they make every outfit look cooler and, best of all, they come in a variety of options that make it easy to find a bomber jacket that's uniquely your own.
Want to up the cool factor of your bomber jacket? Try wearing it over a graphic tee and black skinny jeans before finishing off the look with trendy sneakers that complement your too-cool-for-school style. You'll stroll into your first date looking every bit the off-duty model.
2. Shirt Jacket + Mini Skirt
There's nothing wrong with showing off your best assets on your first date. If your best feature—apart from your winning personality, we mean—happens to be your legs, then why not flaunt them in a chic mini skirt? Casual and flirty, mini skirts can be worn year-round (just wear them with tights and booties in the winter) and are guaranteed to show off those toned legs of yours.
Consider giving your skirt some serious NYC style by wearing it with a basic white tee, a shirt jacket and Doc Martens. Want to show off your wild side? Opt for a mini skirt in an animal print (leopard print, perhaps?) and pair it with a cozy, white sweater for a fun and flirty ensemble.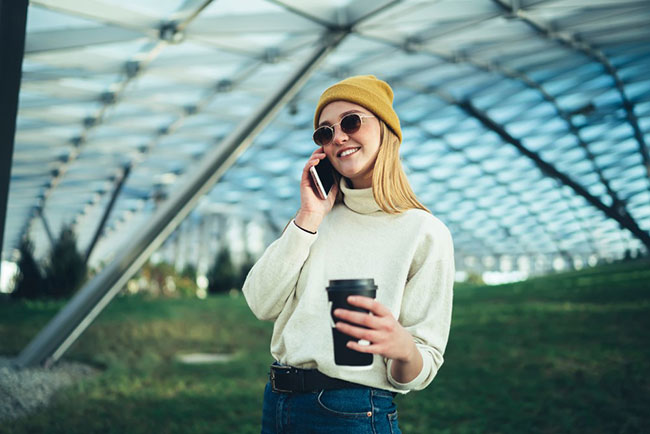 3. Jeans + Turtleneck + Statement Boots
Let us guess: You picked up a chic pair of statement boots to wear for NYE and never wore them again. Who says they need to sit in your closet and collect dust? Whip those babies out again and let them spruce up an otherwise basic outfit.
Statement boots are a great conversation starter for a first date and will take your outfit from zero to 100 in an instant. Just make sure that you keep the rest of your look simple. Let your shoes do all the talking by pairing your statement boots with a turtleneck in a neutral hue and straight leg jeans.
4. Off-the-Shoulder Top + Cropped Jeans
If you want to lightly tease your date without looking too suggestive, reach for an off-the-shoulder top that shows off your elegant neck and shoulders. Flirty and subtly sexy, these shoulder-baring tops are perfect for dates in the spring and summer.
Wear your off-the-shoulder top with your favorite pair of cropped jeans that make your backside look ah-ma-zing (you know the ones). Complete the look with strappy sandals for a simple yet sexy look that will all but guarantee date #2.
5. Sweater Dress + Knee-High Boots
Need a go-to outfit for cold weather dates? Look no further than the beloved sweater dress. Combining the coziness of a sweater and the simplicity of a dress, the sweater dress has been helping us lazy dressers look incredibly chic for many a winter.
When combined with a fashionable pair of knee-high boots, the sweater dress becomes a knockout ensemble that can go from day to night in a flash. Besides, just think about this: You're basically wearing a fashionable blanket in public and getting away with it. If that doesn't sell you on the sweater dress, then nothing will.
6. LBD + Denim Jacket + Boots
Will a denim jacket ever go out of style? Let us consult our magic eight ball. Answer: Don't count on it. One thing you can count on, though? The oh-so-stylish combination of a blue denim jacket and a little black dress.
Minimal yet classic, the LBD and denim jacket combo is a versatile ensemble that is perfect for casual dates, meeting with your girlfriends or simply running errands. Keep it casual with crisp, white sneakers and a baseball hat or dress up your favorite little black dress with strappy heels. Either way, this outfit is guaranteed to make a great first impression on your date.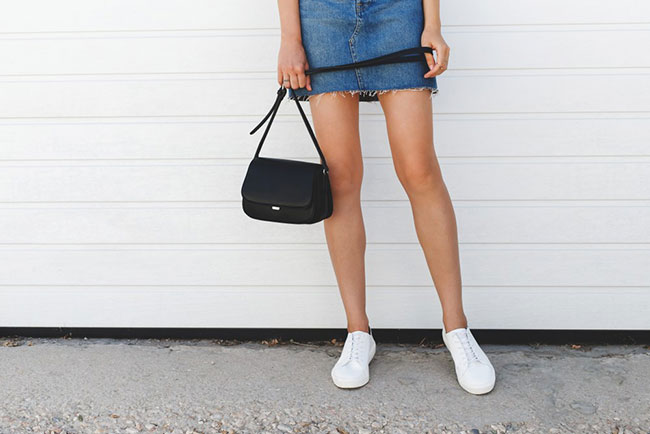 7. Blazer + Denim Mini Skirt
Fact: Denim skirts have always been cool. They just didn't look cool when grade school teachers wore them. But, then again, that was because some teachers had an unfortunate penchant for wearing the maxi-length version with Crocs (looking at you, Mrs. Nolan).
But now? Denim skirts have made a huge comeback thanks to the current obsession with '90s fashion trends, and we're all for giving it the attention this classic summer staple deserves. For a casual date, try giving your laid-back denim skirt a grown-up feel by wearing it with a fitted blazer and kitten heels.
8. Bodysuit + Boyfriend Jeans + Cardigan
If you've ever looked at a bodysuit on a hanger and thought, "Yep, I'll pass on those weird-looking crotch snaps, thanks," then you're definitely not alone. That being said, you really should give bodysuits a try.

When styled with the perfect pair of jeans, bodysuits are not just super-flattering and comfortable, but practical to boot. Bodysuits stay in place when you're twisting around or stretching, which means no more constant readjusting to keep your outfit looking polished. They're also really easy to style for a casual date. Just pair your bodysuit with high-waisted jeans with a straight leg and heels for an effortlessly feminine look.


Hits: 4412 | Leave a comment