How to safely place office desk with hutch
An office desk with a hutch can be very beneficial, particularly in a small home office. Most of the hutches available offer a variety of storage options, with slots for files and mail, open cubbies and shelves for books and other display items, and cabinets for storing other supplies and necessities of your trade.
By putting everything you need to work remotely in one place, you increase your productivity level, which has the added benefit of lowering your stress level while working. If you're employed, your boss will start noticing your new efficiency. If you are your own boss, you'll quickly realize having everything you need within reach allows you to nurture and maintain client relationships while also successfully running the business itself.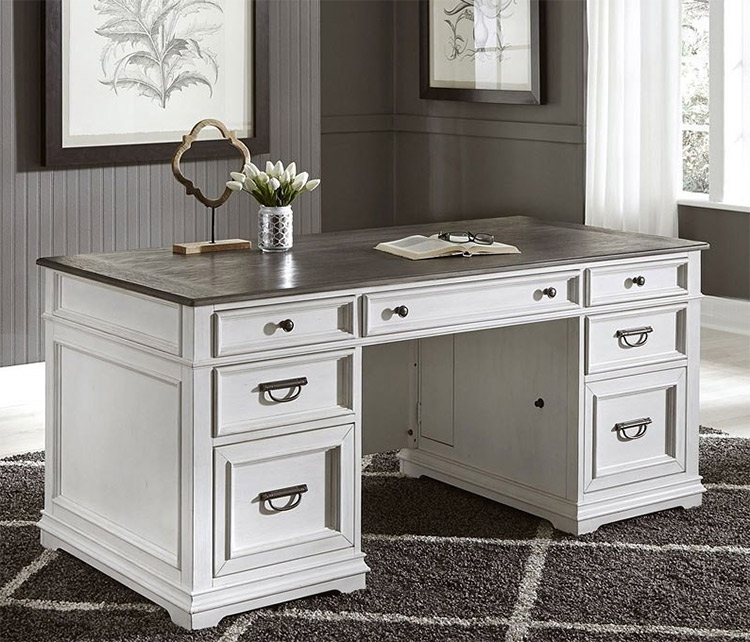 Regardless of where you are placing your office desk with a hutch, you need to make sure that you are placing it safely. This is very heavy, and every tall, furniture. If it is not placed appropriately, it could fall and cause injury. When you have small children around you should take additional precautions in the event that a toddler decides to use it as a ladder.
Here are some things to keep in mind when you place office desk with hutch.
Place desk with back of hutch against the wall
It is extremely important that you place the hutch against a sturdy wall. Load-bearing walls are also reinforced, providing strong studs for mounting the hutch to the wall. When you are deciding where to place your desk, make sure you will have:
- Accessible electrical outlets
- Room for your other office furniture
- At least 36" walkways or open areas between furnishings
- Allow for additional open space behind the executive chair
- Consider placing an accent chair next to the desk for meeting with visitors
Placing the desk and its hutch in a corner can also increase its stability.
You should always mount the hutch. Always.
You never know what accidents or natural disasters might happen. Even if you do not have small children around who might try to climb on it, you should really mount the hutch to the wall for added stability. This way if there is an accident that might dislodge tall, heavy furniture, you won't have to worry about it falling on anyone.
Mount the hutch with the provided hardware
The best brands of hutches provide mounting instructions and hardware when you purchase the desk with hutch. Even if you buy the hutch alone to use with a desk you already have, it should still come with mounting hardware and instructions. If for some reason they are not included, talk to the experts at your local hardware store to find a solution.
Lighter items on higher shelves – organizing your desk hutch
A hutch is likely already heavier than the desk, and it will stand fairly tall after being placed on the desk. It is important that you don't add to the instability of the shelf by making it even more top-heavy with large, bulky, or weighted items.


Hits: 10771 | Leave a comment