Paris Fashion Week 2022: The Main Takeaway Points
Anyone who keenly follows the world of fashion and style is well aware of how Paris Fashion Week can influence the entire industry. Once again, the recent show did not disappoint. This exhibition covered a wide range of topics including upcoming autumn ensembles, cutting-edge street styles and what we can expect from the latest accessories.
The only issue is that it can be tough to summarize such a massive gathering within a handful of sentences. While taking French lessons is a great idea if you ever hope to attend this show in person, we can also appreciate what was on display by summarizing some of the main takeaway points. Let's examine a handful of highlights.
Street Styles to Look Out For
This is one of the most predominant trends across the sector. Simply stated, users care just as much about how they look as how they feel. Thus, loose-fitting ensembles and breathable fabrics have gained a great deal of attention.
Coordination is another main takeaway point here. However, we are not necessarily referring to the garments themselves. Many designers choose to match street wardrobes with other elements such as handbags and even smartphones. The main intention here is to promote a greater sense of visual balance while turning heads in public.
As you might have already expected, high-waisted trousers have retained their popularity. While some feel that this reflects the 1980s and early 1990s, we need to remember that the fashion world has always been associated with a cyclical nature. This is the very same reason why bell-bottoms made a pronounced comeback in the 2000s. We should not expect high-waisted jeans and trousers to go away anytime soon.
Fall/Winter Trends
Famous names such as Louis Vuitton, Christian Dior and Balmain have enjoyed a strong presence within French fashion. These designers have devoted a fair amount of time developing some amazing ensembles for when the colder weather returns.
For example, schoolgirl outfits have gained prominence on the red carpet. Many of these seem to be going against the traditional "prepster" movement and as a result, exposed midriffs and unique cuts are all present. While slightly roguish, these ensembles still exhibit a professional edge and they could leave a lasting impression within the workplace.
Of course, traditional autumn colors are set to make a comeback. Examples include orange, red, auburn, and burnt sienna. It should still be mentioned that such tones will be accentuated with "louder" elements such as buttons, zippers and straps. This will help to break up what might otherwise be considered a rather dull and drab outfit.
Please note that the trends mentioned above are only a handful of styles that were seen at the recent Paris Fashion Week. Those who wish to learn more should perform additional research, as there are dozens of other interesting takeaway points.
Below you can see some street styles from Paris Fashion Week 2022 published at Pinterest.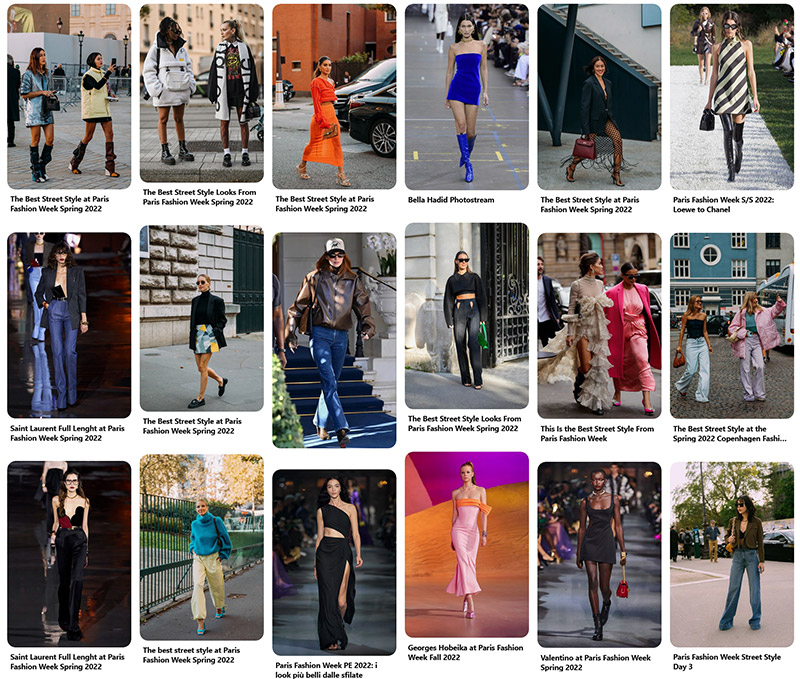 Hits: 2265 | Leave a comment