Desislava Dimitrova-Petrova: 3D design is the future of fashion
Desislava Dimitrova-Petrova: 3D design is the future of fashion
Desislava Dimitrova-Petrova is born in Ruse, Bulgaria on the 15th of March 1981. Ever since she was little, she's been keen on fashion. She has graduated the Nedka Ivan Lazarova vocational school of clothing in Ruse, specializing in modeling and construction of clothing and later on graduated the University of Ruse with industrial management. After working on the defense of her graduate thesis on the topic of Organization and Management of export garment production, she begins internship for small and big clothing factories where she learns directly from the best technologists, tailors and designers. Throughout the years Desislava has worked for AURA FASHION, OLIMPIA FASHION, BORDO, ARISTON S, BOBO ZANDER, MESALINA and ROSI FASHION. She spends around 7 years on her last workplace, creating their very best clothing collections, which are still popular and worn to present day.
3 years ago the skilled designer decided to continue her career as a freelancer and now partners with brands from Italy, France and Bulgaria. She has become a professional at her beloved hobby, always trying to exceed the limits of fashion design. She uses vector and CAD softwares and later on teaches herself to use 3D software. Her love for fashion and passion for work and development have let her succeed in all aspects and her inspiration are her two daughters!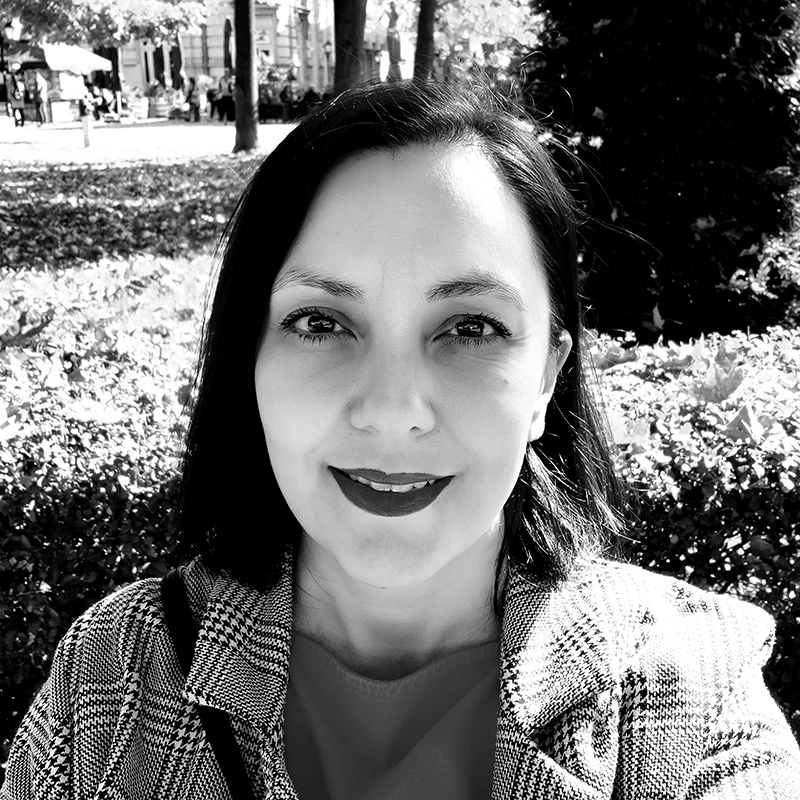 When did you start working with 3D design
I've been using it for 3 years, but I started by pure chance. I once saw a picture of a yoga set, made with a designer application for 3D visualization. I took interest in it and it turned out that I really took liking in doing it. My first 3D model took me a whole week to make, but now I create 3D clothing for minutes. The softwares I use are created to help designers and they are really amazing if you know what you are doing, as they help you develop your ideas. This is the future, yet still only a minority of Bulgarian designers use this technology. It is like that because our education does not introduce it to us and employer don't know the benefits. I really hope this changes someday – the more these applications are used, the more sustainable clothing production is going to be.
Tell us about the advantages of 3D design in the fashion industry, how does it contribute to our goal of being sustainable?
The advantages are there – 3D design apps help produce only what customers are looking to buy. Why would you make anything, that wouldn't be liked by your clients? To catch the dust in the storage room? An example: You have an idea for a clothing that you think is perfect… I create it so that it looks real, but it isn't. It doesn't exist anywhere; however, you can see every detail of it. Everything is on the picture that I develop… the buttons, threads, lining, print and embroidery. I can visualize your idea in a picture of a video and then you can show it to potential customers and know what they think – do they like the clothing or not? This way you save time and resources, there is no unnecessary expenses. This is part of sustainable production without waste and this is the future!
You have worked for various Bulgarian fashion brands. Do you think that they are capable of going international and thriving?
Every brand could do it if they keep up to two things:
To implement software that decreases waste – meaning sustainability is key to them. This requires either a great investment or working with freelancers which have already specialized in this.
Another important factor is to restrain from plagiarizing anything. Unfortunately lots of brands here do it, but it is not right. I believe it is okay to get inspiration from others, but copying is not ethical in any sense.
The uniqueness in my own collections is what makes them great. I always try to create modern looks that follow trends, but I refract them through the prism of the brand I'm currently employed for.
Do Bulgarian brands care for sustainability?
I noticed that more and more Bulgarian fashion brands realize that the old-fashioned way of producing is no longer favored.  They are looking for sources to understand how to alternate their business model, but they struggle to transition. That's why it's great to talk about the problem with sustainability in fashion. You know that the EU plans to enter the 2030 Agenda for Sustainable Development and its sustainable development goals - SDGs. We should wait till it's due and do something great for the environment right now.
What are your current plans in the fashion industry?
My plans have always been to progress professionally, to look for challenges and get results. I will continue working in the fashion industry. I have so many new ideas that are waiting to be realized we have only time to know. I believe that everything happens for a reason at a certain time, with the exact people it needs to happen with and at the right place.

More of Desislava Dimitrova-Petrova:

https://beauty.fashion.bg/article/1299/36/desi.php

https://mladi-dizaineri.fashion.bg/Dessislava_Dimitrova/view/24

https://des-di-prego.blogspot.com/

https://www.facebook.com/desislava.petrova.10888

https://www.facebook.com/Des.di.PreGo.Fashion/

https://www.facebook.com/Des.di.PreGo.Fashion/shop

https://www.youtube.com/watch?v=GrjgbRp3hZQ


Hits: 3143 | Leave a comment