New Yorker Spring 2010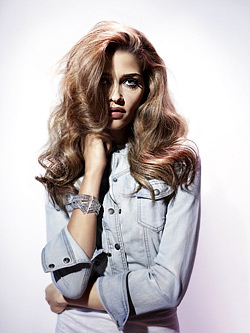 Amisu/smog
Welcome spring with the new seasonal collection from smog and amisu by New Yorker!
Be it on walks through nature that has burst into bloom, meeting up with your closest friends in your favourite cafés, or when dancing the night away - both of these brands offer young men and women the right outfit for any occasion.
Amisu emphasises soft, bright tones and comfortable materials that drive away the winter blues.
Fashionable women will be wearing batik print tube pants combined with denim jackets and charming romantic blouses.
The first warm rays of sun this year will see fashion queens appearing in denim corsage dresses, colourful miniskirts or in black-and-white check, or perhaps in eye-catching colourful short skirts.
Anyone wanting to look their hippest will also don short-waisted blousons, biker jackets and washed-out jeans with a used look.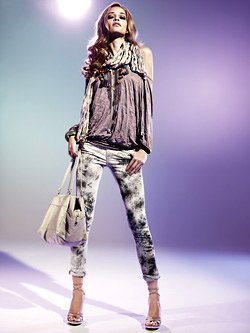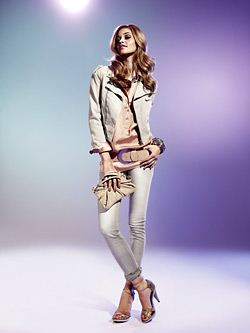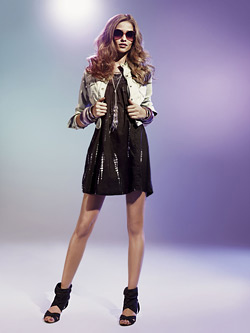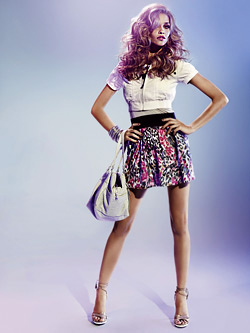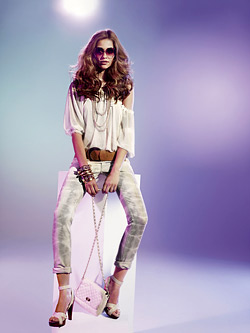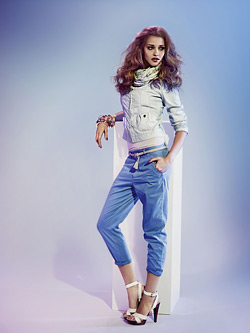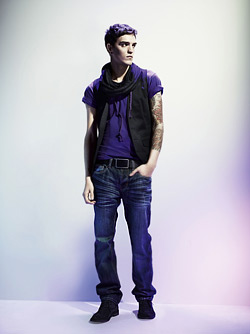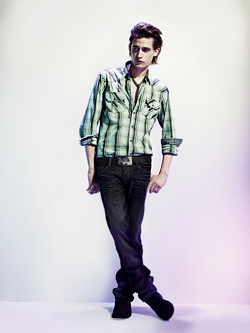 Smog also offers trendy  young men the latest looks in fashion. Check shirts in green, red and blue shades will be a hit this spring.
The new collection features a wide range of cosy pullovers for this cool time of the year – such as simple V-necks or with diamond patterns.
Young men will also look great in blue knitted jackets. The look is made casual when combined with either light or dark washed-out jeans, black printed tops and black biker jackets. And a nice matching tie is the icing on the cake.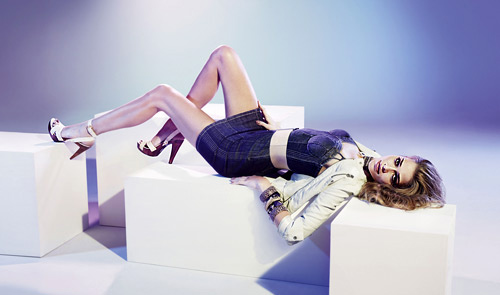 Censored

The new lingerie collection by Censored has many styles to choose from. It allows you to show your romantic and playful side, or to stun with a touch of glamour and extravagance.

The lingerie in the range features intricate designs in light blue, black- and-white, or in lemon yellow, studded with small rhinestones or in fine white lace with pink ribbons.

The pink lingerie set with black lace is sexy and seductive, and the panties with black lace hearts is a feast for the eyes.

For those that prefer the animal look, there is also lingerie featuring zebra stripes with pink hems.

The new spring swimwear collection by New Yorker has already begun raising temperatures for a hot bathing season.

The new trends make water babies not only absolute eye-catchers on their beach holidays, but also down at the local pool.

Whether they are swimming laps or performing an elegant jump from the top board, young women will make a splash in bikinis with black-and-white flower patterns.

The small belt on the bikini bottoms is the icing on the cake. For sunbathing, censored also has a refined aubergine bikini with neck-holder that features silver-coloured rings both on the top and bottom.

Whether strutting along the pool edge or taking a stroll on a fine-grained beach, women in monokinis - in shimmering violet or black with breathtaking necklines – are sure to turn heads. Water nymphs will also be wearing bikinis in leopard and zebra prints this season.

Accessories

Accessories from New Yorker give every outfit that certain je ne sais quoi. Some items in the collection feature a colourful sea of shades while other accessories are dark-hued and riveted, giving you that rocker look.

Trainers are a definite must this season - zebra look models with pink laces are just the thing, or in blue with white or yellow stripes, possibly with high heels. Ballerinas are also just the thing this season – and, depending on your mood, you can choose from bright blue or shocking pink with ribbons.

Belts this spring leave nothing to be desired either: fashion aficionados can expect to find riveted black belts, white belts with coloured rivets and pink belts with bows. And as soon as the sun shows its face this spring, sunglasses with colourful frames in bright green, sun yellow and pink will be de rigeur.

Bangles in leopard print, fingerless red leather gloves, multi-coloured patterned caps and colourful scarves with peace signs add the final touches to any outfit.

Bags can be had in all shapes and sizes – such as a small black one featuring small leather blossoms that matches perfectly to that evening party dress, or a white outsized one to take along on a shopping spree.


Hits: 35232 | Leave a comment