Summer Vintage Must-Haves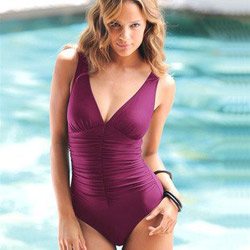 Summer is here. Get ready for the new adventure full of laugh, sand, sun and Mohito. We present you some important advices for your new vintage summer look:
The swimsuit
The high wasted bikini and belted one-suits are in, putting the thong bikini on the back burner. To find a true vintage bathing suit you can shop your local vintage stores and use online sources. This season most of the designers are adding a vintage look into their style lines.
Sunglasses

Sunglasses from another era is a quick way to look vintage chic. Try vintage Ray ban sunglasses to really have your friends drooling.
Music

Make a mix of vintage music that you have never heard and call it your 'vintage inspiration playlist'. There is nothing like taking a trip back to the good old days than playing music from that era. For example some of the best choices: Otis Redding, Jackson Brown, Van Morrison, Jodi Mitchell, Miles Davis and Tina Turner and so on.
Denim Shorts

I love denim shorts. They go with everything and are comfortable at the same time. My trick: I go to a local thrift shop, buy a pair of vintage jeans for under $6 and cut them into shorts. To get the frayed look wash them a few times.

The vintage is coming back with all of its forms - clothes, accessories, music. Try to feel the era with its advantages - feel free and comfortable.


Hits: 8550 | Leave a comment