Gorgeous dresses for the holidays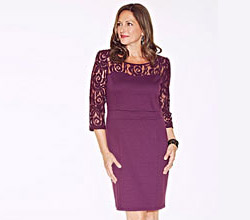 If there's one time of the year when every woman longs to wear a lovely new dress it has to be Christmas. We have such an incredible amount on our plates in the run up to, and during the big day itself, that the chance to get changed into a pretty frock is usually the sign that everything is at last, under control and the celebrating can really begin.
After what seems like months of shopping, wrapping, menu-planning, cooking, decorating, socialising, stuffing stockings and turkeys, making mince pies and welcoming carol singers, it is amazing we don't just all keel over with exhaustion. That's why it is so important to take care of ourselves as well as everyone else, and to make sure we have every chance to look and feel good and enjoy the biggest event of the year. After all, nobody wants to sit down to Christmas dinner wearing a floury apron over an old tracksuit.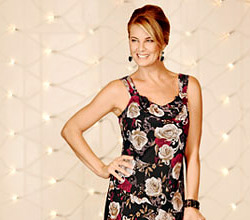 It's important to plan ahead to ensure you have the perfect dress to slip into once the dinner is in the oven. Often the days between Christmas and the New Year are a quieter time, and offer a great chance to catch up with family and friends when many people are off work. That is even more reason to have a nice dress to wear for all those extra gatherings, not to mention any parties that might be in the offing. You don't need an excuse to treat yourself to a special occasion dress - the work you've done in the run up to Christmas deserves some reward.
When considering what to buy, it's a good idea to look out for a shrug that will complement your dress. Shrugs are so charming and feminine and they are just enough to take the chill off when you might feel a little too cool without an extra layer. Because they are so light and floaty, shrugs do not detract from the lines and flow of the dress underneath and they enhance curves by emphasising busts and waists. They really are the perfect solution to that dilemma of feeling a bit too much of a nip in the air. This is even more so when your dress is sleeveless or has short sleeves. With snow and ice outside, no-one wants to change into a thin dress and have their arms covered in goosebumps.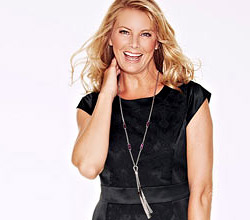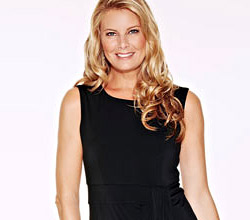 There's something about a dress that makes us feel, well, "dressed up". Particularly flattering these days are the wonderful dresses available in soft and draping jersey fabric. This truly is a wonderful material. It hugs and skims the body without being too tight-fitting so it doesn't highlight any lumps or bumps. It falls in a draping fashion, creating a quintessentially feminine appeal. It is also the perfect weight, not too dense and heavy nor too light.

Bonmarche has some absolutely gorgeous dresses in jersey, having been quick to realise its superior dressmaking qualities. In fact, it's worth taking a look at the Bonmarche Christmas catalogue as there are dozens of lovely dresses that will have you dropping some heavy hints around the place if the family are wondering what to get you for a present. In the meantime, treat yourself to a pretty dress.

There's a lot of work ahead in the countdown to Christmas so a new outfit will help to cheer you up as you start the shopping and list-making. And on Christmas Day, it will be good to get a few oohs and aahs for your outfit as well as the feast you've slaved over.

Remember, it's not just the fairy lights that should be sparkling on Christmas Day - you should be too!


Hits: 13583 | Leave a comment