Tag: Undercolors of Benetton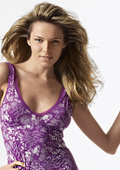 Collections
With a touch of originality, Undercolors of Benetton focuses on the moments of the day that bring a feeling of being at ease, at home or on the beach.

PICNIC The leisurely atmosphere of an afternoon spent relaxing is shown in the prints, fabrics and colours which create a range of romantic, simple, comfortable styles as only Undercolors can. Jersey fabrics are covered in tiny floral prints and embellished with lace and frills. Clingy vests and shorts barely hide themselves under comfortable cotton jersey and viscose tops and roomy trousers, perfect for homewear. Flashes of red or denim blue illuminate delicate shades.

HIP TRIBE Colour leads this theme. Prints and touches of lace leave the romantic road to introduce a vaguely provocative, rather cheeky note. Cottons for vests, bras and shorts; glossy, shiny fabrics for short slips and printed co-ordinates. He adapts to the situation but with a more tongue-in-cheek approach through a new twist to the classic gingham check and tiny prints on boxer shorts.