Ana Locking Fall-Winter 2015/2016 collection during the MBFWM
Ana Locking is a Madrid based womenswear, menswear and accessories brand founded in 2008 by designer Ana González. The label presented its Fall-Winter 2015/2016 collection during the Mercedes-Benz Fashion Week Madrid running February 6-11, 2015.

The brand, is defined by its fusion of craftsmanship and attention to detail with a sense of ease. The juxtaposition of artisanal hand-made details and avant-garde design is key to her identity.

The materials and fabrics for each collection are carefully selected and custom-made to create garments with an emphasis on quality tailoring. The concept of every collection is a manifestation of Ana's inspiration which she draws from contemporary art, youth culture and personal life experiences.
'I've learned it's important to not limit yourself. I've always tried to do what I really love, no matter how many obstacles I've encountered. My work is the result of all my life experiences!'.
Ana Locking

DOPPELGÄNGER - Ana Locking Fall-Winter 2015/2016 collection
Etymologically speaking, doppelgänger is the German word used to describe the double of a living person. It comes from 'doppel', which means 'double', and 'gänger', which means 'walking'. The term is used to designate any double of a person, commonly in reference to 'someone who supplants identities', but also the phenomenon of 'bilocation', whereby a person can be at two different places at the same time.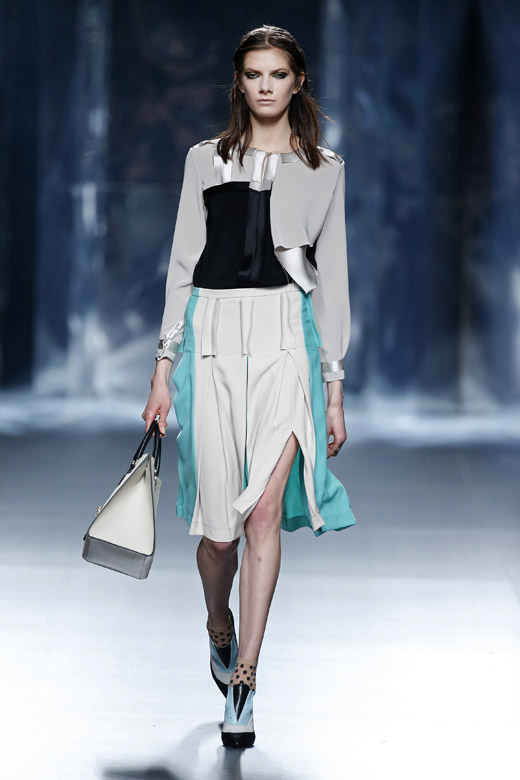 At present, in view of the different theories within the fields of astrophysics and particle physics, such as the theory of relativity or string theory and its reflections on space-time and the fifth dimension, we find ourselves in a situation in which the different planes of the universe would create many doppelgängers at the same time, in the past, present and future, thus leading to an infinite doppelgänger.
Another of the many aspects of the doppelgänger refers to the 'I want to be you'. We live in the "era of impostors", surrounded by people who not only want to be like the people they envy, but who even steal their identities and personalities in order to live that life as if it were true and embellish and eliminate the mediocrity of their own. They seek their own means of survival through lies, which in time they themselves confuse with reality. They end up becoming the great swindlers, charlatans and, of course, the great impostors.
At times, we dream about living other lives and the world of film allows us to temporarily escape our own reality and gives us the opportunity to feel as if we were other people.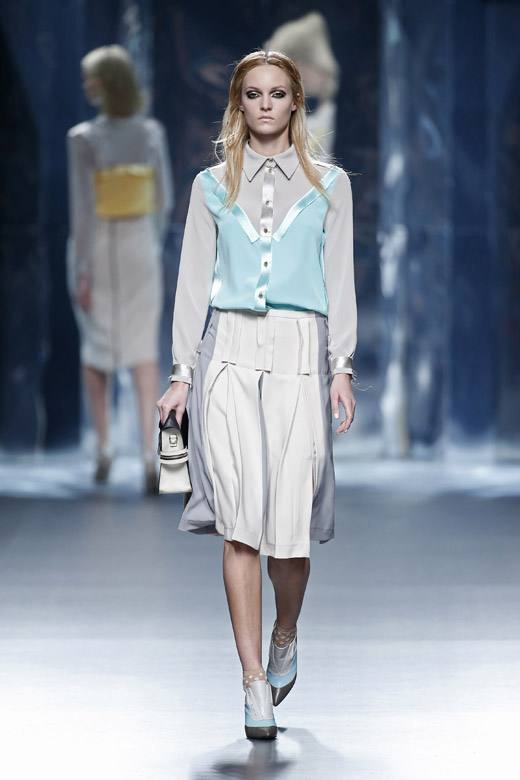 I am fascinated with the actor's doppelgänger, his ability to build his character as a part of himself, only to then shape it with elements and experiences drawn from his own investigations, even crossing the line between simulation and reality. The more I wonder if what I see on the screen is not the product of a performance but rather of reality the more I become fascinated by the capacity of the method chosen by the actor to make me forget that it is a performance.
I am impressed and terrified at the same time thinking that, in the midst of a creative process, we are moving between reality and madness, driven by an obsession with total immersion, the lack of an objective reality and an intense dedication. This might be the only key I can understand when it comes time to face my collections and the concepts I try to symbolize. Perhaps that process is in itself a real attempt at doppelgänger.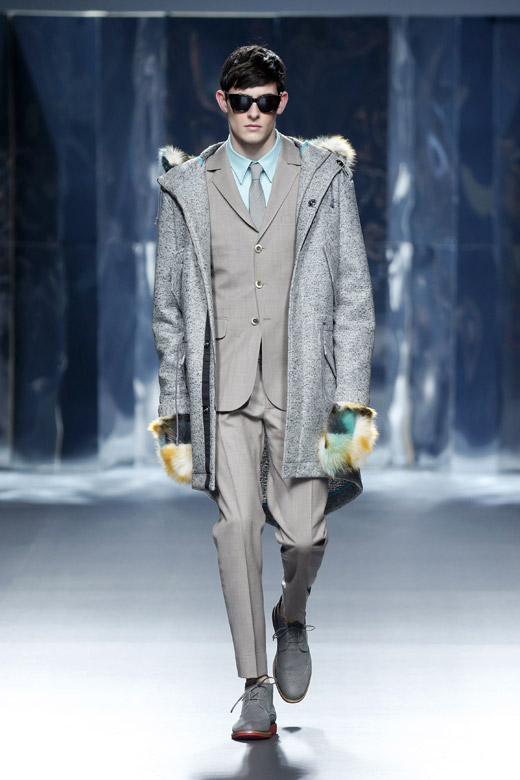 SILHOUETTES
The Italian Neorealism in Antonioni's films and his characters, caught between being undistorted and the warped desire to live the lives of others, has marked the starting point for creating the aesthetic characteristics of the entire collection.
The doppelgänger silhouette is defined by both dreams and reality, between the search for beauty and the strictness of the social impositions, which lead the characters to consider the need 'to be another me'.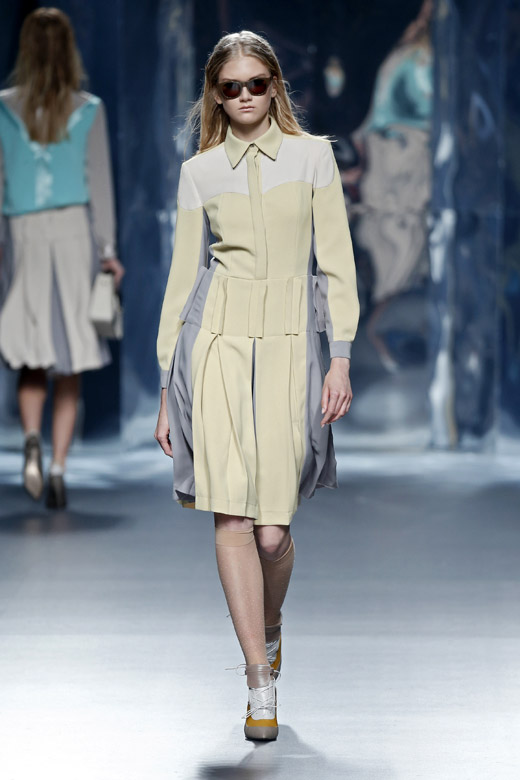 It is the representation of a cold, distant, ethereal and almost inaccessible woman who is not satisfied with the bourgeois lifestyle that surrounds her and dreams of being the protagonist of other marginal lives that make her live emotions and feel the risks she was never able to experience within her own comfortable surroundings.
Straight and strict silhouettes with midi skirts below the knees, without plunging necklines, with small square or shirt collars, although you can sense the need to seduce through the slits in the skirts and the sheer blouses, hidden under many of the garments just waiting to be discovered.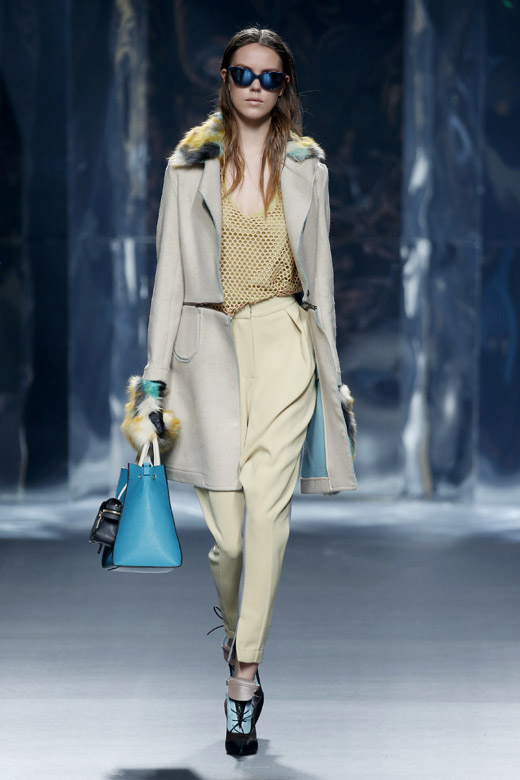 As for men's wear, the masculine side is equally aware of the same need to play at discovering its own doppelgänger. It does so through combinations representing two different types: one of a perfect, bespoke classic, and another in which symbols of a youthful culture, like the reference to the iconic M-51 fishtail of the sixties Mod culture, covers that need to live other lives.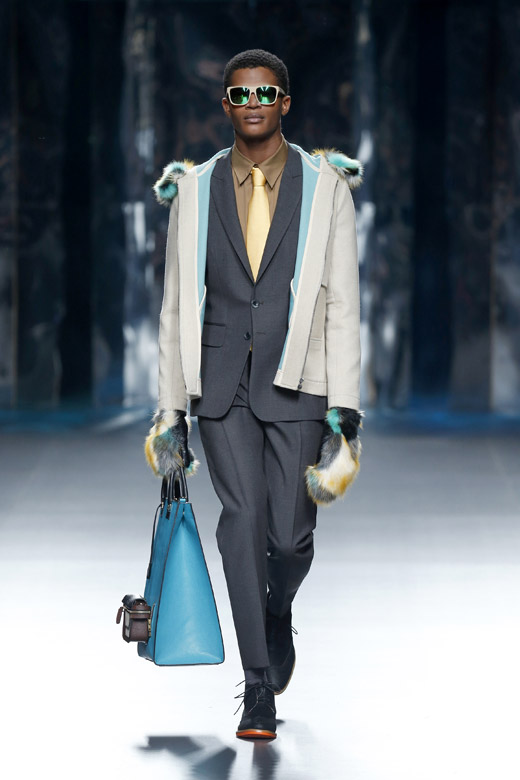 In both cases, the dream of imagining, of 'being another me' is visualized in the contrast of combinations that range from the proper appearance of a bourgeois suit mixed with colourful synthetic fur coats and with military jackets that rest on the shoulders of a perfect cocktail outfit, to a traditional tailored suit.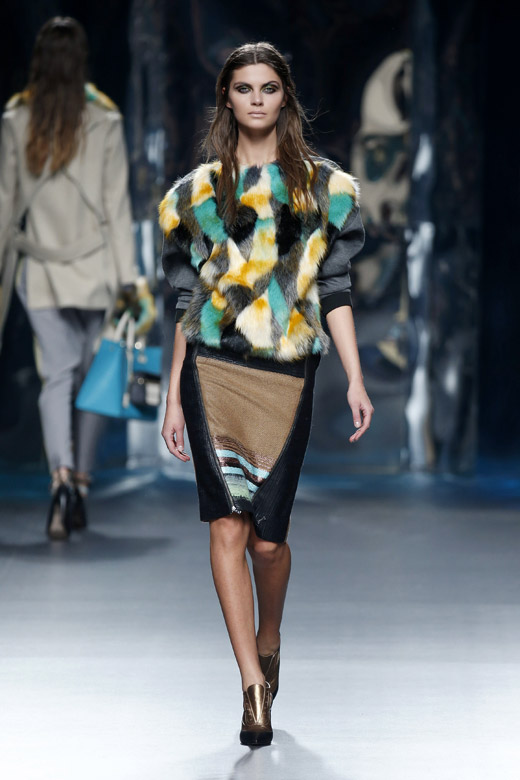 COLOURS AND FABRICS
'Doppelgänger' fabrics play a 'double' role. Two-faced fabrics, such as satiny crepé, with a glossy-matte finish, beige-green wool and mohair fabrics and grey-black or navy-green cotton neoprene. Materials that want to be other materials, like the coloured synthetic furs that want to be fox hair, the long synthetic furs with a degradé ivory to brown effect that want to be yak fur, the 'agglomerated' prints on pleated fabric that want to be wood splints, fake metalized leathers that want to be metal plates, together with other materials such as horizontal fringe, folds in fake pleating and vigoré wool cloth in 3D with a plasticized finish.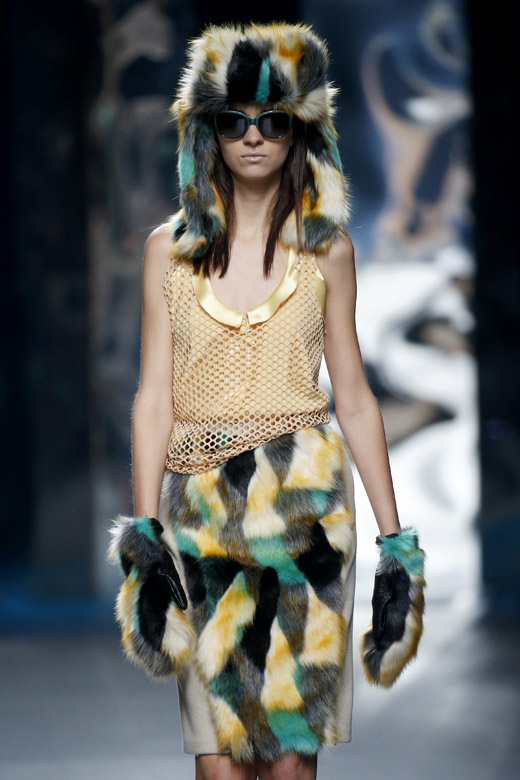 Cadmium yellow, veronese green, cobalt turquoise, heather pink, ivory white, tourmaline black, curry yellow, Van Dyck brown, midnight blue, pink quartz, birch white, onyx black and dark copper.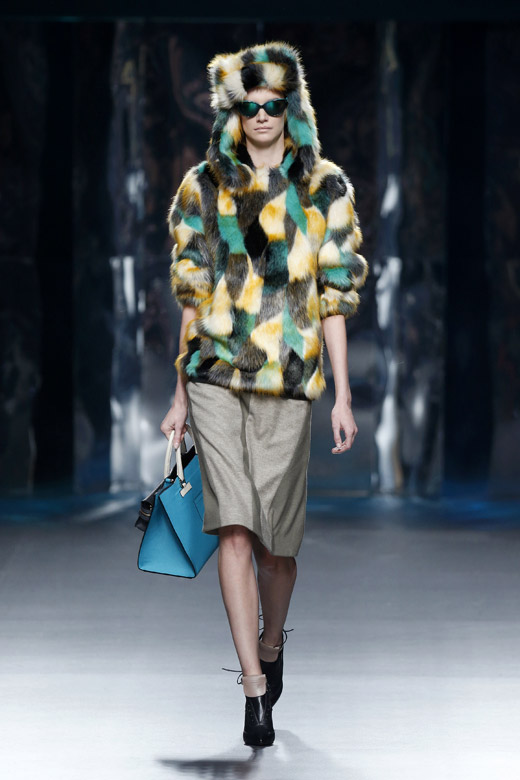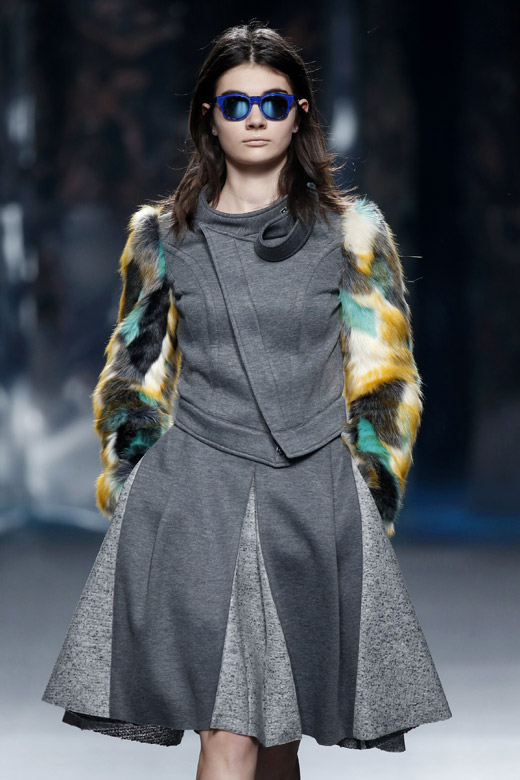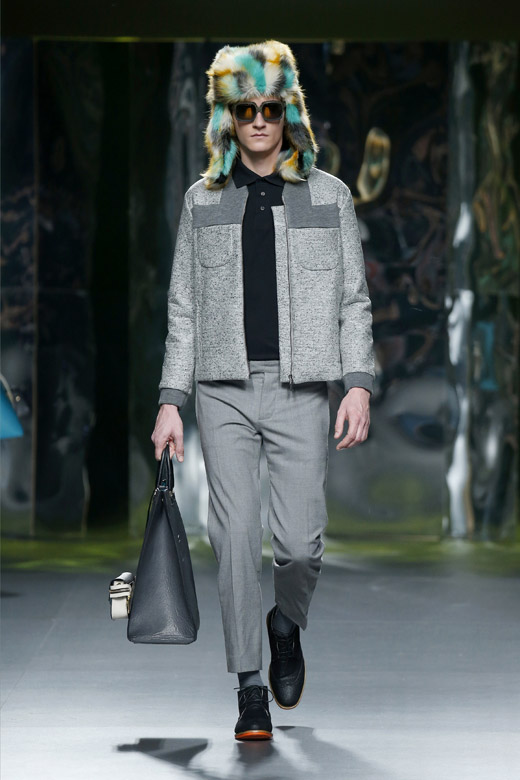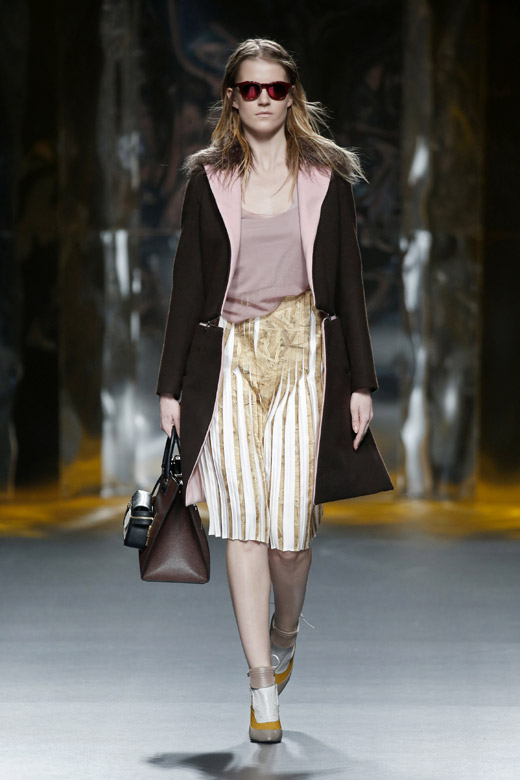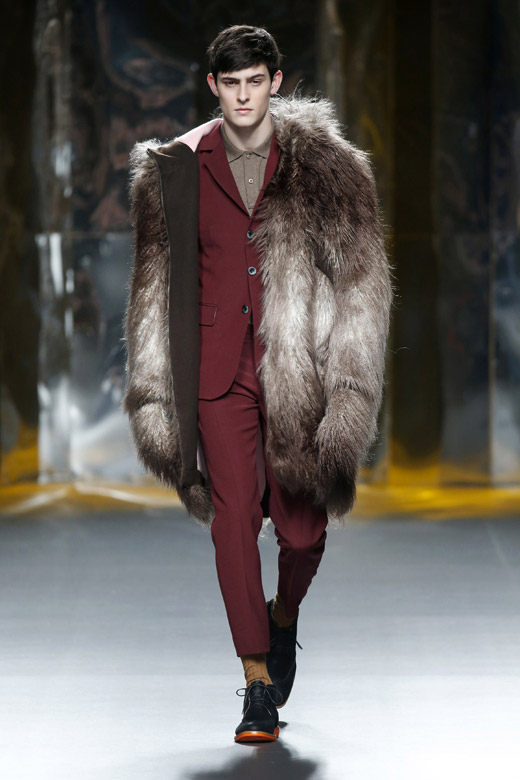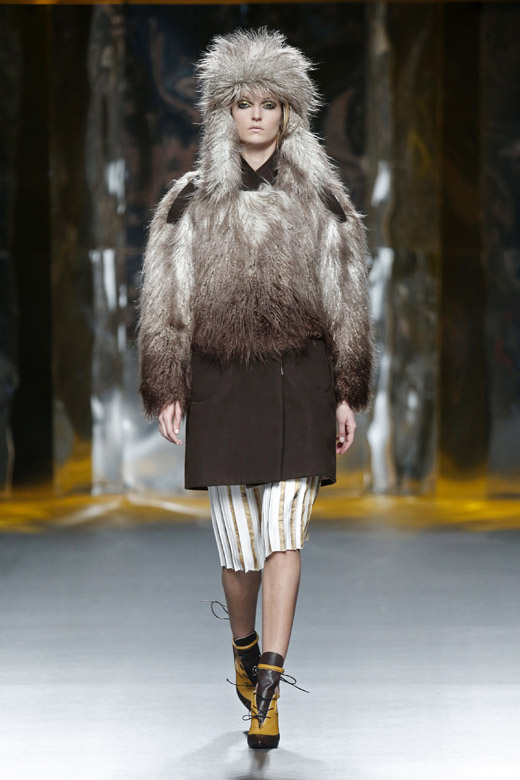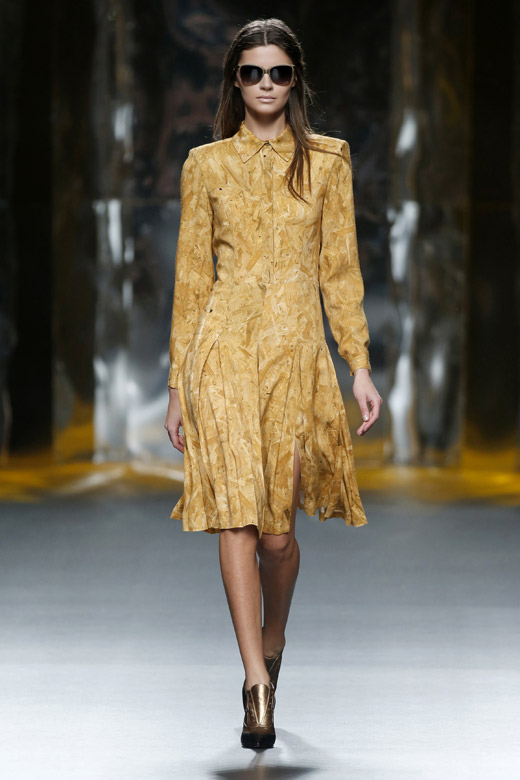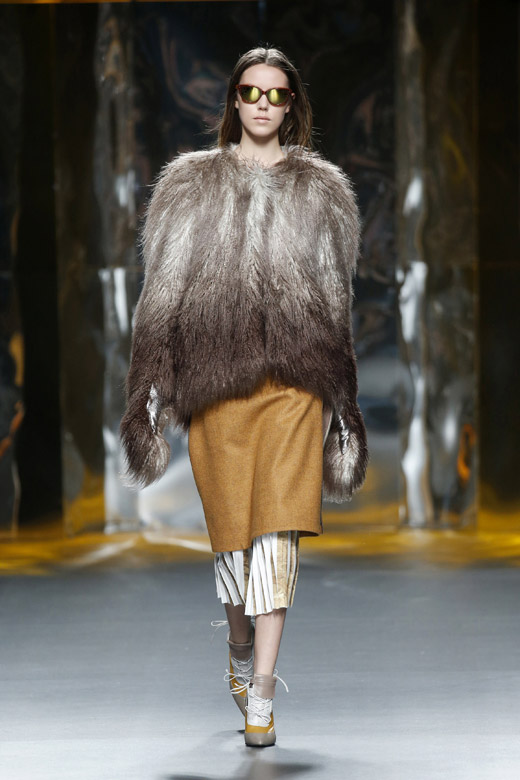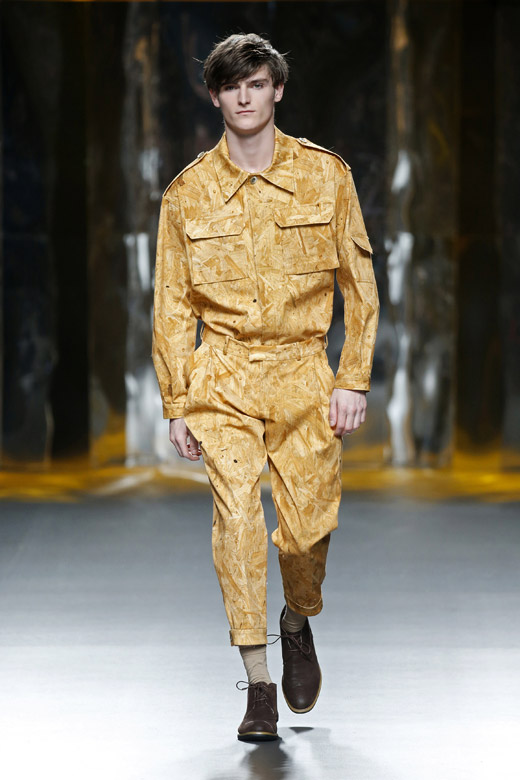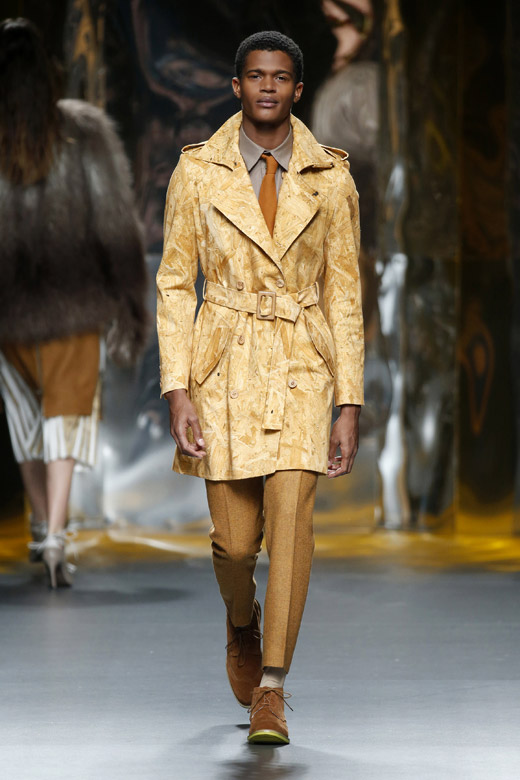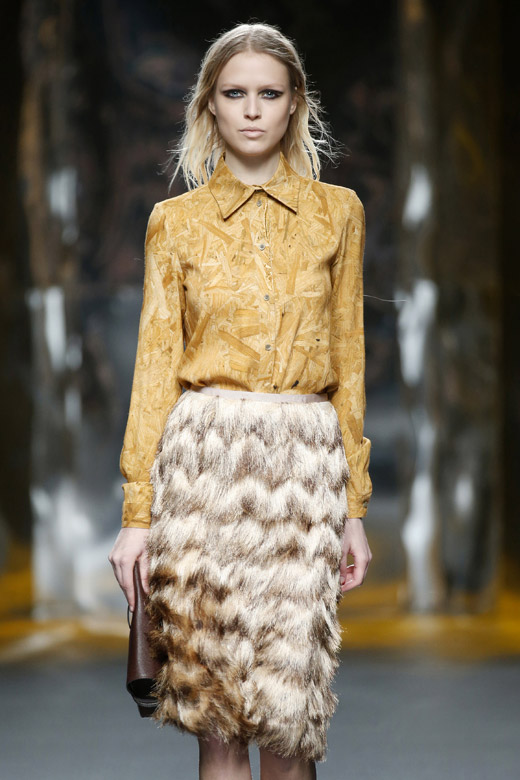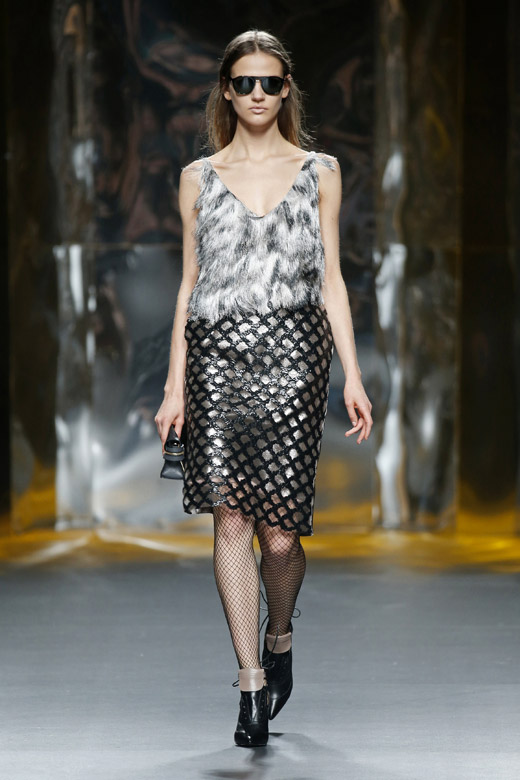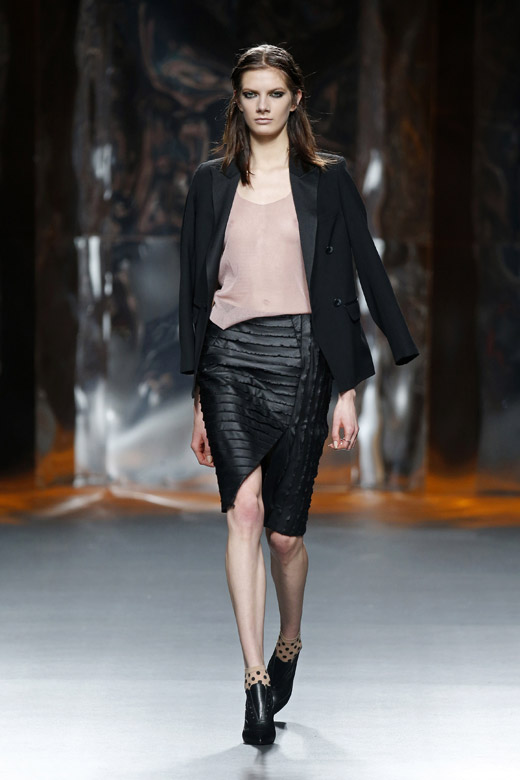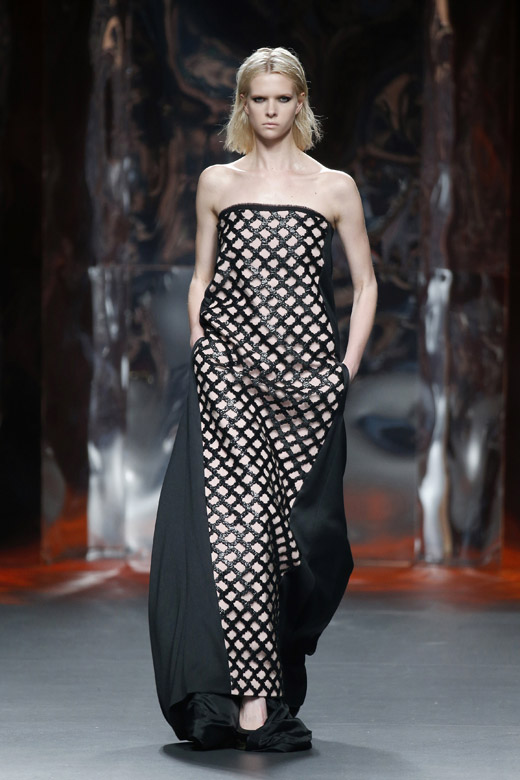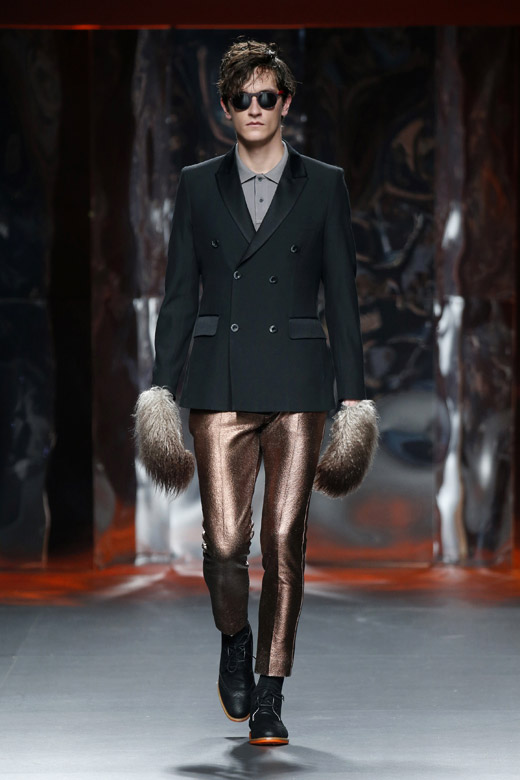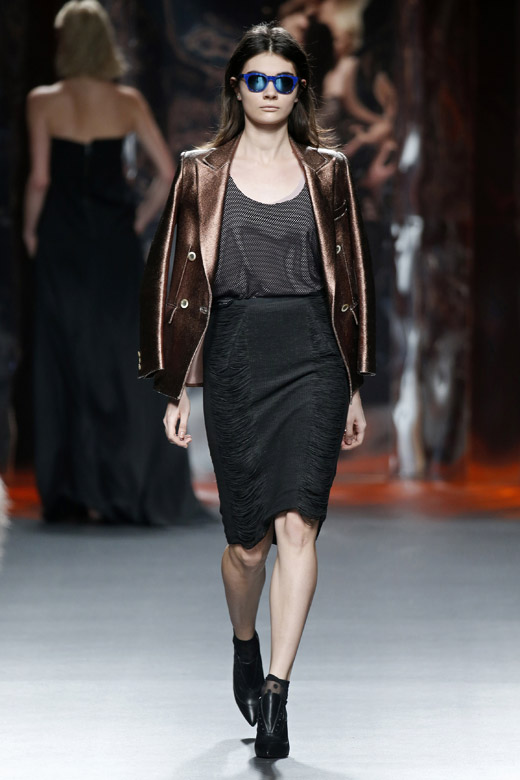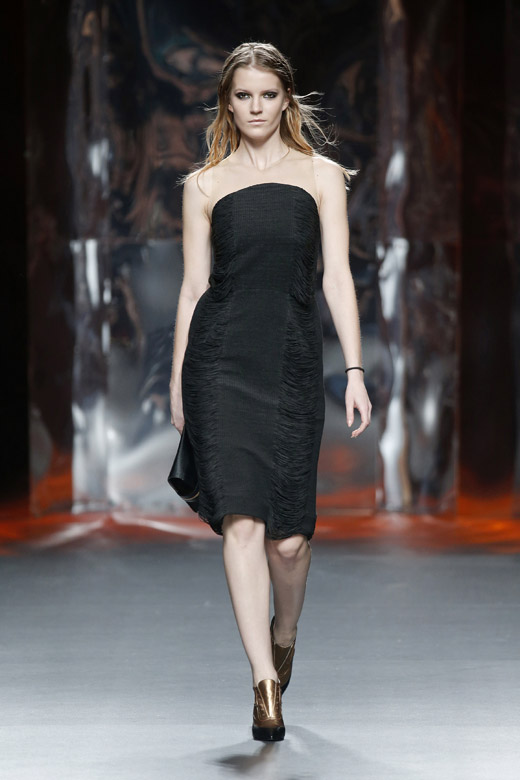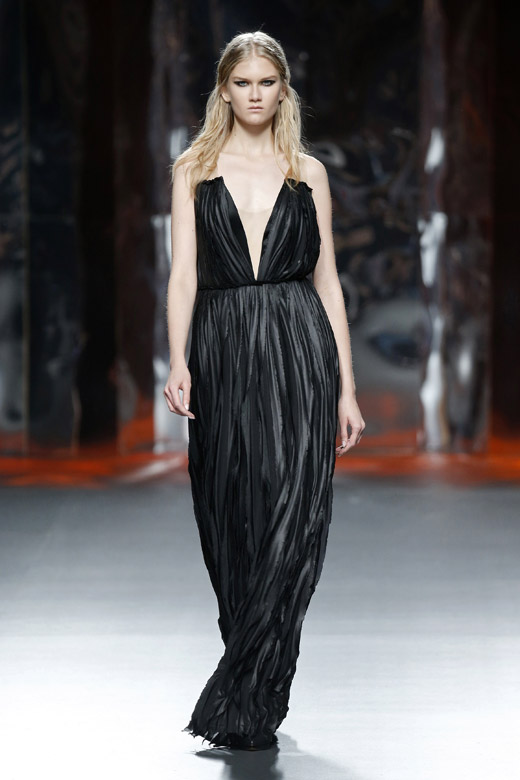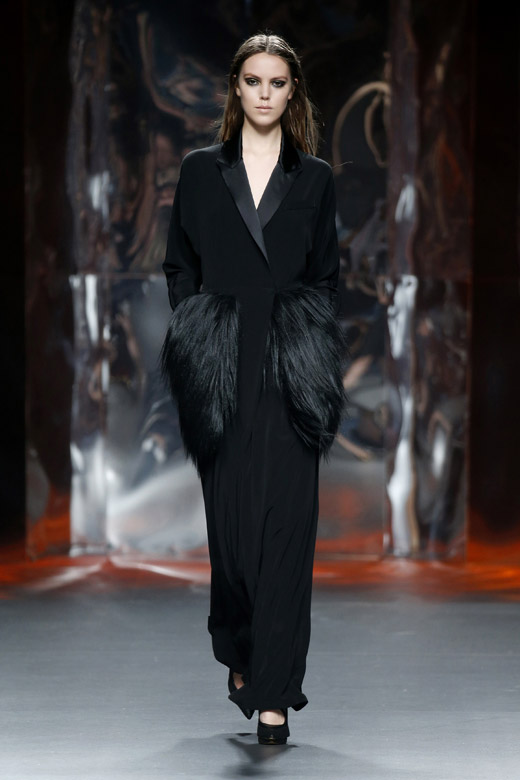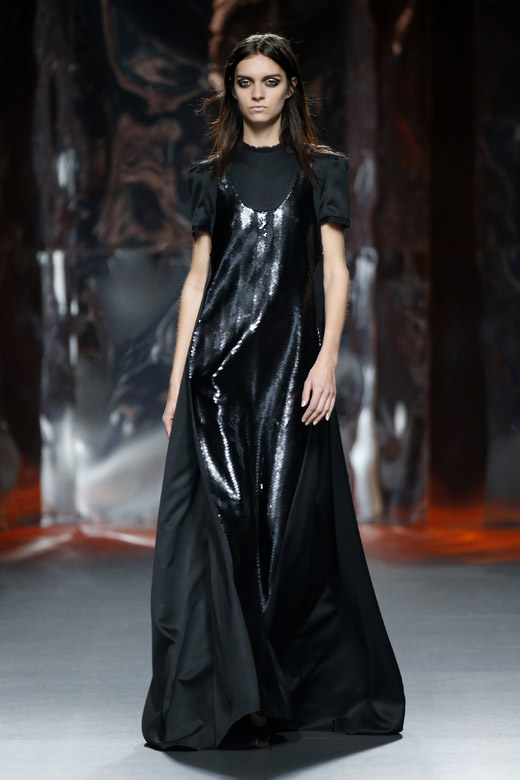 Information: ifema.es
Photos: image.net


Hits: 6535 | Leave a comment