Why to choose the folklore dances instead of fitness
If you want to keep the tonus of your body, you definitely have to choose the folklore dances. What is better than dancing?
The dance is emotion, dialogue, striving for perfection, a burst of energy and mystery.
Let's take a look into the history of Bulgarian folk dances:
- Bulgaria is separated in seven folklore areas: Dobrudjanska, Shopluka, Miziya, Trakiya, Rodopi, Pirinska and Strandjanska.
- Dances from each of them have something unique. Everyone has heard about "ruchenitza", but not everyone knows that there are two types of ruchenitza: Thracian ruchenitza and Shopp ruchenitza. Thracian ruchenitsa is slow and plays low, while Shoppe is just the opposite - it is dancing with high legs in a combination with quick and bouncy rhythms. As the dances are different in different areas, and the garments were different. Through dance has appeared and regional affiliation.
- The dance is an expression of the lifestyle of a separate group of people. As an example we can take the Dobrudzha area where we all heard about the rich fields of Dobrudzha. The dances of this ethnographic area often depict sowing, harvesting and other agricultural activities. The most commonly used props in Dobrudzha dancing is a bundle of ears of corn.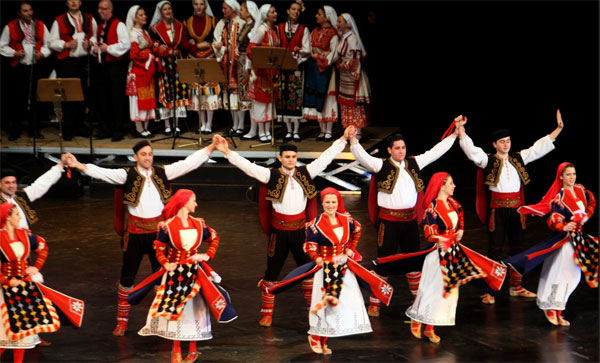 Enough with the theory, I chose the folklore dances because:
1. What I want to show or say, I do it with a dance.
2. I found new friends.
3. I do my workout without thinking how much calories I burned.
4. It's all an emotion. I live the history of my ancestors, facing their problems, live their life in their time.
5. I forget the daily life problems and get out the stress from my life.

We invite all dancers who dance Bulgarian folklore dances, professional or amateur, to take part in the "I like Bulgarian folk dances" international campaign.

The peak of the campaign will be on May 24, 2015. We appeal to all the Bulgarians worldwide to join the initiative by dancing Bulgarian folklore dances and shoot short videos, which to publish on YouTube or facebook, titled 'I like Bulgarian folklore dances!'. You can add your name, company, etc. The aim of the organizers and partners of the campaign is many people to start talking for Bulgaria and Bulgarian dances.

More information about the campaign can be found at:
richmart-vintage.com.


Hits: 25257 | Leave a comment