Smart materials for better fashion & accessories
A blend of Craft, Creativity, Competence and Technology
'Smart Materials by Okinawa' is the division dedicated to making and marketing specialty products brands.
Jacroki®
The very versatile Jacroki® material is almost totally of vegetable origin, and offers an excellent dimensional stability and colour wash fastness at up to 60°C, and dry cleaning, as well as a great mechanical resistance to abrasion. About 25% of the cellulose used for this material comes from certified forests FSC, following principles of environmental sustainability. The remaining percentage comes from legal forests and plantations. 80% of the cellulose used is produced from paper mills recovering liquids during the process to produce electricity, steam and secondary chemical products. No chlorine is used for whitening the cellulose. A range of colours is being certified by Ecolabel®.
Microki®
This is the one and only choice, and a real quality alternative to leather in terms of aspect, hand and optimal technical performances. Made from a totally transparent and traceable process, this special eco-leather is an ennobled microfiber base that, thanks to the Okinawa exclusive treatments, and its completely non-toxic raw material makes it an easy alternative choice for eco-minded designers looking for a 'better' leather. Microki® endures washings up to 60° degrees without compromising stability or appearance. It is an optimal choice for interior design, clothing, fashion accessories, shoes and leathergoods.
Washoki®
This new leather generation is washable up to 60° degrees with extraordinary dimensional stability and colour fastness, thanks to its special wet blue tanning and to its innovative coloration technique; it is created by the Smart Materials R&D team who have creatively used already existing processes in order to express a new expert level of innovation. Washoki® complies with all Reach parameters, and is suited to customer specified manufacture and finish specifications. Washoki® is perfect for clothing, leathergoods, shoes, fashion accessories and furniture.
Hydroki®
Hydroki® is an Okinawa registered trademark and a true one-of-a-kind leather. Hydroki® is finished using wet white chrome & metal-free tanning and is available both in a natural version and in a wide range of vegetal-based colours, thanks to the Historia Tinctoria platform. This leather can be dry cleaned and washed with water up to 40° degrees without shrinking, and also with a good dimensional resistance compared to similar conventionally tanned leathers. Currently it is the only leather in the world to be certified Class 1 Oeko Tex® Standard 100 in addition to a production process certification guaranteeing a very high level of safety and healthiness that meets all toxicological parameters superior to the current legislation in force for leather. Hydroki® by Smart Materials for Okinawa.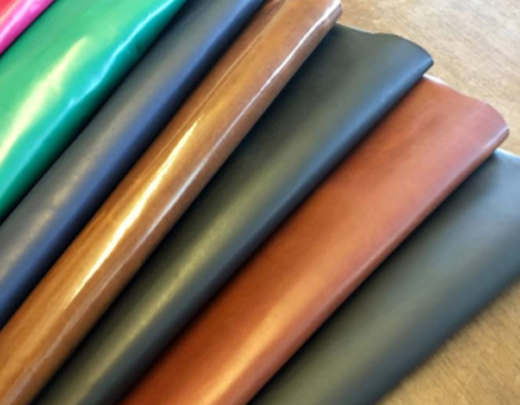 Hydroki® by Smart Materials for Okinawa
Denim Leather by Smart Materials
This super-trendy leather is able to offer the authentic vintage look of an aged, washed and faded jeans look. The starting point is a bovine, ovine, caprine and crossbred leather, wet white or wet blue tanned (for example like the Hydroki® process) but here with a natural woad dye which, being completely organic is consequently totally certified. Denim Leather by Smart Materials reacts exactly like a denim fabric, offering a more and more faded aspect after each washing. Denim Leather by Smart Materials can be washed at different temperatures depending on the base leather chosen (Washoki® or Hydroki®). A fake denim leather look, not fading, can be also obtained. Denim Leather by Smart Materials is like a "canvas" coming to life and customized with different finishing for this exclusive and unique product.
Okinawa has a second production unit, the one which defined the first part of the company's history. Here, Labels & Trimmings take care of the design, production and sale of labels for clothing and fashion accessories basing on the important and exclusive offer by the Smart Materials division.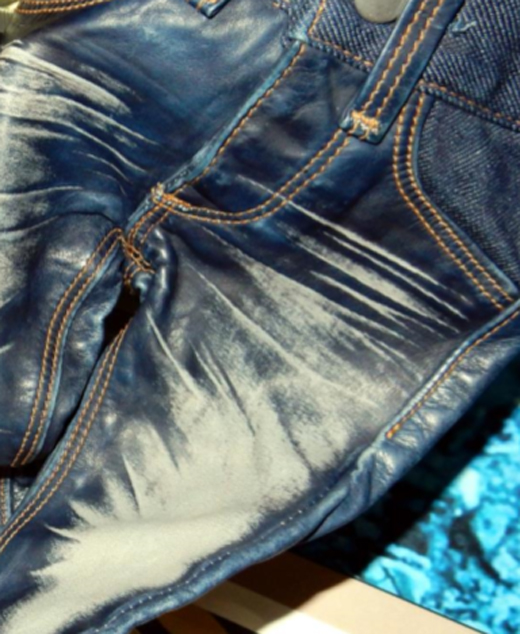 Denim Leather by Smart Materials for Okinawa

Today Okinawa, thanks to its expertise and along with a great creativity and inventiveness, is an authentic reference point for the most contemporary smart leather lines. And because of the company's steady and continuous material research and design activity; its expertise in dyeing, finishing, as well as its customized services, and its care for beauty, innovation and quality, these materials and their ennoblement are completely unique in the market today. All products are resistant to abrasion, distortion and flaking. All the very best materials and only non-toxic chemicals are used as well as natural or vegetal dyes, which are guaranteed by the most restrictive certifications in the industry.

Denim Leather by Smart Materials for Okinawa
The process to make the leather washable is an Okinawa exclusive and allows to add value to leather, as well as making it easier to clean and keeping it intact over time. Every material and manufacturing process follows the industry standard as a reference, but also means the products garner the strictest sustainability certifications. The production is 100% vertical allowing the company to maintain great creativity in experimentation, customization and customer service and, above all,in line with market trends.

In addition to this, Okinawa is also a partner of C.L.A.S.S..


Hits: 4558 | Leave a comment