C.L.A.S.S. Spring/Summer 2018 is becoming Smarter
C.L.A.S.S., the leading eco-material hub based in Milan and specialized in the integration of a new generation of smart values within fashion and home d?cor, presents the new SS 2018 collection through its partners, highlighting the new generation of values as innovation, research, creativity, traceability, transparency and sustainability. A very new business model and a real supporting tool for companies (not only the "fashion" ones) for lower environmental impact productions. A new concept that contributes to improve the quality of life, properly answering to cultural changes and to consumer's new mind-set that links excellence to smarter products.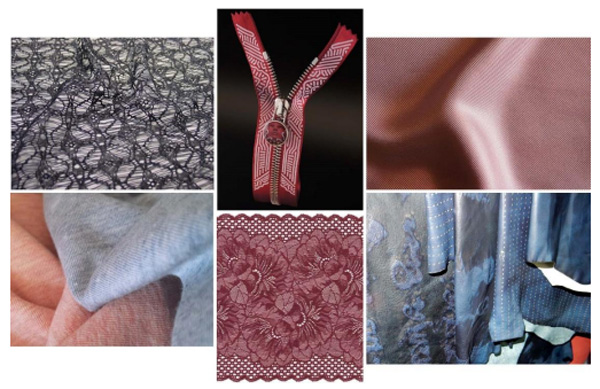 So, an evolved collection technologically advanced… available for the interested companies:
- At C.L.A.S.S. Material Hub in Milan Headquarter in Viale Vittorio Veneto, 8 (only by appointment) or in occasion of World C.L.A.S.S. tour in several cities around the world: London, New York, Barcelona, Madrid, Copenhagen and Amsterdam! Taking a C.L.A.S.S Private Sourcing Sessions, brands can discover
The collection consist in yarns, fabrics and accessories clearly matching all market needs starting, of course, from the "Fashion World" at 360°. A complete and wide offer dedicated to underwear, athleisure, sportswear and contract/upholstery. Innovative and unique, C.L.A.S.S. collection leads the concept of "SMART" hitting the line of the people that aim to be contemporary!
C.L.A.S.S. SS 2018 presents, in details:
YARNS
- Botanicaldye by Shinnaigai Textile: a range of m?lange yarns in organic cotton and Tencel ™, made in Japan, dyed with vegetal colours extract from flowers, fruits, tealeaves and coffee… with a perfect colour-fastness.
- ECOTEC® by Marchi & Fildi, the only, high quality, smart cotton, available in a wide range of colours in stock service, created from the transformation in excellence of already dyed, pre consumer 100% cotton clippings. ECOTEC® is the only cotton yarn that saves up to 78% of water.
- CUPRO by Asahi Kasei is a refined, matchless material with an exquisite silk like touch. The only fibre, worldwide, made from the smart-tech transformation of cotton linter bio-utility waste, converted through a traceable and transparent closed loop process. Innovhub 3rd party lab test proves CUPRO can claim full biodegradability end of life option. On top of this, the LCA study signed by ICEA* now secures CUPRO's quality profile, and defines its responsible status today.
- ROICA™ by Asahi Kasei: is a revolutionary secret stretch ingredient inside for everything in the Modern Wardrobe, that offers the only responsible stretch at global level and dyeable also in blend with cellulosic fibres.
FABRICS
- Re.Verso™ by A.Stelloni Collection by Mapel: Re.Verso™ fabrics for fashion both in cashmere and wool or precious blends, without forgetting the precious Re.Verso™ Baby Camel
- Bacx™ by Centro Seta: Made in Italy line of new generation silk fabrics, that includes articles of 100% GOTS certified silk, Green Fiber™ Ecolabel EU certified recycled silk, and blends silk/Newlife™, the recycled polyester 100% Made in Italy, totally traceable from 100% post consumer clear bottles.
- Lanificio Zignone: BIO, a collection thought for contemporary formalwear including refined fabrics in GOTS certified wool (organic wool)
- Euromaglia: refined collection of jerseys, created blending natural and innovative fibres as ECOTEC® by Marchi & Fildi.
- Organic Cotton Colours: wide range of organic cotton products, available in the three natural tones of the fibre (ecru, brown and green), totally traceable and farmed in Brazil.
- Gruppocinque: the market's point of reference in terms of high quality, single yarn-dyed plain shuttle-woven fabrics and jacquards. 100% Made in Italy, that use high-tech materials as Econyl™, Newlife™ and CUPRO.
MATERIALS
- Smart Materials for Okinawa: from new-generation leather to "eco" solutions coming from a vegetable and/or non-animal base, all of the creations are beautiful, precious, innovative, performing and responsible, due to the transparency of the processes, the certifications and the strict control over the manufacturing process as a whole, from the very conception to the production. Between the most innovative: - Denim Leather: the super trendy leather offering the vintage aesthetic look of the aged jeans that fade after each washing.
ACCESSORIES
- Lanfranchi: Born 1887, are now committed to the Greenpeace Detox Campaign, leading the research and innovation of high-range certified zippers in GOTS certified organic cotton and Newlife™.
PRINTING PROCESSES
Imprima: the first global holding company dedicated to development and innovation in the textile printing and finishing sector. Thanks to the creative heritage of the brands acquired (as the German KBC and the Italian GUARISCO) clean and smart manufacturing, proximity to markets, outstanding quality, and sustainability, Imprima aims to establish itself as a preferred partner for brands and retailers in the world of fashion. This evolution of the business model is centred on the concept of sustainability understood as financial, industrial, social, and environmental sustainability.
Details on seasonal news at the links.
Brand and C.L.A.S.S innovations
Several brands, as the ones featuring below, chose C.L.A.S.S. innovations to create their collections, all driven by the three-dimensional approach (Creativity, Innovation, and Responsibility).
In the fashion market Stella McCartney, the stylist who pays the most attention to environmental issues, stands out.
As, since July 2016, she replaced all the virgin cashmere with the Re.Verso™ by Filpucci re-engineered knitwear yarns;
therefore she chose Lanfranchi organic cotton zippers and Geox is now using Newlife™ zippers for the NEW:DO collection.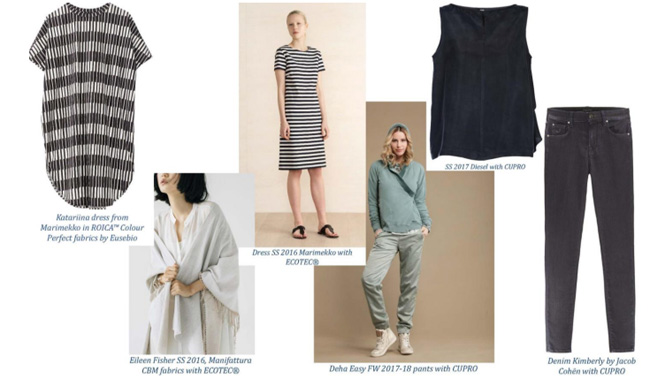 In the lingerie market
- Last February at Avantex Paris, Wolford presented "Salad": the new prototype line of sustainable lingerie with a Cradle to Cradle® approach. This innovation has been designed with a mix of innovative, eco-based materials: Lenzing Modal®, Infinito® biopolymer and the premium stretch yarn ROICA™ Eco smart, the only sustainable stretch at global level. This prototype program has been independently assessed, accredited and verified in a Material Health Assessment by EPEA in Switzerland, for 'Cradle to Cradle™' certification, and lays th foundationsfor the future commercial launch of the brand in 2018. The company also declared that, within The next 10 years, the 50% of their production will follow this new model, converting all production processes and comparing selected materials to natural elements, which must regenerate.
- Again in February 2017, at Interfili?re Paris, Iluna Group, leader in the production of lace on global scale, presented the new GREEN LABEL line, the first selection that features lace, new double-needle lace and, for the very first time, fishnet stockings and jacquard, allowing the creation of the first sustainable LEGWEAR with ROICA™ Eco Smart as main ingredient, being the only premium stretch GRS certified yarn worldwide, ensuring the recycling of production residues up to 60%.

In the sport and athleisure market
- BEHOT ™ by Sitip the unique fabric able to generate and retain heat when stretches! A truly unique and exclusive technology, licensed from the ROICA™ Stretch Energy® System by Asahi Kasei and BeHOT™, a highly refined type of knitted construction combined with this unique ROICA™ Premium Stretch yarn function, thanks to this special patented system, the fabric action of stretch and recovery is able to produce "at least a 1 degree.
- ACE – Active Clothing by EUSEBIO: a line of almost 40 items presented in different colors for the fast-growing athleisure category. Double fabrics, sweatshirts and laminations, all with a calibrated stretch component including ROICA™ Colour Perfect, able to deliver deep, flawless, solid colors without the greenish effect and with lower water consumption.
- Deep by Ripa in ROICA™ Eco Smart di Maglificio Ripa, selected between the "Selection" of IspoTexTrends, ISPO's new platform for designers, product managers and the media to discover the latest fabrics, insulations, trims, and accessories for sports and outdoor apparel. It's a unique sourcing and networking platform for sports and outdoor professionals searching for true innovation. Maglificio Ripa, ROICA™ by Asahi Kasei and Erca together for a synergy that has given birth to Deep by Ripa. The technologically innovative line of fabrics with exclusive performance in terms of responsibility, colour and functionality, as well as intensity and sophistication thanks to Maglificio Ripa's trends and market knowledge and to ROICA™ Eco Smart uniqueness (the only responsible stretch) and ROICA™ Colour Perfect (the only dyeable stretch also in blends with cellulosic fibres). From here started the farsighted Essenza project. A book that chooses art, highlighting the creativity and sensibility of its creator, combining evergreen fabrics to be considered as a must for the next 5 years, a new journey through the unique colour works of the Italian artist Paola Lensky. A collection that switches the concept from "permanent fabrics" to "evergreen ones", with an elevation of standards, being able to answer contemporary consumer needs. Focusing the attention on Maglificio Ripa Dna, the essence from which everything takes shape, being respectfull to the planet, and ROICA™ by Asahi Kasei, that brought hig performances in terms of colour, fastness and resistance.

C.L.A.S.S. EDUCATION
Next steps for a worldwide social and environmental chance In order to facilitate the discussion and analysis of the future fashion direction, and not just that, our Education session represents a real opportunity to inspire projects and educate change. A wide range of activities in order to go deeper in the understanding of which are the available options in order to improve the whole production process, sharing knowledge, introducing ideas and presenting eco smart solutions. 2017 is a time for new beginnings, join us in Milan, April 18-22 during Earth Week for our Eco-smart Innovations Bootcamp and take the pledge to activate change.


Hits: 3367 | Leave a comment

We are looking for men's suit tailors, fashion designers, managers, fashion consultants who want to share their knowledge and tips in an article or video and contribute to the site! Please email us at contributor@bgfashion.net Don't miss the opportunity as this will be a free advertisement for yourself and your menswear brand!