How To Dress Well
In the world of fashion, there are many canons and rules that are not relevant now, but there are some that have stood the test of time. Following these recommendations every girl will look stylish and attractive.
What is your body type?
One of the most important aspects, when you choose clothing, is the knowledge of your own figure. Remember, a tight sexy little black dress looks completely different on women with a different type of figures. Another important thing is its correction. Those who have a perfect figure are lucky, but to choose clothes that will highlight and not hide your dignity is important too.
In other words, study your body type and choose clothes that will fit you. This is the first step on the way to a perfect style.
Your color
Each of us is individuality so we have different skin, hair and eye color. Black and white colors are optimal of course, but there are many other colors and shades. Some of them are your ideal colors that make skin glow and your hair get more saturated shades. Determine what colors are suitable for you. If you can't do it by yourself, visit a stylist. Thus you will be able to compose clothes and to form your perfect wardrobe.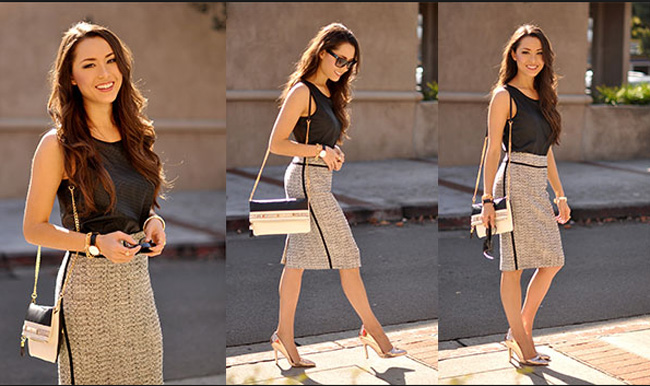 Do not change your style
Fashion trends in every season dictate the new rules, call to change your wardrobe completely, but let's be realistic: how many people in the world are able to update their clothes collection constantly? The main thing you need to know, you don't have to follow blindly the new fashion trends. Every woman has her own individual style, which can be slightly adjusted by adding current season details. Even if you liked a sweater from the new collection, it doesn't mean that it fits your style.

Stylish accessories
A pair of ridiculous accessories and an inappropriate bag can spoil even the best outfit. For example, nice clothing can be spoiled by the old-fashioned shoes or disproportionately big earrings. If you are not able to restrain the impulse to decorate every finger by all that you have in your jewelry box, you'd better not open it. Accessories should be a logical continuation of the outfit, but not a separate item.

Sneakers are for sport
No matter how comfortable and fashionable your sneakers are, it shouldn't become an everyday part of your wardrobe. You certainly should not come to a workplace in jeans and sneakers. There are many other shoes that are able to replace it in the matter of comfort.

Do I need it?
Every time you want to buy a new item of clothing, mentally ask yourself the question: "do I need this?". Follow the simple rule: if you can provide 3 different combinations with this particular clothing and clothing from your wardrobe, then you can buy it.

I think that by learning to follow these simple rules, you will notice a change in your own style and wardrobe. Remember that if you have at least a shadow of doubt about attractiveness, then others will perceive your outfit with the same hesitation. So if you believe in yourself and in your choice, then you will find your own unique style.


Hits: 6541 | Leave a comment