ERDEM X H&M in designer collaboration
H&M will team up with London-based label ERDEM for this year's designer collaboration. Find out what the label's founder has to say about the upcoming collection.
H&M reveals its big news: its next exclusive designer collaboration will be with ERDEM, the London-based label loved by celebrities and insiders alike. Designer Erdem Moralioglu is one of fashion's most romantic creators, whose exquisitely crafted pieces celebrate the power of beauty by exploring historical references and personal narratives. His dresses are red carpet favourites, worn by stars such as Emma Stone, Ruth Negga, Keira Knightley and Nicole Kidman. ERDEM x H&M will feature a full wardrobe of his famously feminine womenswear, an accessories line and, for the first time ever, a collection for men.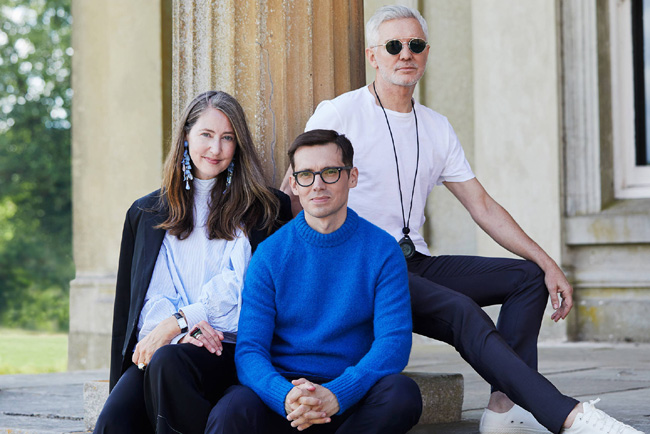 H&M is also pleased to announce that visionary film director Baz Luhrmann will bring the collection to life through his unique storytelling. Following the announcement of the collaboration, it's time to get to know Erdem.

HOW DID YOU FEEL WHEN YOU WERE ASKED TO COLLABORATE WITH H&M?
"I was so excited! It's such an honour to join the group of designers who have collaborated with H&M."

WHAT WERE YOUR FIRST THOUGHTS?
"I had so many thoughts! It made me think there's something hugely exciting about doing something on such a global scale. I think there's something democratic about offering what you do to so many people in so many different countries."

"It's such an honour to join the group of designers who have collaborated with H&M." - ERDEM MORALIOGLU

Erdem says his collaboration is a chance for him to look back at his career since he launched his label in 2005. "It was fun to reflect on what I've done over the past twelve years," he says. Erdem was born in Montreal, Canada, to a Turkish father and English mother, a twin with his sister Sara. He moved to London to study fashion at the Royal College of Art in 2000, before launching his own label in 2005. His label has now grown to become one of London's most successful, with his shows one of the highlights of London Fashion Week. He's won multiple awards, including Womenswear Designer of the Year at the British Fashion Awards in 2014, and his collections are stocked in the most prestigious stores around the world.

His instantly recognisable design signatures have been there from the very beginning. "I love narratives," he says.
"Whenever I start a collection, I try to understand who the character is that season, what she thinks, who she is."
His thought processes lead to collections that are like time travel, connecting together different stories and seeing them from a 21st century perspective. He loves to create pieces that feel totally modern, yet as if they have existed forever.
"I'm fascinated with things that you can't tell if they're 50 years old or 100 years old or completely new," he says.
"It's so interesting to create pieces that look timeless, even if they're created digitally and are totally new."

What about flowers? Floral prints are in every single one of Erdem's collections.
"I've always been fascinated by things that explore femininity," he says, "whether it's lace or flowers or the aesthetics of beauty."

The collection is still top secret, but what can he reveal about ERDEM X H&M?
"I can tell you about one of my inspirations," he says. "There's a video by Bruce Weber for the Pet Shop Boys song Being Boring that I've always loved. It's about a group of young people at a country house mansion. It's that idea of a country getaway with boys and girls dressing up and playing with their look, with girls in ball gowns and sneakers, and also sharing a wardrobe with guys."

"I'm fascinated with things that you can't tell if they're 50 years old or 100 years old or completely new"- ERDEM MORALIOGLU

WHAT ELSE CAN YOU REVEAL?
"It's very personal," he says. "The collection reinterprets some of the codes that have defined my work over the past decade. It's also inspired by much of my youth, from the English films, 90's TV shows and music videos I grew up watching to memories of the style that defined members of my family. Taking from these inspirations I imagined a group of characters and friends off to the English countryside for the weekend. There's a real play in the collection between something decidedly dressed-up and equally effortless"

Erdem is known for his craftsmanship, which he is bringing to his H&M collaboration.
"It's all so beautifully finished," he says. "It's the way I approach every collection, turning it inside out and making sure that every detail is perfect."

WHAT'S IT LIKE DESIGNING MENSWEAR?
"I found it a real joy," says Erdem. "It's really about looking at a wardrobe of pieces, and focusing on the exact design details. There has to be an easiness to menswear, and a sense of reality. I'm so happy with it, and I think so many women are going to love the men's collection too."

It's the start of a new chapter, one that will allow people from all around the world to be able to experience their own ERDEM story.
"I love the idea that people of different backgrounds, and different generations, will wear the collection."

Photo and information: hm.com


Hits: 4610 | Leave a comment