ROICA debuts at FILO Speciality Yarn Fair with its latest, Smarter and Unique Premium Stretch Innovations
Come and see the two unique, responsible premium stretch yarns & the new wellbeing stretch from ROICA™ at FILO in Milan, Booth C6, 27th -28th September 2017.
Asahi Kasei and ROICA™ has selected to show, for the first time, at the renowned FILO International Yarn Exhibition at the Palazzo Delle Stelline in Milano. At this important and focused ingredient showcase for European fabric manufacturing innovation, you will be able to see many specialty ROICA™ families of premium stretch yarn solutions. This includes the now enlarged ROICA™ Eco Smart family of responsible stretch yarns designed to transform how you plan and build the new, more sustainable fabric ranges for the season ahead.
This ROICA™ Eco Smart family is now doubling its commitment to smart sustainability, having just received the Cradle-to-Cradle Innovation Institute's GOLD LEVEL material health certificate for a ROICA ™ yarn. This certificate is awarded for product ingredients whose supply chain has been evaluated for impacts on human and environmental health, and whose criterias are building towards the expectation of eliminating all toxic and unidentified chemicals for a safe continuous cycle. This ROICA™ yarn has got also a Hohenstein Environment Compatibility Certification, signifying at its end-of-life, it smartly breaks down without releasing harmful materials.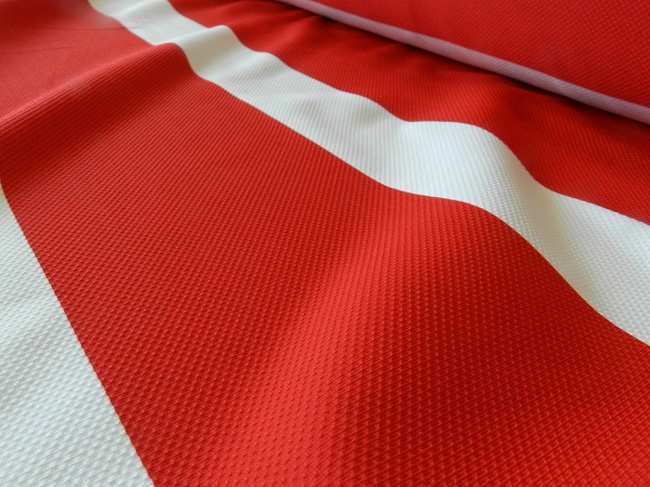 Maglificio Ripa fabric with ROICA CF yarn

The new C2C certification is an important evolution of ROICA's™ sustainably designed stretch yarn program, now offering an enlarged portfolio to add to the current unique GRS version 3 by Textile exchange* certified ROICA™ premium stretch yarns. This ROICA ™ solution has been able to get this important recognition as its content is made with more than 50% of recycled pre-consumer waste.

The ROICA™ Eco Smart family is now a clear, world leader in premium eco-sustainable stretch yarns and a unique stretch solution for the circular economy. Its proven credentials for market savvy choices really meet contemporary fabric makers business needs and consumer desires for all garments in their modern wardrobe, for fashion, athleisure, sportswear, intimates and swimwear.

Renewed developer of yarns with ROICA™ is Ghezzi, an Italian twisting and yarn specialist mill, renowned since 1949 as experts in pure silk throwster processing, is now one of the leading European yarn manufacturers for twisted, stretch and fancy yarns made with synthetic, artificial and natural fibers. Ghezzi recently launched a range of new generation premium stretch yarns with ROICA™ Eco Smart family choosing the GRS certified yarns for high performance stretch together with full responsibility values.

ROICA™ truly represents a world-unique sustainable offer. It is the only premium stretch fiber that can claim both GRS and Cradle to Cradle Gold Level Material Health certification! The second ROICA™ family launching this season is the new ROICA™ Feel Good family of premium stretch that gives the answer of a new level of wellbeing performance, with 'feel-good comfort' and freshness. The new ROICA™ CF yarn delivers an odor-neutralizing function that does not wash or wear out. Its active ingredient is locked in and only needs a modest % to work in any fabric matrix.


Hits: 5037 | Leave a comment