MARCHI & FILDI gamble on circular economy with ECOTEC® and broaden the range with Phoenix
A two-level evolution for Marchi & Fidi, who will attend Premiere Vision's September edition with a strategic positioning and a broader offer, always striving for smart excellence.
Marchi & Fildi make a strategic choice and undergo an authentic evolution, aiming straight at the circular economy and therefore focusing solely on ECOTEC® with its portfolio of products transformed into excellence. ECOTEC® smart cotton by Marchi & Fildi is, in fact, the first Made in Italy material obtained through an exclusive, fully traceable and certified production process that transforms 100%-cotton yarn already-dyed textile cuts with remarkable efficiency in terms of water, energy and CO2 savings. As confirmed by the LCA (Life Cycle Assessment) study, these figures highlight up to 56.3% of CO2 emissions, 56.6% in the consumption of energy resources and 77.9% in water consumption along the whole production process. Such efficiency reaches back to raw materials, where savings are guaranteed thanks to a process of pure evaluation that allows the transformation of quality pre-consumer cuts into excellence, resulting in a yarn that contains up to 80% of the transformed material, a result with no equals in the textile world.
As a result of the union of two certified raw materials for a 100% GRS (Global Recycle Standard) yarn in line with the focus of ECOTEC® by Marchi & Fildi, the company exclusively presents the new PHOENIX yarn (50% ECOTEC®, 50% recycled polyester, NM1/50 GRS-certified) available in a wide choice of trendy colors that don't need additional dyes, once again underlining the company's smart-oriented vision.
An addition to ECOTEC®'s wide range which claims the TESSILE E SALUTE certification promoted by ITALY'S MINISTRY OF HEALTH together with others like Oeko-Tex 100, Certified Quality System Company ISO 9001:2015 and TF (Traceability and Fashion).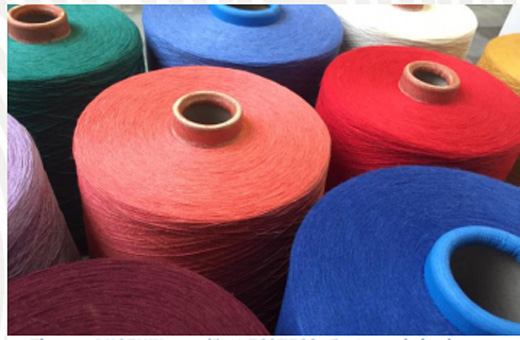 This range of versatile textile products ideal for fashion fabrics, knitwear and hosiery presents two new lines this season: a range of smart solutions set up by the Marchi & Fildi research and development center in cooperation with a textile style office; and an exclusive range of ECOTEC® fabrics created by accredited ECOTEC® partners like:
- COMATEX: key developments in ECOTEC® and linen for light apparel.
- Euromaglia Srl: refined woven and jersey products, created thanks to perfect processing and a strict production control from raw materials to final products.
- Manifattura CBM: 100% Made in Italy products, from the design and production of samples, to the woven ranges produced on traditional and 18 new jacquard looms.
- RDD: part of Valerius group, is a Portuguese circular knitter with strong focus on sustainability. The company has a totally integrated production chain, from R&D to dyeing and finishing offering premium products to top apparel brands worldwide. This season collection includes 23% of Organic and recycled articles, 72% of natural articles and 5% synthetic articles. The new PHOENIX yarn (50% ECOTEC®, 50% recycled polyester, NM1/50 GRS-certified) Concerning ECOTEC®, the company presents a stripes Jersey in Pegasus and one Interlock in Ginevra.
- Tessuti & Tessuti srl: the highest design and research within its renowned collections. The company's strength is built on the concept of very high flexibility, all delivered through a unique and versatile set of machinery styles.This allows the creation of particular knitting stiches and styles that include both fancy jacquards, tubular, double, raised, embossing, stretch, decorative openwork and devore effects.
- Tintex Textiles: leading Portuguese contemporary fabrics innovation maker of Naturally Advanced, smart and responsibly crafted jersey fabrics. Tintex is making Naturally Advanced and dynamic product where trust, values, skills and smart manufacture is delivered through precision creativity and flexibility to its customers looking to make naturally better choices. And with the key sustainable values of ECOTEC®, Premiere Vision has selected it to be a Smart Ambassador within the project 'Smart Creation'. Smart Creation is a way of bringing together and communicating the initiatives and the means towards responsible creation, innovation and production. Key developments in ECOTEC® have been displayed in the Smart Library, located on the Smart Square, together with a Marimekko dress, made with ECOTEC® fabric by Tessuti&Tessuti, selected as responsibly developed item for the Smart Wardrobe.


Hits: 3829 | Leave a comment