8 Retro Trends Coming Back this Fall
Fashion is cyclical, and most trends never fully disappear. That's right—hold onto those bellbottom jeans and dust off your riding boots, because those (along with your other old favorites) are making a comeback this year. This season's most popular styles are a mashup of early aughts, with several decades sprinkled in for variety. If you're looking for a vintage-inspired ensemble, refer to these eight retro trends coming back this fall.
High-Waisted Pants
If you were a fan of the iconic TV show, Friends, you'll be happy to know those high-waisted pants are back in trend. These fashion favorites are flattering and make you look slim by cinching your waistline and tucking your tummy. Pair them strategically with shirts for a casual look, or tuck in your favorite blouse for a night out.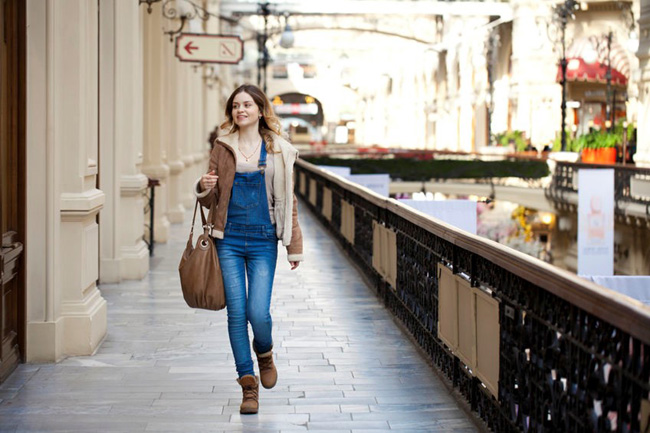 Vintage-Inspired Denim
You might regret donating those button-up skirts and ripped flares when you see how popular vintage-inspired denim is this fall. Opt for faded washes ranging from light blue to indigo to black, but avoid anything too jarring like an acid wash. Denim with patches and unfinished hems are also popular this fall.
Overalls
Overalls were a childhood staple, but this former go-to is all grown up. They have reemerged in the fashion world as style influencers place modern twists on this classic piece. There's nothing childish about the skinny-jean silhouette, and tough, black denim prove overalls can be edgy, too. Utility overalls are especially current, either dressed up with heels or downplayed with crop tops. These updated renditions make overalls feel totally new again, and are great for achieving a relaxed, street style this fall.
Graphic Tees
Graphic tees will never go out of style, making them one of the most versatile items in your wardrobe. Style them simply with jeans and sneakers or aim to impress by pairing them with velvet suits, midi skirts, and even dresses. Band tees are having a major moment right now, made cool again by neck cut outs and frayed hems. You no longer have to scour thrift stores to find one of these trendy tees, and can pick them up at H&M. If you prefer to be more original, rock a graphic shirt from The Home T to represent where you came from—opt for state of Texas apparel or grab some California swag.
Ponchos
This fall, swap out your jacket for a poncho and embrace the season's boho vibe. The best fall outfits are the ones that make you feel like bundling up in a cozy blanket, and a cashmere or soft knit poncho does just that. They're great for layering and beating the chill, but leave you less restricted or confined as a jacket would. While ponchos are both comfortable and chic, they're also great for disguising whatever's underneath – be it a coffee stain, ratty tee, or bloated belly.
Embroidery
We saw touches of this trend last spring and summer, but embroidery is everywhere this fall and winter. Designers are coming out with such intricate finery that even Marie Antoinette would be envious. You'll most likely find detailing in floral patterns, and on everything from jeans to shoes to blouses. Embroidery is a great touch to upgrade any basic piece, making any item look more expensive. Whether you're shopping for a bag or a bomber jacket, find apparel with stitching to add a vintage feel to your attire.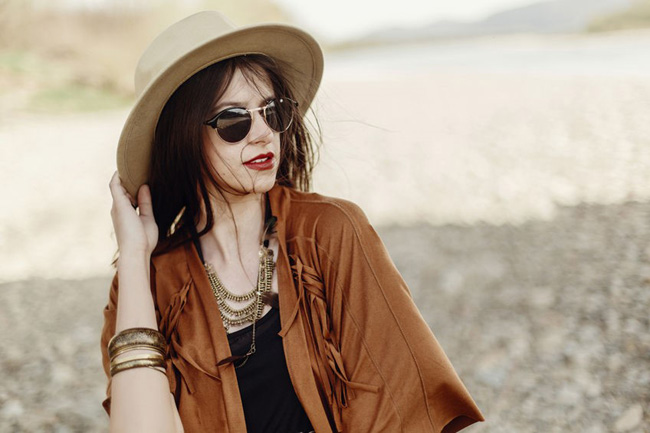 Fringe
Fringe is leading the way this season, making it one of the most enduring styles. With tinges of bohemia, 70's luster, and the Wild West, its revival should come as little surprise. Runways this fall were abound with fringe bags, but Giorgio Armani fringed everything from graphic dresses to crochet tops. If you're going to venture into the fringe territory, keep it simple by limiting this attention-seeking accent to one article or accessory.

Velvet
Colored velvet made its presence known as one of the most luxurious, retro trends at 2017's New York Fashion week. This season, the velvet trend takes on a slightly new, elevated persona than seasons past with tailored suits, swinging dresses, and grandiose skirts. Remember that the shiny and textural elements in velvet will highlight every bump and curve you might have, so be sure to shop for your body type.

As the seasons cycle, so too do fashion trends. If you're aiming for a vintage look, be it disco chic or cowgirl cool, refer to these retro comebacks to take your outfit to the next level.


Hits: 4024 | Leave a comment