Blossom Premiere Vision unveils the latest developments, innovative materials and colour trends for Spring/Summer 2019
This 12 and 13 December, the Palais Brongniart in Paris will welcome the 4th edition of the PREMIERE VISION Group's latest exhibition: BLOSSOM PREMIERE VISION.
This bi-annual event, dedicated to the launch of collections for creative, luxury and high-end fashion brands, will unveil fabric, leather and accessory pre-collections from 93 exhibitors for the spring-summer 19 season. All were selected by PREMIERE VISION for the quality and creativity of their products.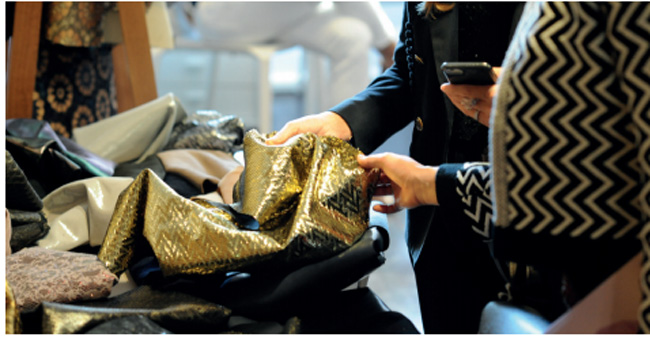 In the heart of the world capital of fashion, and timed to coincide with the pre-collection calendar, BLOSSOM PREMIERE VISION serves as a complement to the calendar of PREMIERE VISION PARIS*, which targets main collections.

For spring summer 19, BLOSSOM PREMIERE VISION strengthens its offer through collections and creative directions from 93 rigorously selected exhibitors: new product developments, the latest material innovations, colour trends... an offer perfectly suited to the requirements of leather good, footwear and apparel designers, enriched this season with the presence of 14 new companies:
• 61 weavers including 8 newcomers: Lace-makers, embroiderers, specialists in ultra-fantasy, jacket and coat weights, shirts and tailoring;
knitwear specialists, experts in creative and fashionable technical fabrics, silk makers, sophisticated print and embellishment specialists;
• 26 tanners including 5 new arrivals or apparel and leather goods markets: calfskin, lambskin, kid leather, exotic leathers, etc....
• 6 accessory and component makers, including 1 newcomer for clothing, jewellery, and leather goods: Specialists in textile accessories (ribbons) or metallic elements (buttons, buckles, rivets), buttons, zips and labels.

Loyal suppliers to the leading fashion and luxury houses, these international companies come from the industry's most influential production countries: Italy (55), France (20), Japan (7), Spain (3), Portugal (3), United Kingdom(3), South Korea (1).

Positioned at the starting line for the fashion season and the group's trade show calendar, BLOSSOM PREMIERE VISION presents for the first time the earliest spring-summer 19 inspirations featuring a single colour range shared by fabrics, leathers and accessories..

An essential working tool for design teams at fashion brands, it will be presented here in an exclusive preview for BLOSSOM PREMIERE VISION, ahead of PREMIERE VISION NEW YORK (16 & 17 January 2018) and the Paris trade shows PREMIERE VISION FABRICS, PREMIERE VISION ACCESSORIES and PREMIERE VISION LEATHER (13, 14 & 15 February 2018).

Developed by the PREMIERE VISION fashion team in collaboration with industry professionals (exhibitors, buyers, creatives, experts, etc.), the colour range is accompanied by unique, targeted and constantly evolving fashion information, enriched throughout the season and the shows.


Hits: 4451 | Leave a comment