Diamond Pendants: A Lifetime of Euphoria and Heartthrob for All Women
If you're someone who likes to make a statement whenever you're putting on a piece of jewelry, then wearing a diamond pendant should be your go-to piece. Also, a diamond pendant is always considered sophisticated and classy.
Going back to the history of pendants, they were actually the first pieces of jewelry worn by humankind to adorn their body. While they had different forms, pendants were commonly used as ornaments that would hang, such as an earring, a chain, or a necklace.
It has also been found that the regions and beliefs of the people had a massive influence on the make of such ornaments. Many pendant designs included shells, indigenous materials as well as scarab beetles. Scarab beetle pendants still have a reputation of being a symbol of wealth and power among Egyptians.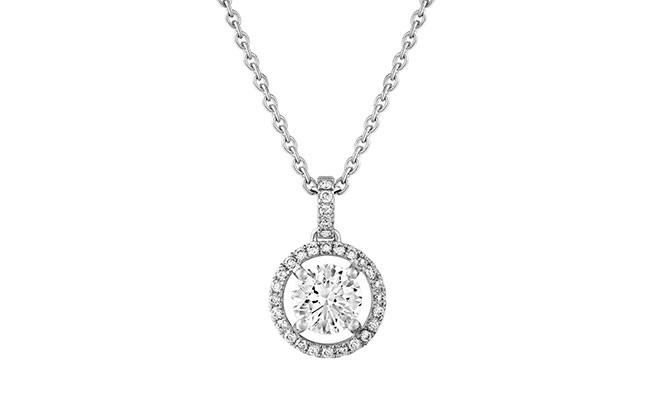 There are different designs of pendants in the world, but the one that will continue to grab the most attention is the diamond pendant – for its radiance, durability, and for the fact that it's incomparable.
Which Diamond Pendant Would Be the Best for You?
Your personality and character are significant determinants of your choice of shoes, clothes, and jewelry. It also tells a lot about who you are as a person, and how you want the world to see you.
Deciding which diamond pendant to go for is a tough choice. It's believed that every diamond shape says something, and it's important to consider the traits that the shape of your diamond signifies. You need to think about whether it suits your style, or reflects your personality, etc. Read on to see what the shape and style of a diamond say about an individual.
Round Cut Diamond:
A round, brilliant-cut diamond is made with 57 facets in total, which gives it maximum shine. Women usually go for a round cut diamond for their engagement rings, and such rings describe a woman as traditional and sincere.
Princess Diamond:
Princess diamonds hold the most admiration after the round brilliant cut ones. It's the best option for brides who are looking for a unique design that's traditional as well. Its square shape makes it the best friend of most brides.
People with a princess cut diamond are seen as intelligent and fun-loving.
Emerald Diamond:
The emerald diamond comes with one of the best and unique stone shapes in the world of diamonds. It features step-like facets and will reveal any inclusions that it might carry.
Therefore, the craftsman must exercise perfect control while cutting and polishing this specific cut. It's a wholly unique design as it has an open table and step facets.
Women who tend to like this particular shape have a sharp eye for detail and design. They aren't afraid of taking risks and see an opportunity to shine in unexpected situations.
Cushion Diamond:
Basically, the cushion cut is a square cut diamond where the sides are rounded, making it softer than a princess cut. However, the sides of a cushion cut diamond are not rounder than the round brilliant cut diamond, giving it a very peculiar look with an antique cut. Women wearing a cushion diamond are considered to have romantic personalities. They are brave and trustworthy, as well.
Radiant Diamond:
The radiant diamond has a design that is quite similar to the emerald cut diamond, but the facets are differently arranged to enable it to sparkle more. So, if you're interested in catching the light in a big way, go for a radiant cut diamond. Traditional and unwavering are the personality traits associated with this diamond.
Heart Diamond:
The heart-shaped diamond pendant is the best option for the romantics. Its design unmistakably symbolizes love and affection. Such a cut of a diamond can be popularly seen in the form of a solitaire pendant. A woman adorning herself with a heart diamond is considered sentimental and passionate by nature.
Oval Diamond:
Oval diamonds offer a similar radiance and brilliance like the round brilliant cut diamond and can have the same number of facets. Women who choose this type are usually sophisticated and like to possess unique things.
Marquise Diamond:
The marquise diamond is characterized by its elongated body and pointed sides. The shape is designed to maximize the weight of the carats and make it look flamboyant. Women who tend to be a bit dramatic find the marquise diamond quite appealing.
Pear Diamond:
The pear diamond can be best described as the combination of the round and marquise cut diamond. For many, this diamond cut is a symbol of timeless beauty. Women who prefer the pear diamond are peaceful and easy-going.
Conclusion
Diamonds are a woman's best friends, and diamond pendants are a must-have accessory in every woman's jewelry box. Each diamond pendant set speaks of the style and personality of an individual. What's fascinating is that they never lose their spark and glitter every time you wear it.

So what are you waiting for? Select a diamond pendant that resonates with your personality, suits your attitude towards life, and have a piece of jewelry to cherish with everlasting radiance.


Hits: 5790 | Leave a comment