3 Best Diver's Watches
Many watch manufacturers claim to have waterproof and shockproof watches but not all of them are as reliable as they claim to be. When you want more from a watch than just time, it is important for you to search smartly. Most of the diver's watches don't come cheap therefore, you need to be very certain about the kind of watch you're opting for. There have been cases when people have repeatedly taken their watches under water and have experience and leakage and corrosion. If you don't want to experience any mishaps, you need to be very careful while looking for the perfect diver's watch. These watches come in various shapes and sizes and it's you to decide what goes with your style and pocket. Always keep in mind that all expensive diver's watch are not as good as they look or sound. Below are a few watches that might turn out to be a good investment for you.
Rolex Submariner
This is one of the few watches that does not look like a digital or a waterproof watch but it is actually everything that you need for that underwater trip. After launching in the early 50s, the submariner managed to become a historic turning point in the watch making industry. Following its release, many companies began investing in diver's watches but Rolex has been on the top ever since. The most interesting thing about this watch is that it looks like a regular sleek watch that can be worn at a business meeting or a date. The distinctive dial with large luminescent hour markers and a unidirectional rotatable bezel makes the Rolex Submariner a powerhouse of a watch. The watch is reliable, robust and highly functional especially during underwater adventures. Besides from being waterproof, it is dust, pressure and shockproof as well. Unlike Rolex Submariner replica, Authentic Submariner has a depth rating of 300 meters (1,000 feet).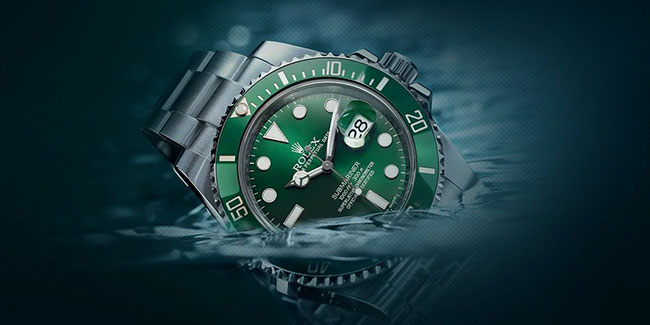 Audemars Piguet Royal Oak Offshore Diver Chronograph
If you're looking for a watch that is not a waterproof watch in disguise, you can always go with the Royal Oak Offshore Diver Chronograph. The huge dial of this watch looks like a computerized submarine making it the best companion for you under water. The watch has a power reserve of 60 hours and is water resistant up to 300 metres. The combination of blue, yellow and silver colors makes this watch stand out among its competitors. The huge size and bright color of the dial makes it easy for divers to look at the time under water.
Blancpain Fifty Fathoms
The combination of black and white dial and leathery black strap of this watch makes it stylish and handy at the same time. The watch is water resistant to 200 metres and has a unique vintage look making it one of a kind. Blancpain Fifty Fathoms watch has a compact design and is often compared with Rolex and Omega. The watch has been circulating across the globe since the early 50s and is among the most popular diver's watches to date. Ranging from its dial, color and build quality everything seems well put and fully functioning making it a must have.


Hits: 5453 | Leave a comment