All That You Need to Know When Buying Silver Jewelry
Silver is among the most precious metals we have around. It is linked to wealth, status and luxury. The metal is not only used in jewelry but also in many medical and other technological sectors.
There are different varieties of silver at is very important for you to know them when buying wholesale silver jewelry. Such include pure silver, sterling silver and silver plate which is most rampantly used.
Pure silver
This type of silver is 99%silver and 1% trace elements. It is identifiable by hallmark .999. It is the closest form of silver available in the market. It is most suitable for jewelry since they are well-taken care off. When used in other items, it easily loses its shape and is easily damaged.
Sterling silver
It is composed of 92.5% silver and 7.5 % of metals such as nickel and copper. The metals make it stronger and increase its durability. It is stronger as compared to pure silver. The hallmark for sterling silver is. 925, STER, STG, STERLING or sterling silver. It is a hard metal that lasts for a long time.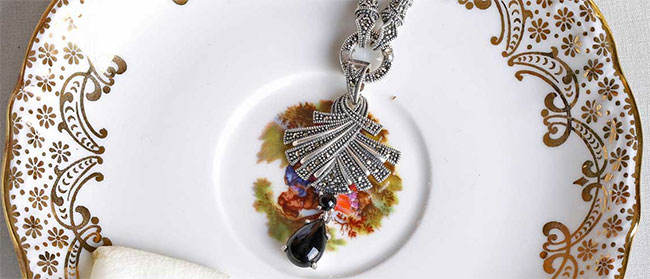 Silverplate
In this type of silver, a thin layer of silver is coated over another metal such as copper. The amount of silver in this variety is smaller as compared to that in pure and sterling silver. It is less valuable and it easily discolors overtime.
For you to identify the real silver, you need to look for the hallmark that is engraved on a part of the jewelry. This can be seen by looking closely using a microscope. If your jewelry lacks the hallmark, chances are that it is fake.
What causes tarnishing is silver?
Most silver jewelry tarnishes over time. When exposed to air and humidity, tarnishing begins to occur in silver. This is because the other metal components in the silver react with moisture. As a result, the silver starts to discolor.
When exposed to things like detergents, makeup, perfume and sprays, the silver tarnishes. This is why silver jewelry should be worn last after using makeup and sprays.
How to prevent silver from tarnishing
After investing in a piece of pricey jewelry, it would be sad to see it tarnish over a short time. It becomes very important to take maximum care for the pieces to reduce tarnishing.

Storage is very important. Store it in a place where it is not exposed to air. Such as in airtight gift boxes or bags. You can also add silica gel or a piece of chalk to absorb the moisture and prevent the metal from reacting with the moisture.

Remove the jewelry when showering or swimming to avoid it getting into contact with water. Clean it after removing since it gets a lot of builds up from makeup and other sprays. Clean it gently with warm water and soap. Use a dry clean cloth to dry it off. This way the tarnishing rate is reduced.

When buying wholesale silver jewelry, consider the details mentioned above to ensure that you get the precise metal that you are looking for. Buy from a trusted buyer and ensure that it has a hallmark.


Hits: 4691 | Leave a comment