Types of Hair Extensions
A woman's hair is said to be her crown. That is why there is a billion-dollar industry that makes sure that there are treatments, solutions, and alternatives to every hair problem. 
One of the best hair care methods is the use of hair extensions. It provides a variety of options for women looking to make their hair longer or more stylish. There are many types of extensions, such as pre-bonded, micro-link, or real hair extensions clip in, that every woman can choose from. 
To help you differentiate between these extensive selections, here are the significant types of hair extensions.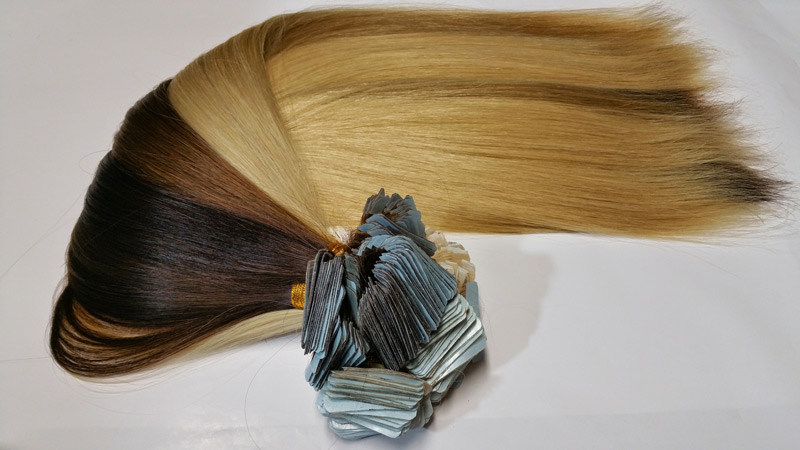 Micro Link Hair Extensions
One of the most widely used methods of hair extensions is micro linking. It involves the use of hair attached to a small bead, which then links to the roots of your hair.
Microbeads are popular because they are quick to use and is very affordable. Also, microbeads look great on people with short and thick hair. 
Pre-bonded Hair Extensions
The next popular method is the pre-bonded hair extension or also known as fusion treatment. This method uses glue to attach the extension to the root of your hair. The fusion treatment works best for people with thin hair because it does not use any material that may bulge out.
However, pre-bonded hair extensions can be quite costly because of the expensive glue. But it is definitely worth the price because you would feel as if nothing artificial was attached to your hair. 
Clip-in Hair Extensions
Another method that is loved by many people is real hair extensions that clip in. As the most convenient type of hair extension, they can be used multiple times. This method uses a strand of hair attached to the base of fabric or silicone. This base also has a clip, which is what will make the extension connect to your hair roots. 
Clip-ins is great for people who want only a temporary hair extension. Since they can be used multiple times, they are also not too heavy on the pocket. Clip-ins is mostly used by people who have short hair who occasionally wants to attend an event with a lengthier hairdo. 
Wigs
The most popular hair extension alternative is the use of wigs. There are many celebrities and ordinary folks that use wigs daily. Its popularity can be attributed to the fact that wigs come in a wide variety of colors, hairdos, and lengths. 
Wigs are also perhaps the most versatile type of hair extensions. It allows its user to have an entirely different look without having to compromise her natural hair. Wigs are also practical since they can be used multiple times and on different occasions.
Besides, you do not even have to get professional salon services to use a wig. There are many DIY wigs available which anyone can learn how to use. They are also a popular alternative in solving hair loss. 
Indeed, the hair industry is not growing any slower, especially with the rise of famous stars with unique hairstyles and hair colors. So, if you are looking to revamp your look by changing your hair, you can get any of the following extensions without damaging your hair. 
FAQ About Wigs and Hair Extensions
1. What does hair density mean?

Wigs come in varying hair densities. Hair density pertains to the thickness or fullness of the hair extension or wig, and this infographic on keswigs.com explains the appropriate density for varying facial features. It takes into account the hair distribution, hairline, and hairstyle preferred.

2. What is the proper way to wash hair extensions?

Wash human hair extensions by using warm water–avoid too cold or too hot water. When soaking hair extensions, hold it on the clip and don't submerge that part on water. Choose a moisturizing shampoo or one that's gentle for human hair. Lather the hair extension carefully and avoid the clip.

After, rinse the extension with warm water and squeeze from the clip down the ends. Avoid towel drying or blow-drying. Instead, let it air dry.

3. How often should I wash my hair extension?

Hair extensions should be washed every 30 wears. You also need to wash it if there's major product build-up, rendering it unmanageable or difficult to style.

4. Should I wash hair extension the first time I get it?

Frequent washing or excessive shampooing may lead to dry, dull, and unmanageable hair, and it'll also do the same with hair extensions. Washing is highly recommended the first time you wear it and after excessive styling.

5. Can I wear my extensions when sleeping?

Hair extensions aren't designed to wear overnight. But, if sleeping with clip-in hair extensions is unavoidable, just make sure your extensions are secure before sleeping.

6. What hair extension method lasts the longest?

Weave hair extension takes the longest application time (three to four hours). This hair extension lasts up to eight weeks. Halo extensions usually last up to one year with proper treatment.

7. What is the least damaging hair extensions?

The least damaging hair extensions would be temporary ones, like clip-in hair extensions for fine hair and tape-in extensions for permanent use.


Hits: 5755 | Leave a comment