7 Shoe Styles That Look Best with Skinny Jeans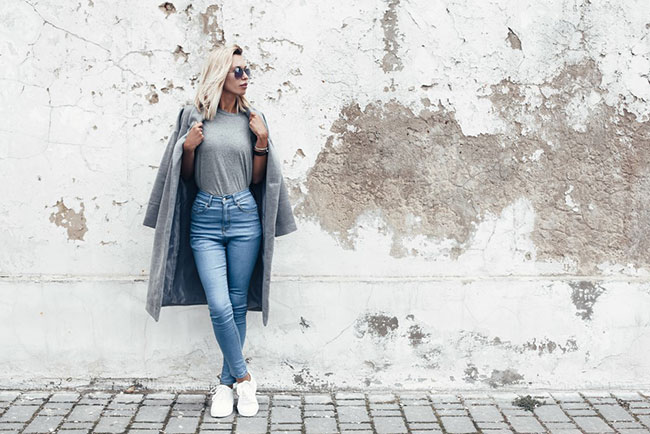 Skinny jeans are dead? Don't make us laugh. Although we will admit that wide-leg jeans pants and editor jeans are currently having a big moment in the fashion world, the skinny jean remains a key style staple in every fashionable woman's wardrobe (see: Kate Middleton's skinny jean obsession). And until someone comes out with a new jean style that is short-people friendly, us vertically-challenged gals will kindly pass on the baggier jean styles, thank you very much.
Unlike wide-leg trousers, skinny jeans are flattering for tall and short women alike. Plus, they can constantly be reinvented with the simple switch of a shoe. Rocking skinny jeans to work? Hello, cute flats. Wearing them out with the girls? Strappy heels, here we come.
If you want to change up the look of your skinny jeans without actually ditching your favorite pair of leg-hugging jeans, just rethink your footwear. Need some skinny jeans and shoe style inspiration? Read on for seven shoe styles to wear with skinny jeans.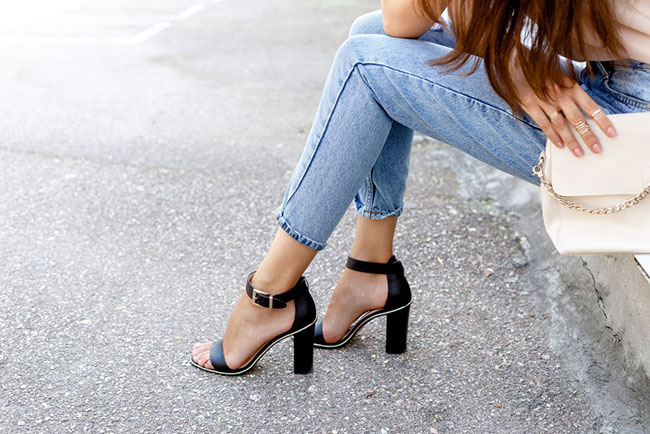 1. Ankle Strap Heels
When you need to elevate your skinny jeans in a pinch, reach for your favorite pair of strappy heels. Not only do strappy heels pair great with skinny jeans, but they'll also polish up your look instantly and give your ensemble a feminine flair.
For a sophisticated yet casual look, try pairing tastefully-ripped skinny jeans with a chic blazer and strappy heels in a fun color or print (FYI, snake print is hot right now). Want to make yourself look taller? Reach for a nude pair to elongate your legs.
2. Lace-Up Sneakers
Not everyone is a fan of heels. If you're more of a sneaker gal, we've got good news: Sneakers and skinny jeans go together like peanut butter and jelly. Classic yet trendy, this effortlessly cool style combo will leave everyone guessing about your weekend plans. Are you going shopping? Running errands?
Flaunting your street style? Maybe all three? It's really anybody's guess with this sporty-chic look. Plus, there are hundreds of unique ways to make this one style work. If you want to nail the comfy casual clothing trend, just pair your skinny jeans and running shoes with a cozy sweater and classic overcoat. Crave something a little edgier? Ditch your overcoat for a black leather jacket and wear statement sneakers instead.
3. Slip-On Sneakers
Who needs laces anymore, really? Slip-on sneakers are a must-have in your shoe closet because (a) they look super chic with skinny jeans; (b) they're easy to take on and off; and (c) they make zipping through airport security a total breeze.
There are so many different styles of slip-on sneakers that you should have no trouble finding the perfect pair to match your favorite pair of skinny jeans. For a classic look, wear mid-blue skinny jeans with perforated slip-ons in a trendy blush hue. Want to show off your wild side? Use black skinny jeans as a blank canvas and let your animal print slip-ons take center stage.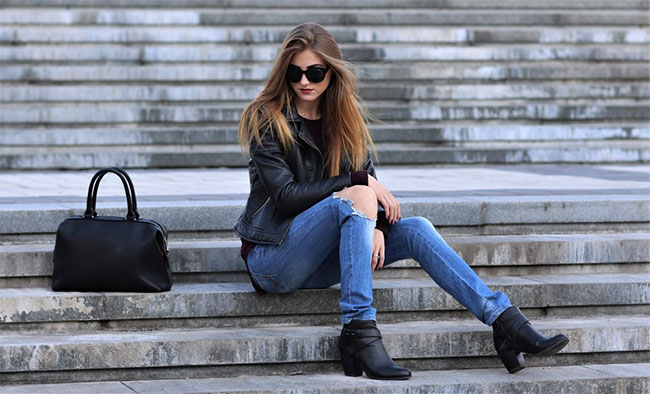 4. Ankle Boots
Ankle boots and skinny jeans are truly a match made in style heaven. Effortlessly chic and feminine, this expert pairing is everyone's go-to when Mother Nature can't seem to decide whether she wants to shower us with rain or blast us with scorching heat.
While skinny jeans are the most logical type of jeans to pair with ankle boots, it can be easy to get the look wrong. For a casual, weekend look, cuff your skinny jeans and pair them with nude booties with perforated details. Feel like sprucing up your look? Throw on a blazer and reach for a luxe ankle boot with a hint of shine for a look that transitions from the boardroom to girls' night out in a flash.
5. Flats
If there is one combo we'll never get tired of, it's skinny jeans and flats. Whether you're trying to polish up your 9-5 look or meeting up with the girls for brunch, all you need to do is slip on your cutest flats and ta-da! Your skinny jeans just got a major style upgrade.
From sophisticated loafers to casual slides, every woman should have at least a few different types of flats she can use to complete her skinny jean style. If you already have flats in neutral hues, consider adding an embroidered or glittery pair to your shoe collection for holiday parties or just a fun night out.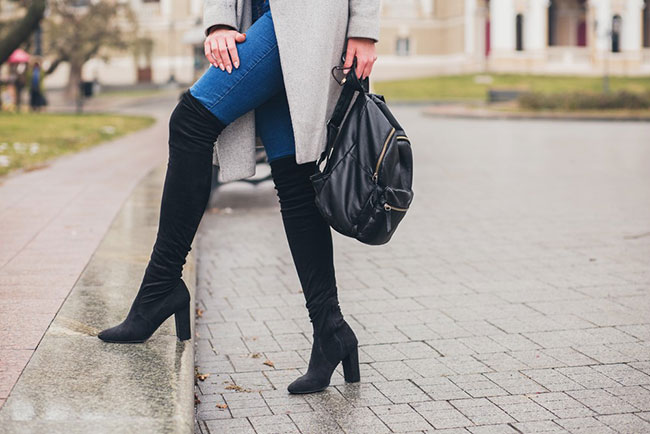 6. Knee-High Boots
Knee-high boots were made to be paired with skinny jeans. Have you ever tried stuffing a boot-leg jean into a tight pair of knee-high boots? It's practically impossible, and that's just as well because skinny jeans are the superior jean for knee-high boots in every possible way.
With spring just around the corner, you still have some time to rock this cold-weather staple before it gets too hot. For a sophisticated look, combine a pair of black knee-high boots with black leather skinny jeans and a chic trench coat. Want to lighten up for spring? Opt for a brown pair of knee-high boots with light-wash denim and a textured white top to ace your transitional weather style.
7. Classic Pumps
Is there anything better than pairing the classics together? Just like your skinny jeans, pumps are timeless and feminine, which makes them a natural style pairing that will stand the test of time. It's no wonder that royal and style maven Meghan Markle regularly opts for the pointy heels and skinny jean combo - it works flawlessly every time!

Channel your inner royal by styling a classic pair of black pumps with colored skinny jeans and a simple blazer. Don't forget to polish off the look with fancy earrings, a la Kate Middleton. If you love yourself a statement shoe, pick up a pair of pumps in a bold hue, such as bright yellow or cobalt blue. Keep the rest of your look neutral and let your shoes do all the talking.


Hits: 4245 | Leave a comment