Best Buying Guide for Morganite Engagement Rings
For those who are looking to explore beyond the diamond ring, morganite rings are an excellent and cost-effective choice. Trending fast and for good reason, this pink semi-precious gemstone is rare and durable, making it a unique fit for your engagement ring. For those looking for an out-of-the-box engagement ring or those fascinated with gemstones, a morganite ring will check all your boxes and also come at an affordable price. Here is your ultimate guide to picking the perfect morganite ring.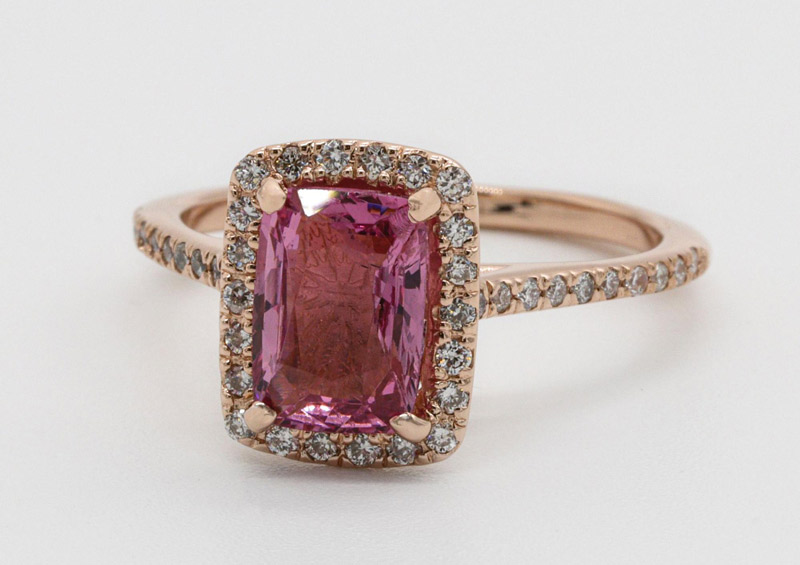 What is a Morganite Gemstone?
Morganite originated back in the 1900s and was made popular by the world-renowned gemologist George Junz. The gem was named after the famous gem collector J.P Morgan in 1910. Found in a number of places around the world, morganite is primarily mined in certain parts of Africa.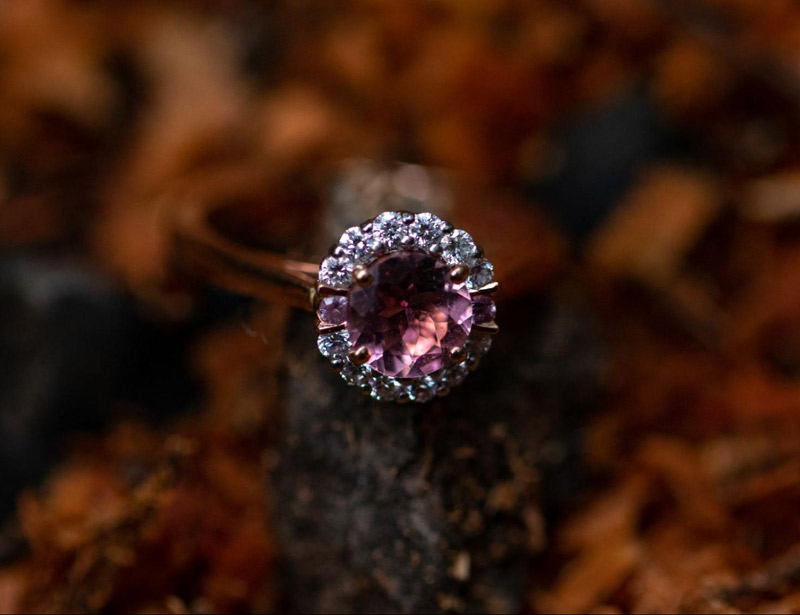 Belonging to the 'Beryl' group like emeralds and aquamarine, morganite is a pink semi-precious gemstone. The color of the gemstone can vary from peach pink to pale pink, violet pink, salmon red, mauve, or peachy pink. Not to be confused with a diamond which is a precious stone, Morganite is a semi-precious gemstone. Although the GIA does not have a distinct grading system to determine the quality of gemstones, one can assess the quality of morganite by the hue or color density of the gemstone.
In very simple terms, the darker the pinkish hue, the more expensive the gemstone. morganite has a relative hardness between 7.5%- 8% on the Mohs scale, making it fit to be an engagement ring. Regardless of its hardness, the unique color of this gemstone has made it a hot favorite among young couples, who are looking beyond a diamond as the centerpiece of their engagement rings. Apart from rings, the pink gemstone is used to craft studs, necklaces, earrings, and other pieces of jewelry.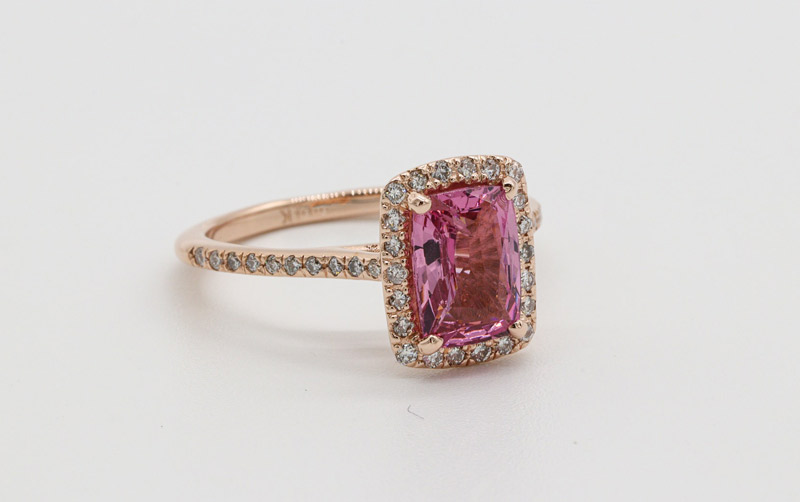 Believed to possess a cleansing aura, morganite gemstones are considered to be divinity crystals. Owing to their pink hue, mental healers associate the gemstone with love, innocence, and warmth. The gemstone is believed to relieve the body of emotional stress, trauma, and anxiety. Wearing the stone is believed to trigger the heart chakra, which stimulates a sense of peace and joy which flows through the body giving way to acceptance, forgiveness, and growth.
Irrespective of scientific backing, the metaphysical aspect of the morganite gem adds to its allure and desirability. Compared to a pink diamond, a morganite ring is a much smarter and effective choice. The gemstone suits all skin tones and one can choose from an array of varying pink hues. Although the gem is durable, it is best to get your jeweler to make a protective covering around it protecting it from chipping and unnecessary damage.
How To Pick a Morganite Ring?
In order to simplify quality specifications for consumers, the gem is graded as Natural AAA/AA/A. The most important quality grade for a morganite is its color. Morganite is available in various hues of pink, however, the density and depth of the color demarcate its quality and price. The deeper the pink color, the more the value and better the quality. If you are looking for premium quality morganite gems, you will find that the Mozambique morganite is irradiated to produce color while the Nigerian morganite features a natural hue. Opting for a pastel pink tone while selecting your gemstone, is both affordable and beautiful.
A stable color tone can also be achieved by exposing the stone to heat treatments. A naturally treated morganite should have salmon pink to peach tones. Premium morganite gems weigh over 5 Carat and possess an intense pink color. Stones that have a pale pink hue and are eye-cleaned are free from visible blemishes. When it comes to cut quality, a well-shaped morganite should have a bright and evenly distributed sparkle. Considering a stone with good polish, an oval shape, is the ideal cut for your morganite engagement ring.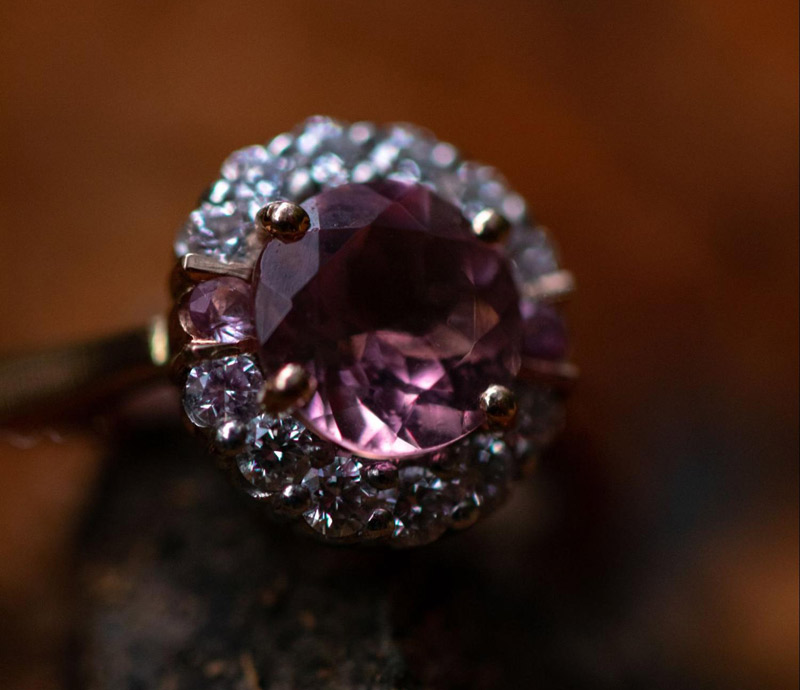 Clarity and Lustre
Morganites are type 2 gemstones, signifying that they have little to no inclusions. The highest quality gems are eye-cleaned and have excellent luster and are free from blemishes. Morganite gems are rare, even though they are affordable, thus it might be difficult to find the exact color that you are looking for. Morganites are heat-treated to enhance and intensify their color. Heat treatment is an industry-approved process that ensures that the stones maintain a stable tone while remaining natural and pure. Despite the global recognition of heat treatment, you can always opt for a natural gem. It is best to consider a gem with a high carat value as this does not affect the quality of the morganite.
Understanding the Cut
Morganites can be cut into different shapes and sizes and the cut of the stone does have an effect on its brilliance. Naturally, morganites have high transparency which adds to their brilliance. The unique pleochroic nature of the stone on account of the presence of manganese in it impacts it's brilliance. Some popular cuts include:
- Princess cut: A perfectly square cut that comes to a slight, flat rise in the middle
- Round cut: This is a perfectly round cut with a slight rise in the middle.
- Pear cut: This cut is rounded on the bottom and comes to a point at the tip.
- Marquise cut: A cut similar to the pear cut, but with both ends coming to a point.
- Emerald cut: This is a step cut that is famous as the ideal
Why choose a morganite engagement ring?
A morganite ring is unique, rare, and is not going out of fashion anytime soon. For those who are looking to tread into non-traditional territory when shopping for engagement rings. A morganite engagement ring is your best choice. Moreover, there are a host of options when choosing a morganite engagement ring. Morganites with a salmon-pink hue pair really well with rose gold or yellow gold whereas popular pastel color tones of morganite pair very well with white gold or platinum.
Certain gemstones have a distinct shine to them, however morganite is more elusive, making it ideal and a favorite for modern couples. Regardless of white gold or rose gold settings for morganite engagement rings, the most unique and loved engagement ring would be a morganite paired with a diamond.
From Halo sparkles of pave diamonds to the radiance of three stone settings, the addition of a diamond or diamonds to your morganite ring adds character, class, and charisma to your engagement ring. While choosing diamonds for your morganite ring, you should keep the following in mind:
- The selected diamond will reflect the pink hue of the morganite giving the ring a pink coloration.
- Select a morganite with a dark undertone in case your diamond is colorless or transparent.
- While choosing a setting for your diamond morganite engagement ring, you can go for a split, shank, or a three-stone setting.
A morganite rose gold ring is the best-suited design for an engagement ring, as the rose gold band very beautifully complements the pinkish nature of the stone. Many consumers opt for a 14K morganite rose gold ring to enhance the all-over pinkish hue of the stone. In other cases, accent diamonds are added to rose gold bands in order to embellish the pinkish peach hue of the gemstone.
How to care for your morganite ring?
Morganite gems are very durable and do not require a lot of care owing to their hardness. A gentle scrub using soap water followed by light cleaning of the stone's surface with a clean cloth ensures proper care of your morganite ring.

It is important to ensure the ring does not come in contact with harmful chemicals and is not mixed or stored with other gemstones. This causes the morganite to lose its luster so it is recommended to store your morganite ring separately. The cleaning liquid for your ring should not be of high acidic concentration. Although these rings are meant for everyday usage, they can get damaged due to wear and tear and need to be taken care of.

Morganite Jewelry

It is no surprise that the unique and versatile color of the morganite gemstone has incited jewelers to create an array of morganite jewelry, ranging from earrings to necklaces. Catering to a variety of fashion choices, the unique and subtle color of the gem allows it to blend with whatever you are wearing. Smaller elegant pieces of jewelry like stud earrings use a lighter hue as the light passing through this kind of gem produces a star-like luster. For heavier pieces, a more dark and prominent shade of pink is recommended to accentuate the brilliance of the gemstone.

Looking for a morganite ring?

Your search for the perfect peachy pink morganite gem ends here. Jewel Hero's unique network brings eager consumers in touch with verified jewelers, who ensure you get your preferred piece of jewelry at the best price. As rare as it may be, we will ensure you find the best jewelry expert near you while looking for a morganite engagement ring.


Hits: 6753 | Leave a comment