Ambient Susana - Collection Spring-Summer 2010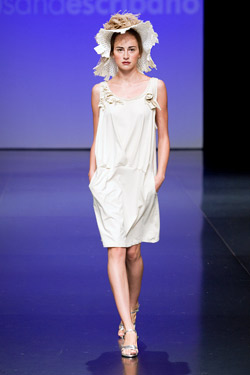 When times become hard we feel the need to return to our roots, the current crisis reduces our development possibilities and it forces us to look to our origins, we look behind, to a past time that sometimes was better and a feeling of nostalgia is imposed. But we also want to feel people and being treated as unique copies.
Lifestyle is then the result of an optimistic cultural exploration and renovation that, in global environments that spread to the uniformity, it pushes us to look for the authentic and genuine.
We become nomads, we explore new directions, new ways of life, looking for something better. One returns to the hard work, well done, as our ancestors did, looking for an exit that supposes better quality of life, is a new attitude in which there is another look to the things trying to understand the connection between atmosphere and life.
The collection of Susana Escribano, with influences of the atmosphere of the northwest of the USA and of the local young culture, it could be a reinvented grunge, a hardened workwear with rebel air, garments that seem to be two sizes more than necessary. At last, it is imposed the multifuncional comfort and the simplicity.
The best definition in this collection could be the comfort, above all we should be pleased with what we wear, we want multifunctional garments in which there are asymmetries, convertible garments that we can adapt to our body as much as we wish by means of tapes, buckles and elastics, primary and effective resources, garments with big very useful pockets, with overlappings to adapt them to the necessities of each situation. They are work clothes with old, used, worn out appearance…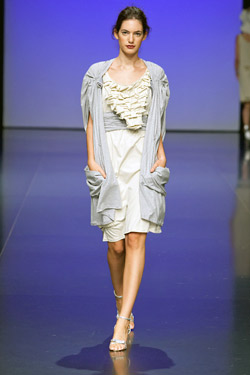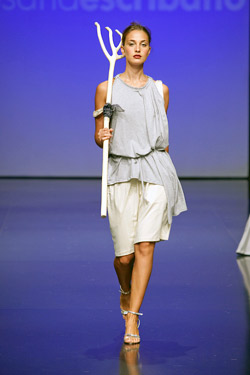 Susana Escribano tried to create a look in which you can put on at the same time even three or four pieces, so there are more possibilities to combine them changing style according to the situation that we will live. The superior garments without sleeves, are wide, with wrinkled and pleats, with very cared details, finish off with the same fabric that almost are unnotified but that they confer them resistance. The pants and skirts are also big, with enormous darts and crossed belts in which the pockets are placed to adjust them to each one´s pleasure. And finally the overall, a mixture between T-shirt and pants and with an old memory of work clothes.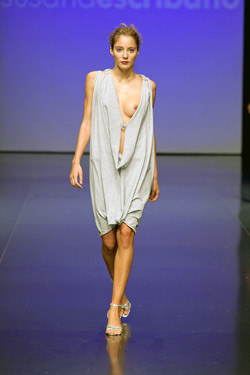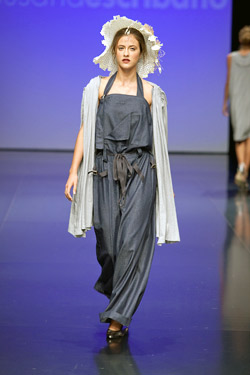 The palette of colours is inspired by the colours of the earth, brown and green of garden, earthy brown, washed tones of aged aspect by use.
The fabrics are natural, for their daily use that is what is imposed, with little weight to increase the comfort but with great resistance thanks to the combination of the cotton with "stretch". There is also a lot of knot in the typical sleeveless summer T-shirt as in the complete and wide overall. And everything combined with the denim which increases the casual and worn out look.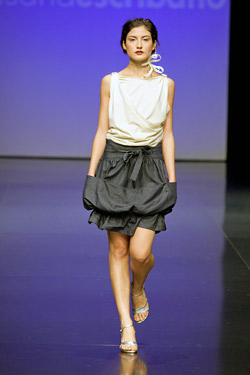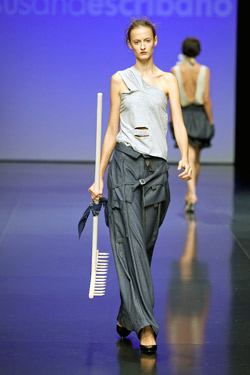 Hits: 91449 | Leave a comment