Craziness overseas: Black Friday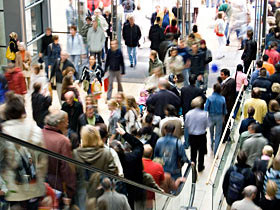 Shoppers lined up early Friday morning, poised to burst through the doors of malls and stores in the annual Black Friday bargain blitz.

Black Friday is the day following Thanksgiving Day in the United States, traditionally the beginning of the Christmas shopping season. On this day many U.S. retailers open very early, often at 5 a.m., and offer promotional sales to kick off the shopping season.

In many cities it is not uncommon to see shoppers lined up for hours before stores with big sales open. Once inside the stores, shoppers often rush and grab, as many stores have only a few of the big-draw items. Injuries and even fatalities are reported. In 2008, a worker at a Walmart in Valley Stream, New York was trampled to death by shoppers who broke through the store's glass doors minutes before the store's scheduled opening at 5:00 a.m.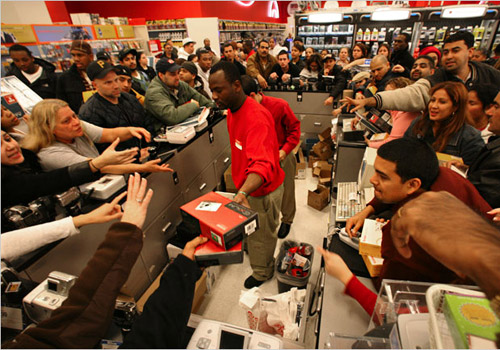 This year some of the biggest and best sales began before dawn.

Toys "R" Us, the nation's largest toys-only retailer, got a head start on the holiday shopping craze, when it opened at 10 p.m. on Thanksgiving Day for the first time. According to U.S. magazines, they were among hundreds of shoppers who poured into Wal-Mart before midnight, when Black Friday officially began. That's when certain discounted items became available, such as the 32-inch Emerson flatscreen TV and the eMachines laptop that each sold for $198.

Some retailers opened at midnight trying to get a jump on their competition. Wal-Mart put several toys, movies, games and houseware items on sale at midnight but the big ticket electronic items such as televisions and laptops would not be available until 5 a.m.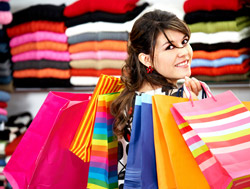 The hottest deals drew the longest queues to the electronics section, where the store gave out $50 gift cards with the purchase of an iPod Touch or an XBox 360. Video game sales were perhaps the biggest highlight among teenage boys, and You and Me baby dolls were popular for little girls.

The 10 p.m. opening in New York also drew shoppers from as far away as South America and Europe. They said on that day everything is a deal here because the dollar is so much lower than the euro.

At this very moment, the online store Amazon.com is offering numerous discounts during their "Black Friday Deal Week" campaign. Jewelry, electronics and clothing with up to 80% discount are waiting the shopaholics.


Hits: 16336 | Leave a comment