The summer secrets of the pedicure. Ideas for 2012
Summer 2012 is trapped in neon brilliance and amazing combinations of colors and shapes. This is also valid for the pedicure, which stands more than ever against the cut and sexy sandals. Do not hesitate to experiment with your favorite shades, all sorts of floral, graphic and ethnic patterns, stickers, crystals and even 3D decorations. The most recent trend is a different color or decoratation on each nail.
Flowers and drops
This is probably the best way to reveal your romantic nature. The drops are carefree and frivolous, the floral motifs - feminine. While the impressive spots are easily made ​​using a toothpick, the paintings of garden and field flowers require talent and patience. If you are not sure of your skills, you can always bet on decorative stickers. The merry drops and exquisite blossoms are full of vintage charm, especially in pastel variations.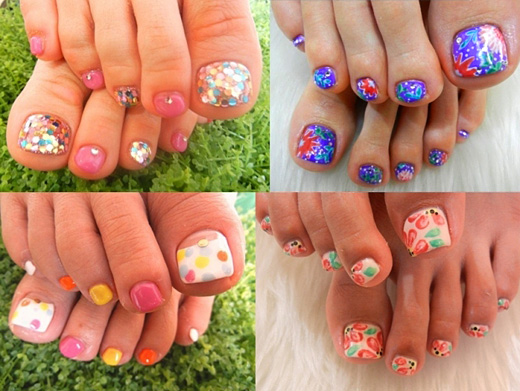 In the style of Missoni
If the bold and contrasting ethnic patterns are your element, you will surely feel obsessed by the summer nail art of Missoni. The bright and vibrant with life zig zag in blue, magenta or mint reminds of the bohemian chic of the 60s, but at the same time has a modern look. Most fresh and expressive is the combination of ethnic patterns in one nail and a whole range of other colors on the rest. Original idea is the water marble manicure that brings the spirit of Morocco, Algeria and the Mediterranean.
Shine
Brilliant decorations are in fashion, because they create the feeling for a kiss from the sun. With sequins, crystals and glitter you can create any nail art - from the British flag (a real fashion symbol because of the for royal anniversary this summer) to the up to date marine theme. The hottest combination - glitter and various width stripes also relies on the mood of the beach. Sparkling crystals go well with romantic pastels and neons and mostly with the very modern shades of blue.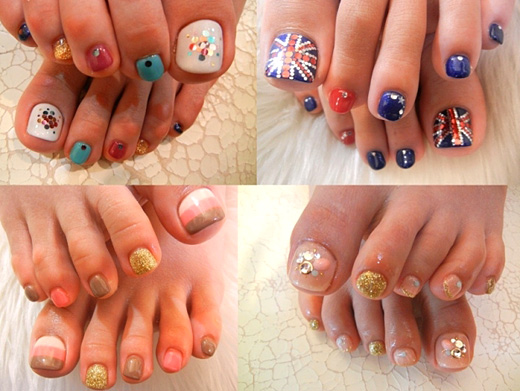 The pedicure for Summer 2012 is sexy, exciting and incredibly funny. So it should be in line not only with your sandals, but also with your mood. Romance, boldness or 100% sex appeal - what will you choose?

Photos: becomegorgeous.com


Hits: 34191 | Leave a comment