Tag: pedicure
Manicure
Summer 2012 is trapped in neon brilliance and amazing combinations of colors and shapes. This is also valid for the pedicure, which stands more than ever against the cut and sexy sandals. Do not hesitate to experiment with your favorite shades, all sorts of floral, graphic and ethnic patterns, stickers, crystals and even 3D decorations. The most recent trend is a different color or decoratation on each nail.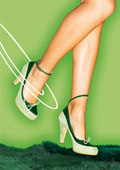 Fashion advices
With the global financial crisis still in full swing, luxuries have taken a back seat. People are afraid to splash out on non-essentials, but we're here to show you it is possible to have a little luxury even when times are lean.

Feet work hard all day, transporting you from place to place and they deserve a bit of pampering from time to time. So here are some tip tops to get the perfect pedicure, which won't break the bank.

Preparing the feet is essential, so use a foot file or pumice stone to get rid of dead skin before removing any old nail varnish and soaking toes in warm water for 5-10 minutes.