Collection name: Tomato
With the new collection, Andre Lisowski continues to move Delikatessen into a more diverse colour palette with a keen sense of proportion, skillfully combining the low-key with the bold. Delicacy in the collection's slim tailoring, combined with effortless styling and refined colour blocking bring a fresh perspective to menswear. The collection includes several pieces of outstanding colour and texture blocking. 
For the AW 12/13 the designer applies hues of emerald green, burgundy, and various blues.  The intense palette of colors is darkened with a drop of gray. In this way the designer comes up with a colorful, however pared-down silouette. 
The collection includes several pieces of outstanding color and texture blocking. Over-dyed lime and turquoise oxford shirts heighten the autumnal hues of pants and tops.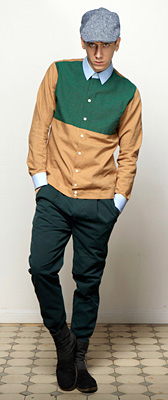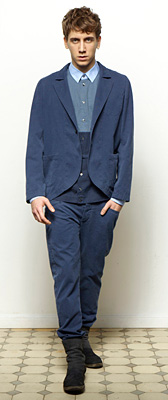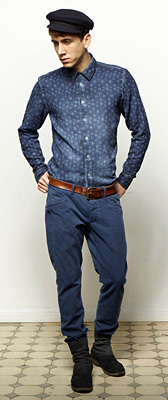 Delikatessen injects a much-needed dose of playfulness into the menswear wardrobe.  This highly wearable collection caters to the discerning man choosing to wear subtly understated and individual garments with a dose of panache.
Delikatessen shirts feature a perfect sartorial slim cut, handsome tiny collars, hidden inner pockets, unique Delikatessen buttons, impeccable stitching and soft stone wash finishing. The soft feel of neatly embroidered sizes in tomato red are Delikatessen's answer to often irritating size labels.  The collection includes over-shirts with elastic band, T-shirts and kimono shirts.
Trousers feature a unique innovative pattern: the back consists of one piece of fabric.  The pockets cut horizontally through the sideline of trousers and close with two buttons.  All trousers have a low cross and a very neat inside trimming. 
Jackets:  Cut minimalistic, an outside button together with an inside strip close the jacket. The relaxed look of the jackets results from soft finishing: no lining and no shoulder pads. Easy to use - designed to be machine washable.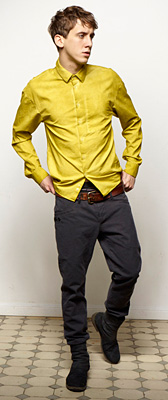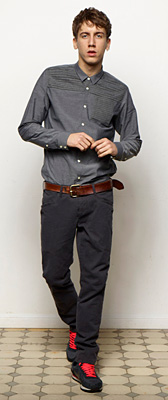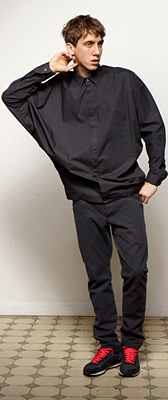 Fabrics:
Naturally imperfect:   almost plain two-toned weaves,  deceptively raw: bouclettes with modestly grainy, stony, imperfect aspects, and with luxuriously soft handles; delicate aged looks: cloudy patinas and washed-outs, subtle plays on dyes and over-dyes.
The entire Delikatessen collection is prewashed and pre-shrinked. The world renowned Giza 87 and Mako are at the base of all Delikatessen cottons, the softest available yarns in the world. Andre Lisowski loved the fabric that also won the International Premiere Vision Prize for Innovation in Textiels and designed a taglio vivo woven jumper,  resembling hand made knitwear.
All fabrics come from a few selected high-end Italian, British and Japanese producers. All production is placed in European Union – Poland.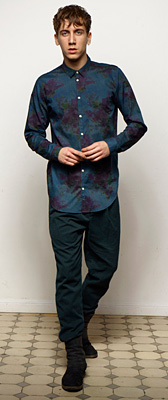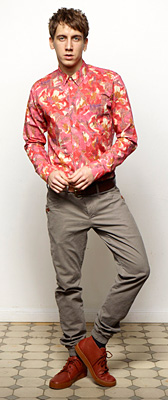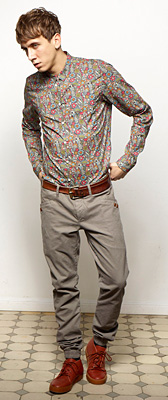 Credits:
photographer: Stanislaw Boniecki
hair and make up: Emil Zed
styling: Andre Lisowski


Hits: 13273 | Leave a comment