Fashion trends Spring-Summer 2013
Spring is just around the corner and Summer follows it. So, we start dreaming for less clothes, sculptured bodies and fashion masterpieces.
We guess you feel the same!
That's why we have prepared for you a list of 20 Spring-Summer 2013 top trends:
1. Monochrome checks – black-and-white checks are a real hit this season, and it's better the motif to be bigger and bolder. Take a look at the Spring-Summer collections of Balmain, Louis Vuitton, Marni, Moschino and Sportmax

2. Bomber jackets - throw one of these over your top and you'll streamline your look to world's fashion trends. For inspiration - see the collections of Balmain, Emilio Pucci, Lanvin and Stella McCartney
3. Oversized white shirts – this trend is preferred by fashion houses like Jil Sander, Victoria Beckham, Preen, Lacoste and Chloe
4. Ladylike handbags – let your feminine side to shine this spring! Do the same with your handbag. Here are some ideas from Dolce & Gabbana, Etro and Prada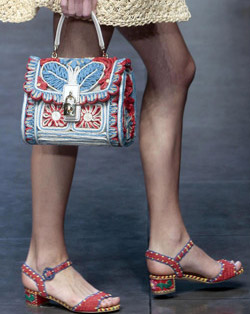 5. Oriental – Japanese silhouettes and oriental blossoms – that's it! Choose some of these amazing pieces of Emilio Pucci's, Etro's and Prada's collections or from the Bulgarian fashion house Toane Atelier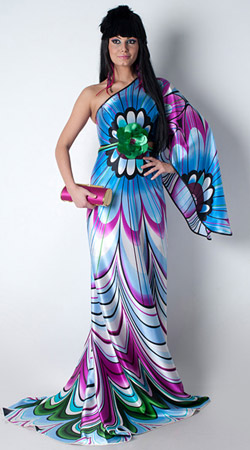 6. Tuxedo jackets – white or black – it's your choice. Look for long lapels and strong shoulders, like these in the Spring-Summer 2013 collections of Balmain, Jean Pierre Braganza and Valentino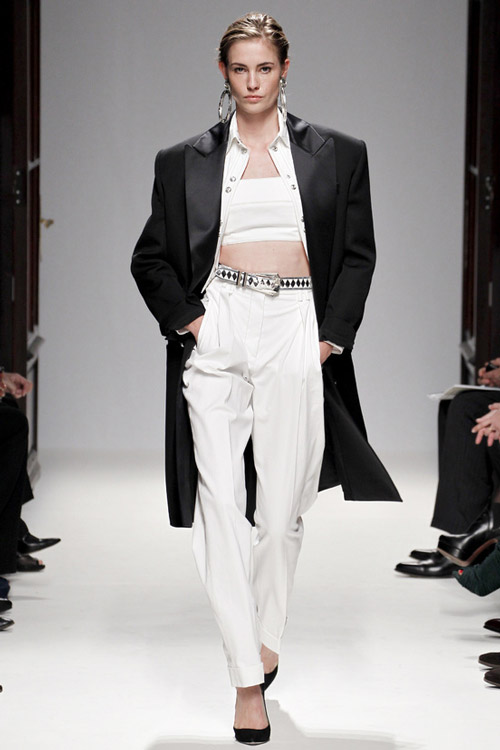 7. Striped skinny trousers – give yourself a hot look with strong lines this season. Lengthen yours by putting them on skinny trousers, and pairing them with an equally sharp line up top. Look at Michael Kors's and Balmain's offers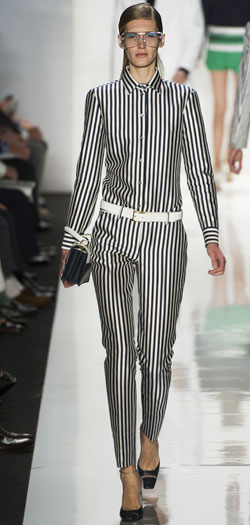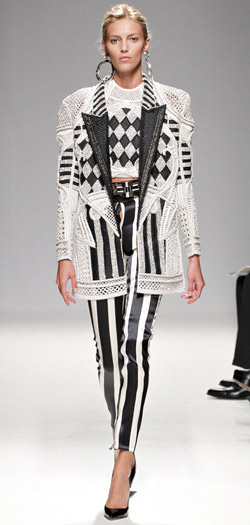 8. Split front skirts – it's all about showing a bit your legs. Feminine and delicate – that's how Lanvin's, Michael Kors's and Prada's models looked on the catwalk
9. Low-heeled shoes – a pair of these to match your ladylike bag is a one-way ticket to spring chic. Look at this Manolo Blahnik's allurement
10. Frilly dresses – no more small ruffles! This spring is all about the statement frill – look at Chloe, Gucci and Bulgarian on-line boutique for formal dresses Belnoir
11. Sixties – mini-skirts, A-line dresses, graphic checks, patent and delicate motifs, worked in bright colors. Louis Vuitton, Michael Kors and Moschino have it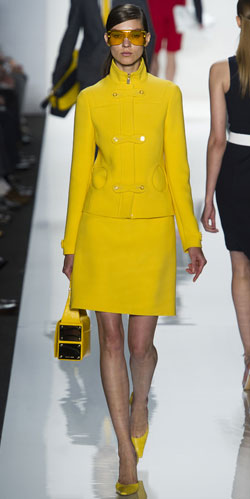 12. Stripes – in every which way – skinny or fat, minimal or huge, black-and-white or colored – it's your choice. Balmain, Dolce & Gabbana and Moschino gives you some ideas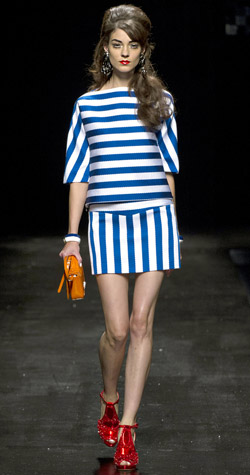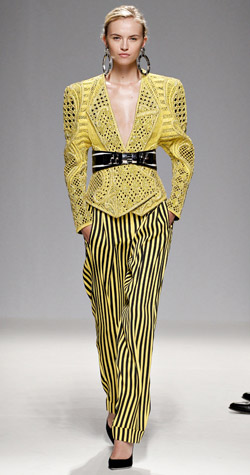 13. Hawaii – hibiscus flowers, birds of paradise, hummingbirds and palm leaves. To be fresh and chic, your outfit needs to become a background of a tropical landscape, like these wonderful cloths of Isabel Marant's, Kenzo's and Proenza Schouler's collections
14. Safari – fierce beige and khaki prints for both day and night, the countryside or the urban jungle. Try a safari-style adventure with Dolce & Gabbana, Emporio Armani, Kenzo and MaxMara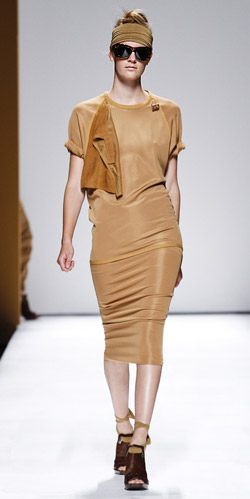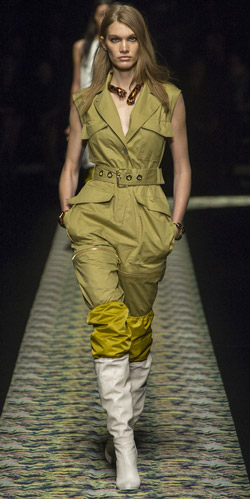 15. Kimono – from structured leather lines to dresses that took us straight to the Orient – Etro, Gareth Pugh and Haider Ackermann
16. Metallics – shimmering metallics set the tone for next summer. That's right – look at Burberry Prorsum, Christian Dior and Emporio Armani
17. Pleats – from nude pleats and discreet folds to voluminous, flowing crepe – this is the season of pleats - Chanel, Christian Dior, Emilio Pucci, Etro and Gareth Pugh shows it
18. Dots – the classic Audrey Hepburn's black-and-white polka dot dress of 'Breakfast at Tiffany's' is back! It evokes a highly feminine delicacy and sophistication, matching minimalistic look with an elegant edge. We like Chanel's and Haider Ackermann's work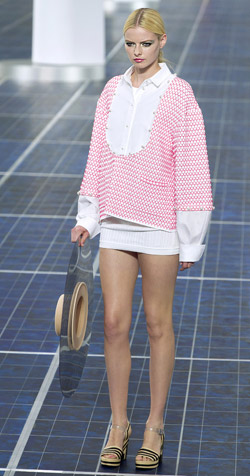 19. Gold sequins – jackets, dresses and pants are sprinkled with shimmering metallic sequins, giving them the sexy mirror effect. THANK YOU Chanel, Chloe, Fendi, Lanvin and Saint Laurent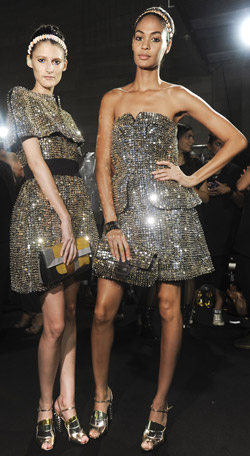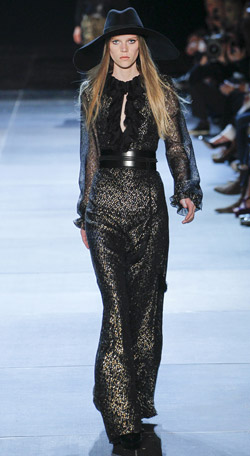 20. Fringes – fringe-accenting is making a comeback in delicate, sleek trims that will sway with you long into the night. Models of Gareth Pugh, Jean Paul Gaultier, Nina Ricci, Ralph Lauren and Versace look amazing!
For more ideas and inspiration visit our gallery - "Fashion trends Spring-Summer 2013".

Photos:
Models from the Spring-Summer 2013 collections of:
1 – Louis Vuitton
2 – Marni
3 – Balmain
4 – Emilio Pucci
5 – Chloe
6 – Dolce & Gabbana
7 – Prada
8 – Etro
9 – Toane Atelier
10 – Balmain
11 – Michael Kors
12 – Balmain
13 – Lanvin
14 – Prada
15 – Manolo Blahnik
16 – Gucci
17 – Chloe
18 – Moschino
19 – Michael Kors
20 – Moschino
21 – Balmain
22 – Kenzo
23 – Isabel Marant 24 – MaxMara
25 – Kenzo
26 – Etro
27 – Haider Ackermann
28 – Christian Dior
29 – Burberry Prorsum
30 – Etro
31 – Gareth Pugh
32 – Chanel
33 – Haider Ackermann
34 – Fendi
35 – Saint Laurent
36 – Ninna Ricci
37 – Gareth Pugh



Hits: 36717 | Leave a comment