Trends for Summer 2014: Hairchalk
Right now, brightly-coloured hair is bang on trend. From the editorial take on the catwalk to the super wearable street-style hairstyles, we've been seeing coloured ombré everywhere. The NEW Hairchalk range from L'Oréal Professionnel is our perfect product to achieve the look. With five flashy colours and three sophisticated shades, you can achieve a great multi-coloured mix of hairstyles either at home or in your salon. To get you inspired, we worked with James Galvin, Artistic Director at Daniel Galvin Salon, who armed with our brightly-coloured Hairchalks created these three looks you'll love.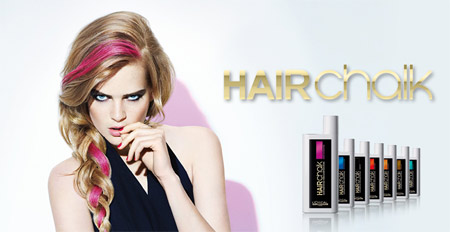 Very fun and fresh, the playful Candy Floss Curl look works the Garden Party green, Sweet Sixteen Pink & First Date Violet Hairchalk shades into bright blonde hair. To achieve the pastel-like quality, James dilutes the colours with water before applying to the hair. When it came to the styling, James wanted to create something very light, full of airy texture. He starts by using small tongs to curl narrow sections of hair before pinning & allowing curled sections to cool. Starting at the base of the head he unrolls each section, backcombing gently to add a lighter texture.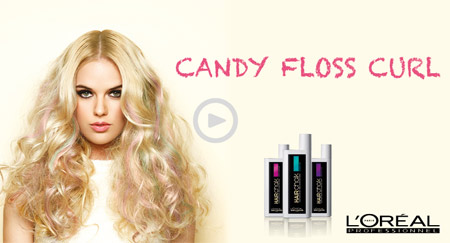 For the Blushed Beehive, James wanted to create something with all the sophistication of a classic style with a statement touch. For the flash of colour at the front, James starts by applying Coral Sunset to one section on the left-hand side of the head in thick sections and separating to dry. Sectioning off a front section, he then backcombed the remaining hair to gently build volume before pulling back and pinning into a French twist- spraying with tecni art air fix to secure. Sweeping the loose section back across the front of the face, James suggests adding a bit of extra texture by loosely backcombing some of the hair.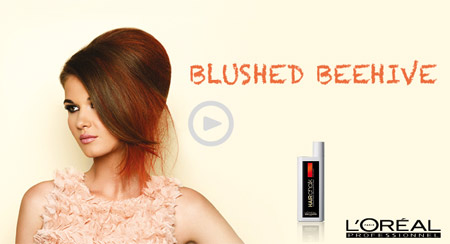 For this Peacock Plait, James wanted to pick up on some of the blues & greens he'd been seeing on the catwalks so he worked with Garden Party green, Blue Ocean Cruise & First Date Violet Hairchalks- placing narrow sections of each colour throughout the hair and separating them to dry. To achieve the beautiful braid, James starts by parting the hair in the centre to give two distinct sections. Taking one section, begin French braiding the hair from the nape of the neck, following the natural curve of the head and bringing across the front of the face & pinning in place. Then he plaits the rest of the hair & pins this, too. Finish the look by teasing out elements of colour to highlight the Hairchalk pieces.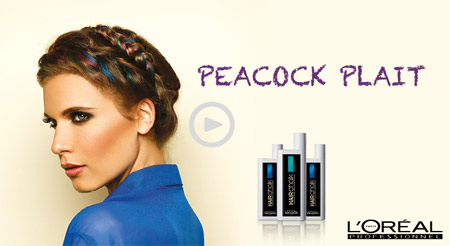 Photos and information: lorealprofessionnel.co.uk


Hits: 7369 | Leave a comment