Teodora Burgazlieva: "I am proud to be Miss Bulgaria 2002"
* The sixteen year old beauty has not met the big love yet
* * Her password for success is "Forward with a smile"!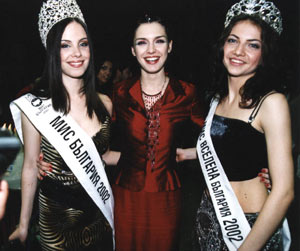 "Miss Bulgaria 2002" is Teodora Burgazlieva from the city Pomorie. The beauty of VISAGES MODELS AGENCY was born on 5 September 1985 in Pomorie. She is 175 cm high, weighs 54 kg and her measures are 90 - 62 - 92. She has blue eyes, her hair is dark brown. She studies at Technical School "Aleko Konstantinov" in her home town, specialty "Fashion design". She has received a special award "Elit model look" (2000) and she is a semi finalist in the same competition.

She was in the top 10 of the previous "Miss Bulgaria" competition. She won the title "Miss Bulgaria 2002" and she will represent our country in the world final "Miss World 2002" in october this year on the Seyshelle islands. For the world of fashion and modelling she was found by the regional representative of "Visages model group" in Bourgass. Teodora was kind to answer our questions especially for the site of "Ot igla do konetz" in the biggest Bulgarian fashion portal on the net fashion.bg
LUBOMIR STOYKOV: What does the title "Miss Bulgaria" mean to you?
TEODORA BURGAZLIEVA: For me this title is a very big responsibility, which I am ready to bear. By winning the competition "Miss Bulgaria" I completed my biggest children's dream. Believe me, I am proud to be "Miss Bulgaria 2002".
Which was the hardest moment on the finals of the "Miss Bulgaria 2002" competition ?
- There was not such a moment or in fact all of them were such. The only thing over which I aimed at was to concentrate on the way of presenting myself and especially on my walk.
Do you make a difference between fashion and modelling?
- Of course, although both are very important for me. I have been working as a model and mannequin in "Visages model group" for two years. As for fashion, I am studying to become a fashion designer and after I quit the modelling career I will devote myself to this fantastic prodession. Among Bulgarian designers I like most Evgenia Jivkova, and among the foreign - the deceased Gianni Versace.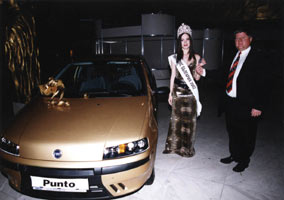 Is it hard to be a perfect model?
- The perfunctory signs - nice body, slim figure, proportional measures are important, but not most important. The most important thing is the individual detachment of every person.
In this respect which topmodels do you like most and why?
- Naomi Campbel , because of her style of presenting the clothing and because of her increadible walk, and Adriana Karembio (earlier known by her maiden name Sklenarikova) because of her strong detachment.
Do you have a favourite motto?
- I don't like phrases or thoughts that are known and cited by everyone. For the different cases I make up my own mottos, or actually incentives. On the Miss Bulgari competition this was: "Forward with a smile!".
Who is your ideal for woman's beauty?
- Jeni Kalkandjieva, because she generalizes everything which is ideal for beauty of the Bulgarian woman!
Do you have an ideal for men's beauty?
- I like very much Brat Pit.
We live in a time, when the sixteen-year-old know much about love. Do you have your own definition of love? What is love for you?
- At this time I don't have such a definition. May be I will have it later, when I meet it.
What would you advise the future candidates for the title "Miss Bulgaria"?
- To believe in themselves and never to give up!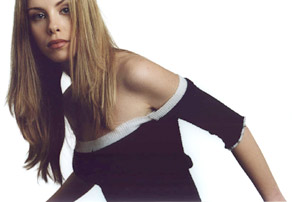 Photos:

1. "Miss Bulgaria 2002" - Teodora Burgazlieva, Jeni Kalkandjieva and Elina Georgieva - Miss Universe /in the right/;

2. Teodora Burgazlieva with the owner of "Visages Model Group" - Jeni Kalkandjieva;

3. Teodora Burgazlieva with her big award - automobile "Fiat", to the right is the managing director of "Auto Italy" JSCo Mr. Assen Koynov;

4. ? 5. Teodora Burgazlieva as a model of "Visages"

Photographs: © Visages model group


© Lubomir Stoykov
All rights reserved!


Hits: 61186 | Leave a comment