Spring-Summer 2015 Fashion trends: Key materials
For women's wardrobe luxury leather will be a key material for Spring-Summer 2015, according to the analysts at Trendstop.com
- one of the world's leading trend forecasting agencies, renowned for its insightful trend analysis and forecasts.
Outerwear and Skins receive a luxurious revamp for the S/S 2015 season, as seen in the treatments of leather and reptile textures. Summer Exotics demonstrates surfaces like snake or crocodile that have been transformed with new season tones, as the Sweet Like Leather trend draws from a pastel palette for a feminine appeal.

Let's take a look at two key materials trends for the apparel and accessories markets:

Summer Exotics

APPAREL - Reptile skins are revamped with a spectrum of summery shades like pistachio and pale cream, on show in either paneled inserts or full shapes. Crisscross bands appear in gray and green on a pure white For Me Elena Miro dress for an elegant finish. Simonetta Ravizza and Gabriele Colangelo both opt for all-over textures, as seen in a pastel tunic top and two-tone jacket.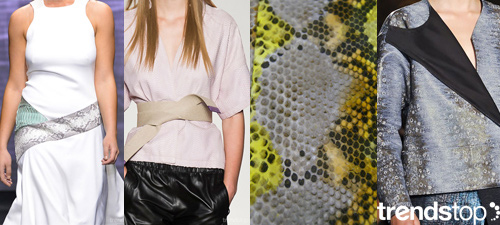 ACCESSORIES - The trend also works well on a range of luxurious, safari-esque accessories. Reptilian bags appear in chocolate brown at Bottega Veneta and butterscotch on a rectangular clutch at Gabriele Colangelo. Elsewhere, the palest of greens saturates a supple, scaly jacket at Etro.

Sweet like Leather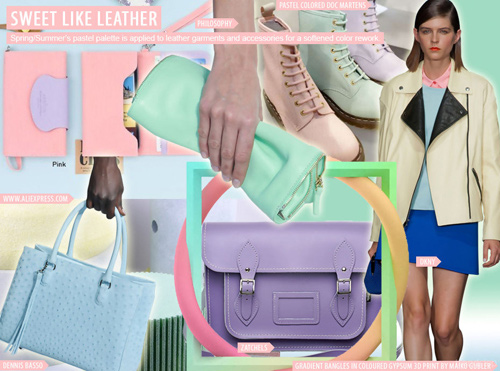 APPAREL - A more playful, feminine take on this seasons Outerwear & Skins materials, we see Spring/Summers signature pastel palette applied to leather garments for a softened color rework. DKNY lends a chic edge to a biker with banana cream, as sportive tees appear in creamy purple at Diesel Black Gold and sky blue hues saturate lightweight coats at Big Park.

ACCESSORIES - As with apparel, the Sweet Like Leather trend transforms accessories and footwear with a sugar sweet appeal. Bags can either be structured or slouchy, as demonstrated by Dennis Basso in blue and Philosophy in mint. Additionally, chunky shoe styles retain a feminine appeal in creamy strawberry sorbet.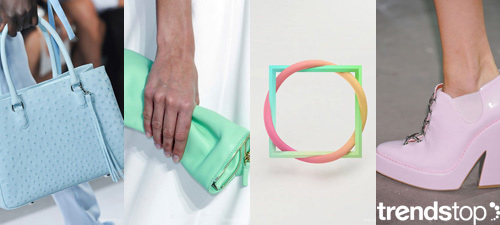 Photos & Information: Trendstop.com

Fashion Designers & Buyers! Discover directional color! 15% OFF all Color Trend Reports!





Hits: 17108 | Leave a comment