Kaviar Gauche presented La BERLINOISE at Mercedez Benz Fashion Week Paris
Kaviar Gauche is an award-winning label based in Berlin. The designers, Johanna Kühl and Alexandra Fischer-Roehler, both graduated in fashion design from Esmod before going on to find their ready-to-wear and accessories label in 2005. The line fuses strong tailoring with fluidity and feminine accents.
The collection of Kaviar Gauche for Spring/Summer 2015 is called La BERLINOISE ...
Gracefully and seductively, she makes her entrance. She, the modern Berlin woman in softly flowing plissé, diaphanous lace creations with their floral beauty and open mesh structures in the form of organic elements – these wisps of fabric allows her to dissolve in a combination of lightness, transparency and modern coolness. Here and there a sparkling embellishment reflects the city lights. The Berlinoise plays with contrasts – and is delicate and raw at the same time. Self-confidence and effortless style on all levels define her individualistic attitude. She loves the fast moving, the urban and industrial, the big city of Berlin and its influences. At the same time she infuses all her memories and illusions of France into her life here, in the rough metropolis.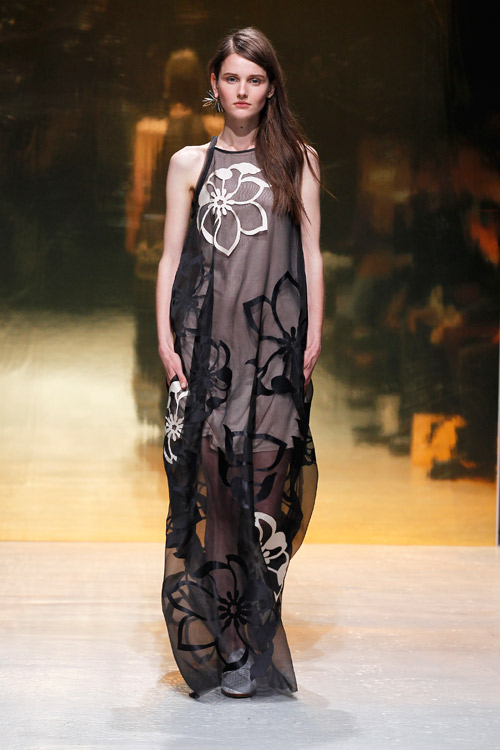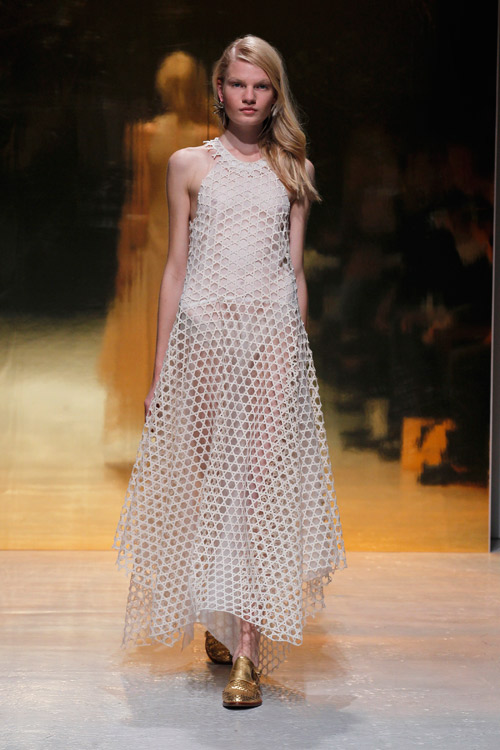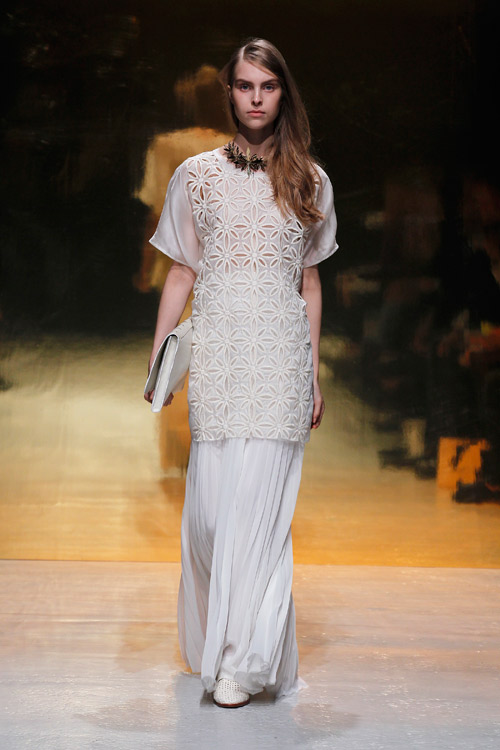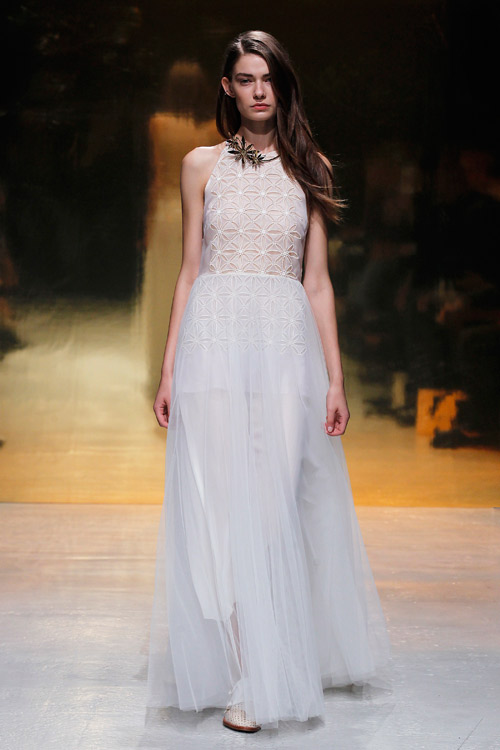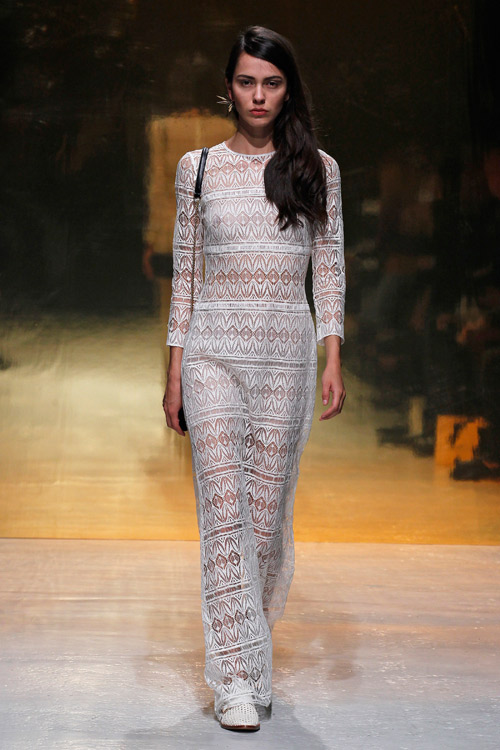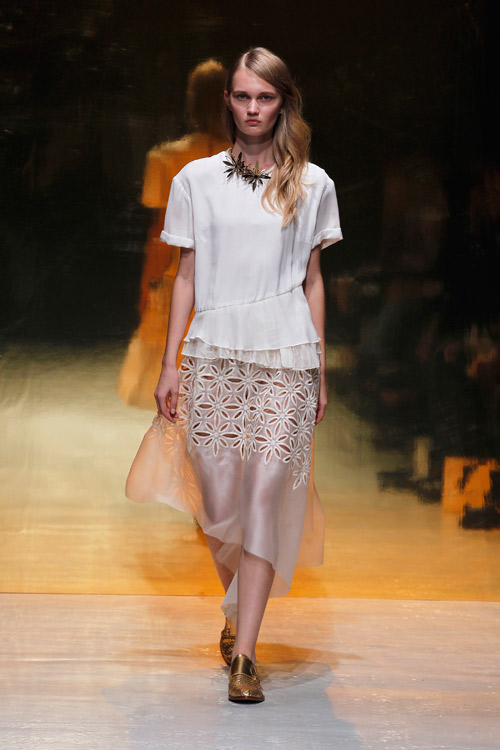 For their 2015 spring & summer collection the Kaviar Gauche designers Alexandra Fischer-Roehler and Johanna Kühl are combining the influences, inspiration and experiences they have shared over the last ten years. With their unique designs they are creating their own visual imagery, executed in intense yet soft and powdery colours, reminiscent of the Berlin night skies or the Golden Twenties as experienced in the German capital. Their imagery transports an allegory of feminine playfulness and poetic aesthetic in combination with masculine-feminine polarity. Through the similarly heightened play of rough shapes that break up the look, a typical Kaviar Gauche fusion is achieved from these accents, in which feminine silhouettes are paired with opulent oversized elements, creating flowing volumes with displaced shapes.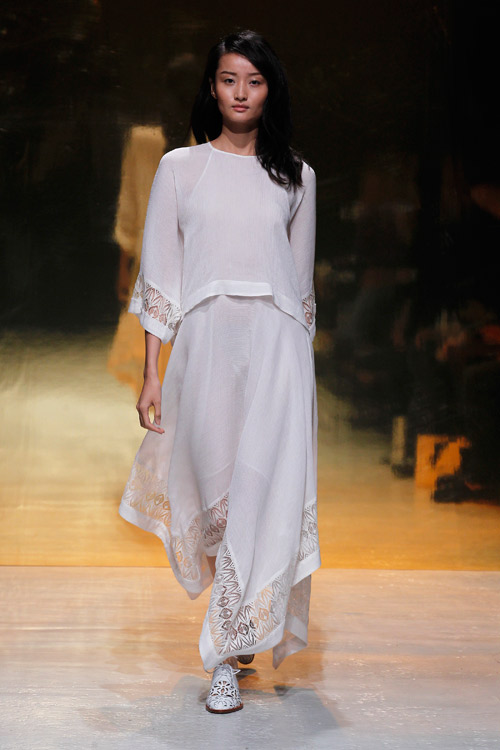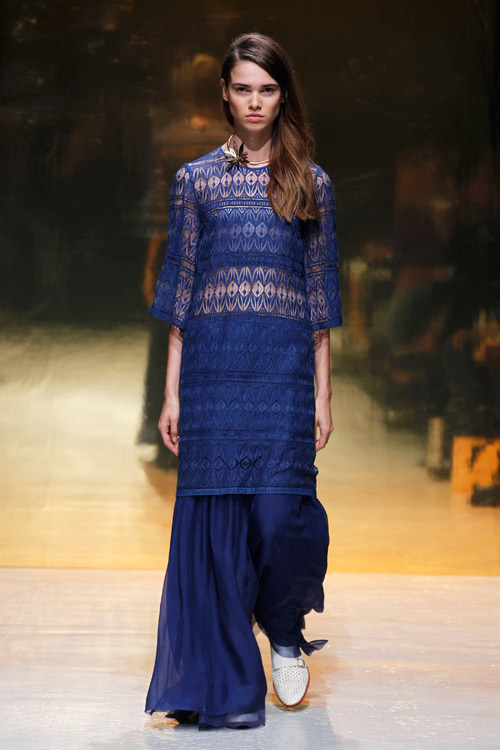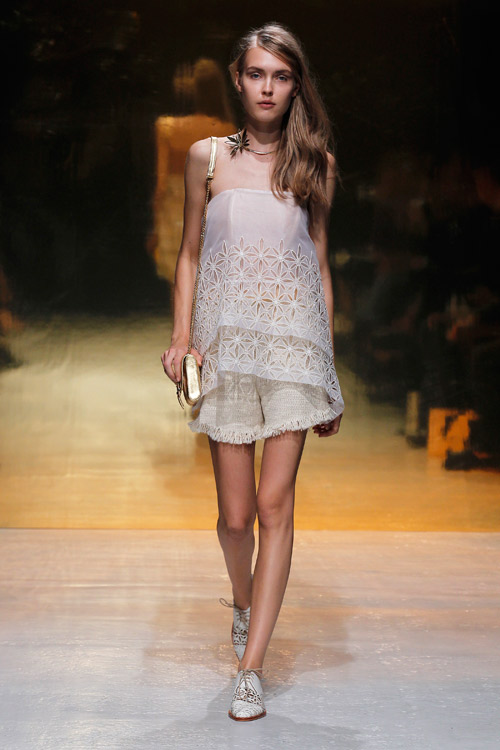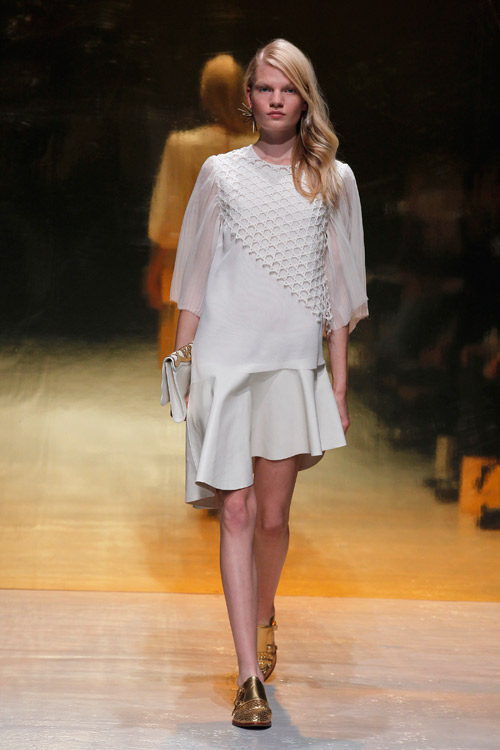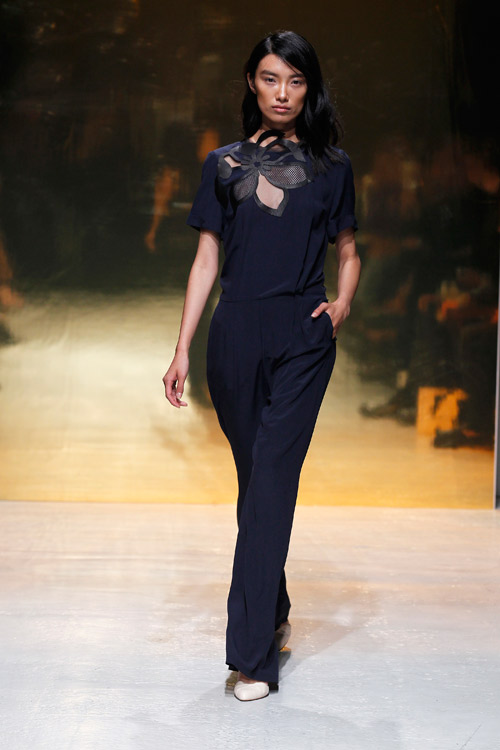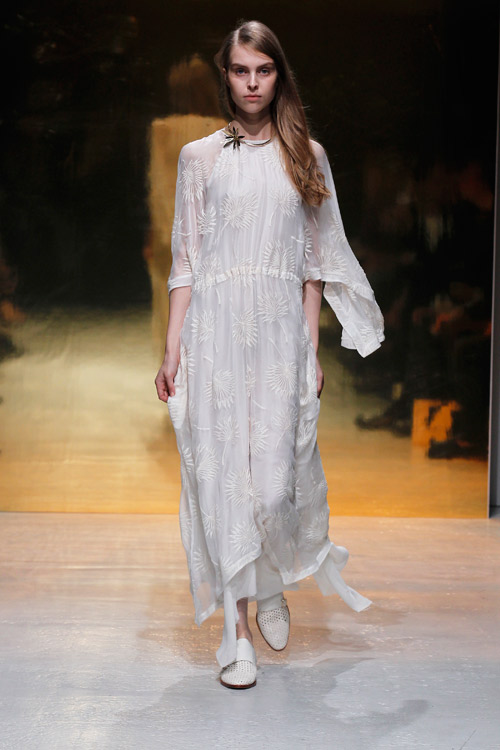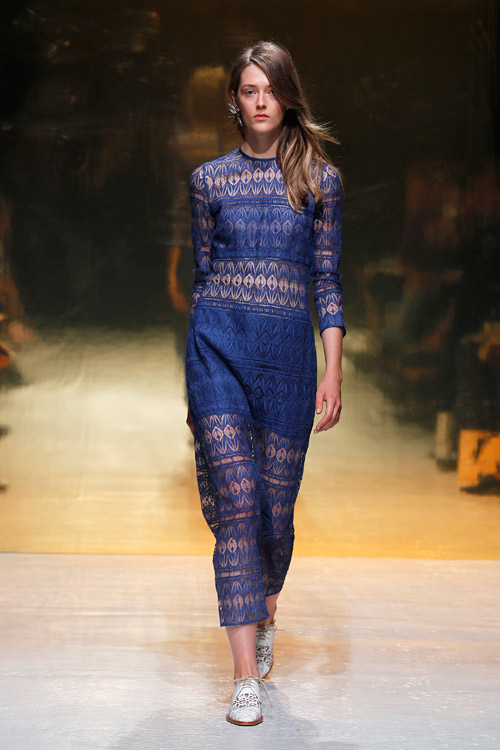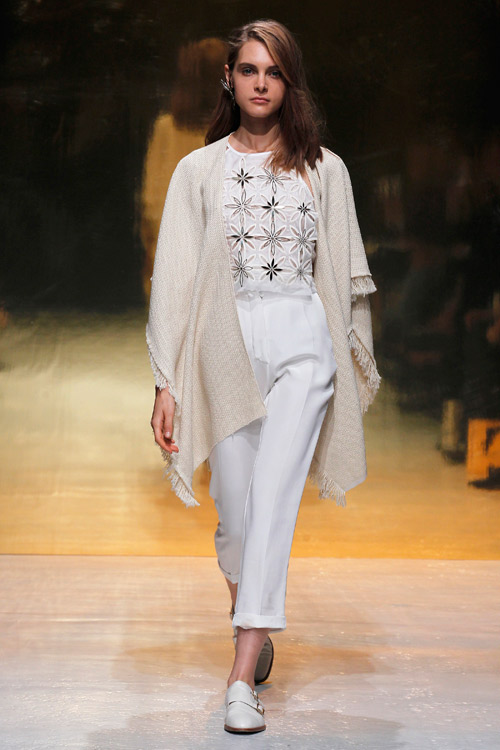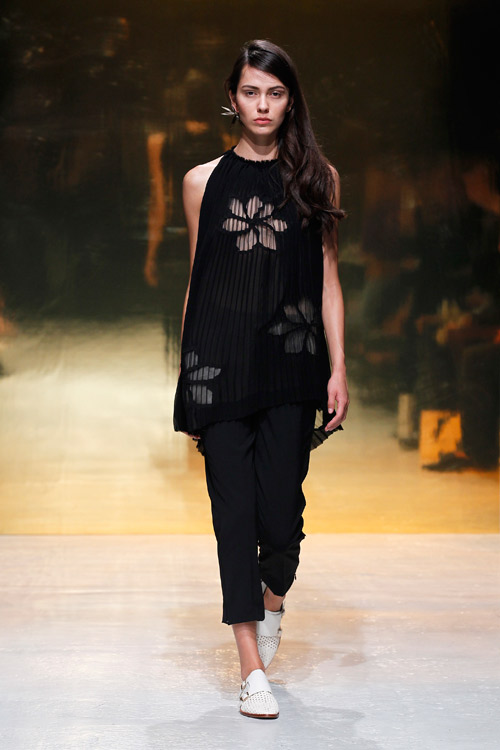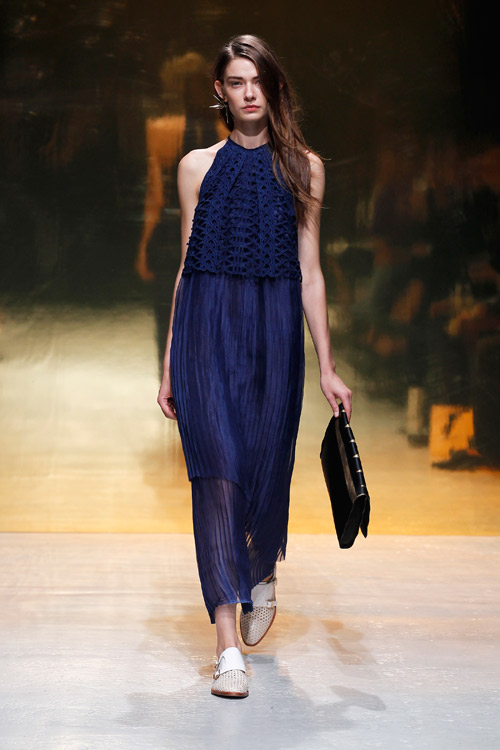 The soft, delicate, appealing and simultaneously unconventional image of this Berlinoise originates from the French style icons of the seventies, exuding tension and sensuality all at once. Meanwhile she falls prey to the urban chic of the modern, noisy big city again, her subconscious steering her toward modern and carefree adventure. She likes to set accents and combines a feminine seductive look with a pair of casual men's shoes, referencing "la garçonne en Vogue".
As far as details are concerned, the collection shows itself from its feminine and unusually playful side: irregularities, organic slits and swinging volumes that create new silhouettes and collapse into softness. Laser cuts and flounces to break up the look afford occasional glimpses of the wearer's feminine form.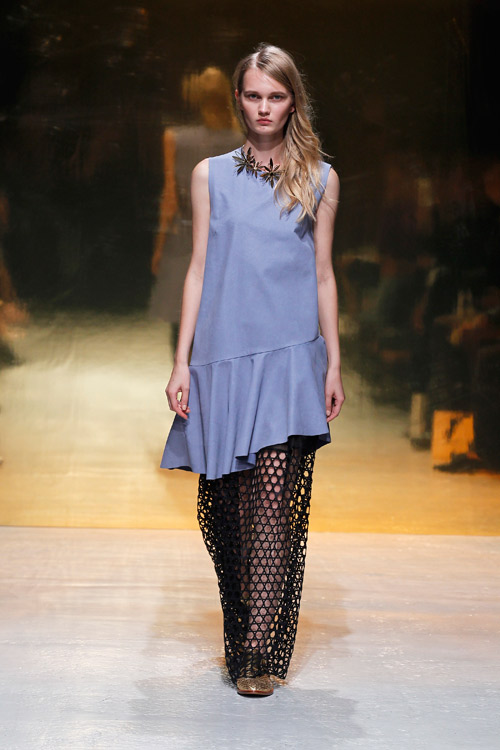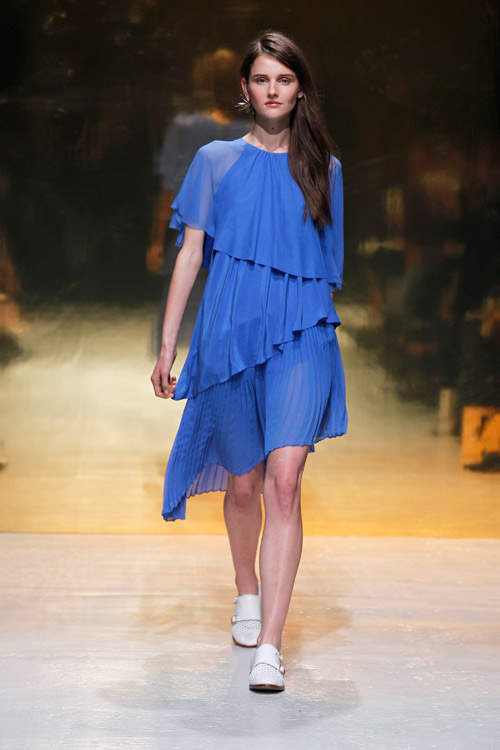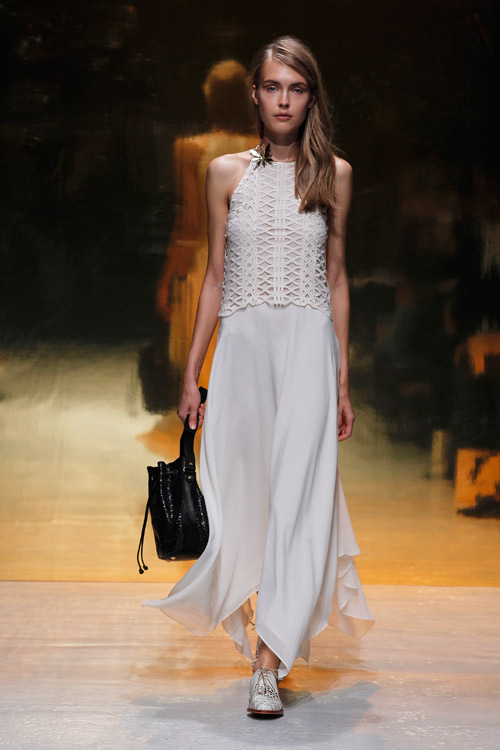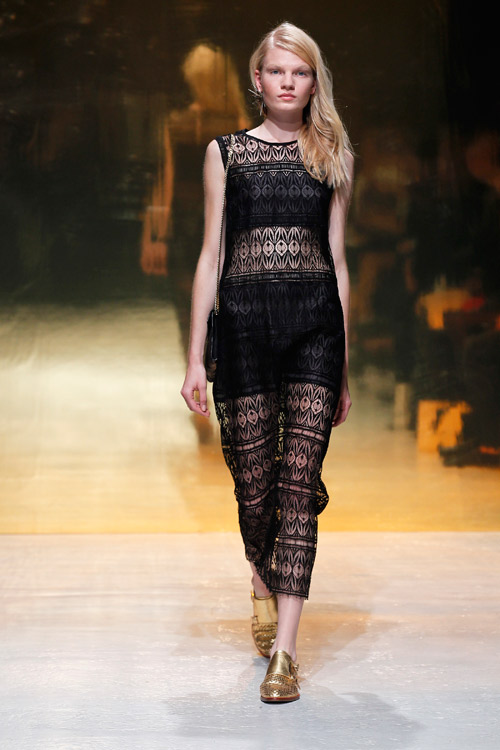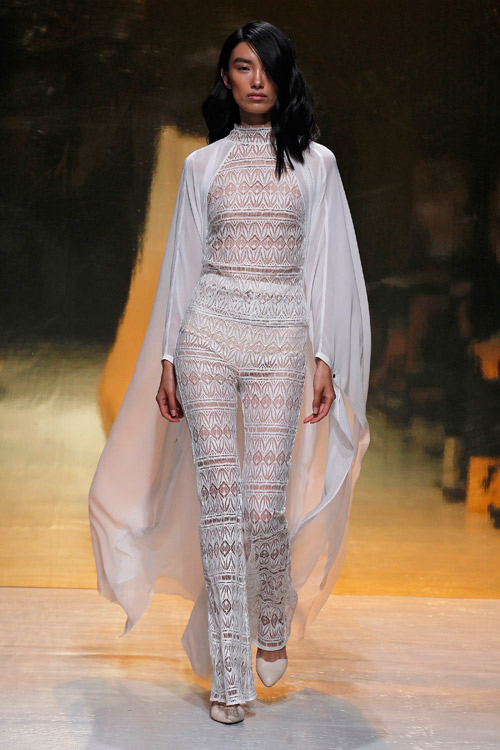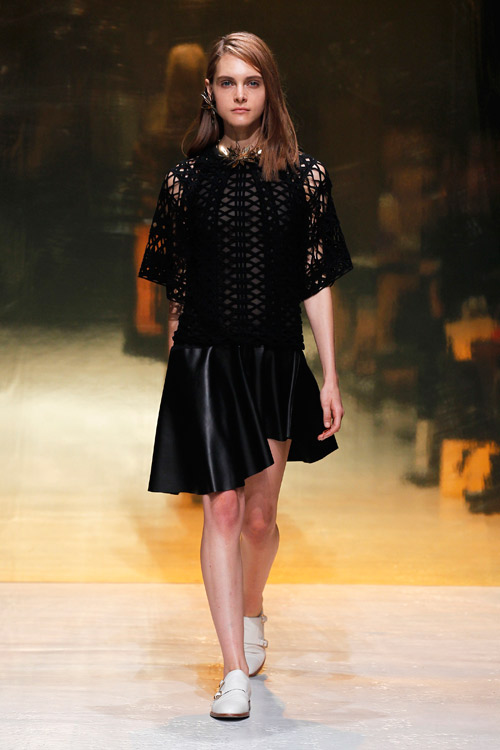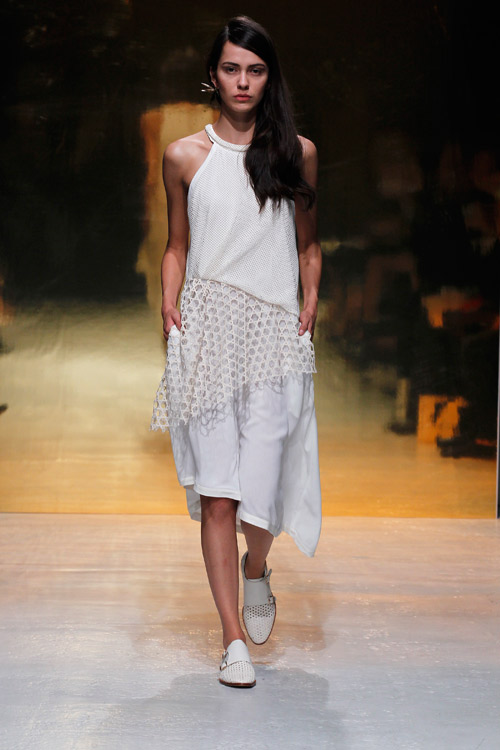 In terms of colour, this collection spans the diversity of delicate powder tones like vanilla, ivory, ecru and melba, along with various black and blue nuances. Shots of cool clear white shine out here and there. The colour palette is rounded off with a matte and vibrant electric blue that is a reference to the time between sunset and sunrise, a metaphor for the poetic nature of the 'blue hour'. Metaphorically speaking, Kaviar Gauche defines the cyclical process of nature, which is further developed in this collection in the form of abstract floral elements. Blossom appliqués also play an independent role and are an element that the designer duo has made into a perennial symbol of their collections.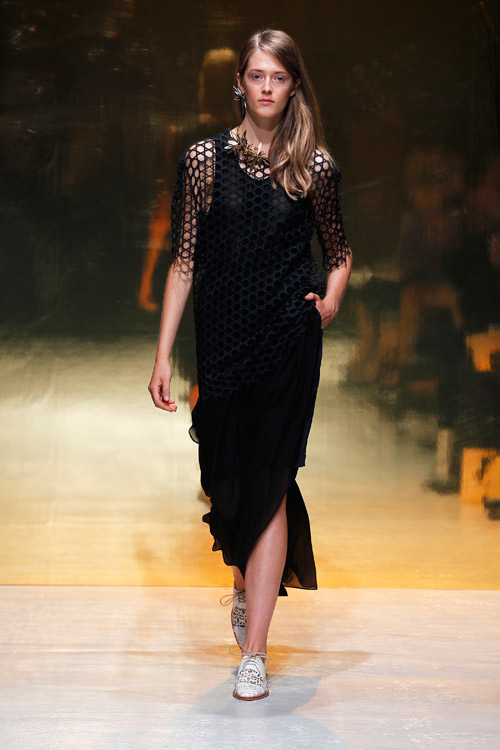 An interplay of homogeneity and contrasts is also mirrored in their material repertoire. Different types of lace are the designers' favoured material, which in summer 2015 also promises elaborate variations. High- quality silk chiffon, the lightest cotton and choice lace from France fuse into wonderful creations, perfected with atypical materials like mesh, basket weaves and geometric raffia structures – contrasts are the dominant theme here for the silhouette, where the image of romanticism and urban resilience is always at the fore. In particular the lightness of these filigree floral all-over lace creations mirror a symbiosis of conventional femininity, quoting elements from bridal couture.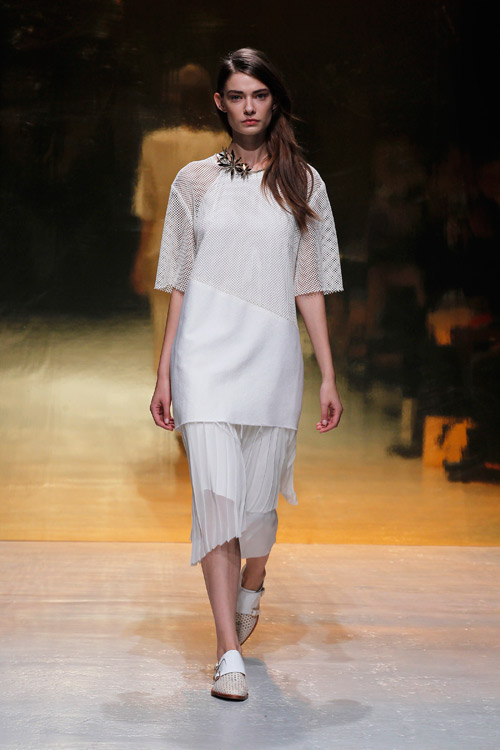 With a nod to the core theme of the diversity of sporting elegance, the collection features stylish bucket bags in the central tones of white, vanilla and black, with mesh structuring echoing the dresses. And the labels' cooperation with shoe company Selve is continuing this season too. As in the previous collection, they have come up with a classic men's shoe to round off the accessories range: a sandal with a coarse woven surface that elegantly shows off the wearer's instep.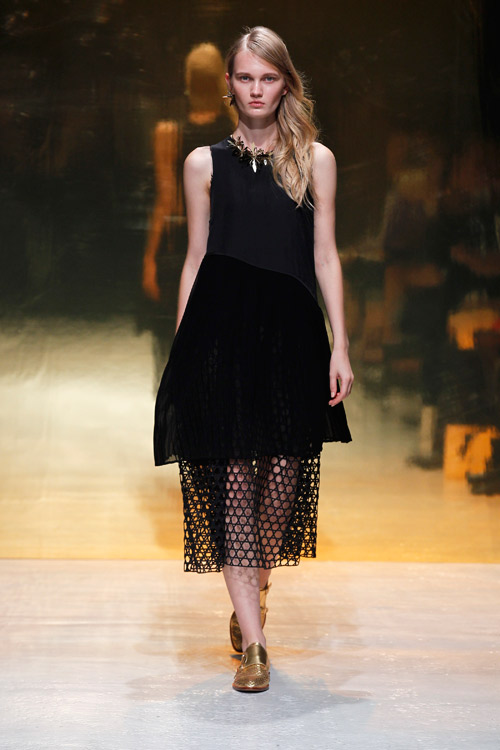 In the Spring/Summer 2015 collection, urbanity, the theme of playful seduction and contrasts rub off on each other, creating an energy that concludes in a feminine casual look. The collection creates a symbiosis of striking creations with delicate filigree elements.


Hits: 5871 | Leave a comment