Swarovski Inspirations and Innovations for Fall/Winter 2015/2016
At Premiere Vision Paris Swarovski presented its stunning new loose crystal assortment, together with the themes that inspired them, for Fall/Winter 2015/2016.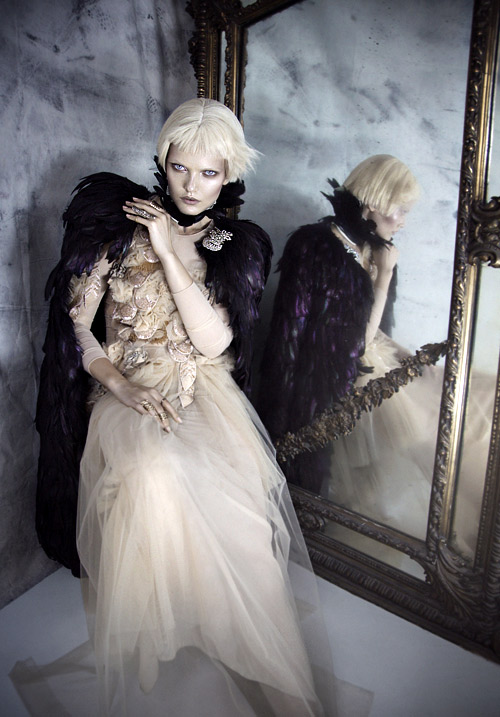 Swarovski's trend experts have pinpointed an urge to step away from digital connectivity for Fall/Winter 2015/2016, illustrated by a growing backlash against the 'always on' culture. Stemming from the realization that algorithms cannot replace human contact and affection, the result is a move away from digital communication in favor of tuning into human emotion. This is reflected in the world of design with a new focus on intuitive creativity.
There are four new Swarovski themes and corresponding crystal innovations for Fall/Winter 2015/16:
THE ART OF EXPRESSION (Classic)
A new freedom from strict precision can be seen in childlike splashes of color and combinations of fun materials. Synthetics such as faux leathers and recycled materials look modern and sumptuous teamed with satin and crystals, while an Eighties influence brings streamlined shapes and glistening metallics. Jewelry is quirky and versatile. The unisex Starlet Flat Back is perfect for the season's sports-chic look, while the attention-grabbing Curvy Flat Back is edgily urban. The new Pavé Thread Ring adds everyday opulence to all segments, while Crystal Fine Mesh gives a sophisticated edge. The whole lighthearted mood is summed up in the joyfully iridescent new Crystal Paradise Shine effect, with its multicolored metallic surfaces of purple, blue and green.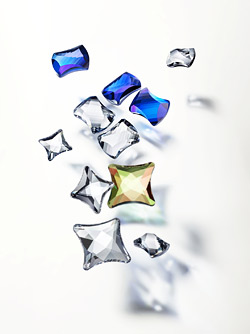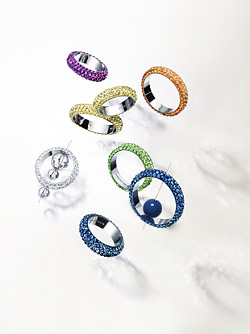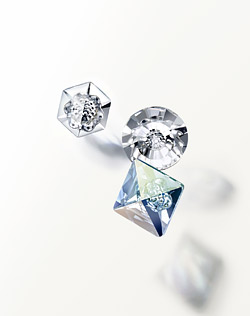 THE STILLNESS WITHIN (Progressive)
Conjuring snow-peaked mountains, solitude and stillness, this theme expresses the desire to switch off high-tech gadgets and rediscover inner tranquility, as we seek to reconnect with nature and ourselves. Organic transparent shapes meet high-tech crystal cuts, characterized by irregularities and subtly broken textures, like shattered ice. Jewelry features geometric forms balanced by crystals resembling gemological growth structures that convey a sense of weightless transparency.
Captured in the new Designer Edition, Vision Round and Fancy Stones by Atelier Munsteiner for Swarovski, these crystals resemble frozen water with flower-shaped air bubbles trapped within them, lending a sense of quiet serenity to garments, jewelry and new segments.
THE SEDUCTION OF TOUCH (Romantic)
Longing for human touch as an antidote to the remoteness of digital communication, we snuggle up in oversized layers that provide luxurious reassurance. Faux furs, plush piles and soft knits are delicately embellished with small crystals, while zips give a nod to the sportswear trend. Luxurious lightweight textiles are trimmed with Crystal Fine Mesh. Accents of vibrant Tangerine bring warmth to accessories in muted neutrals, underpinned by the new Smoky Mauve color, an elegant blend of sophisticated gray and pale lilac. Jewelry is smooth, sensuous and soft-edged, with crystals set closely together to form a fluid entity.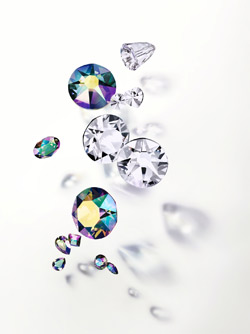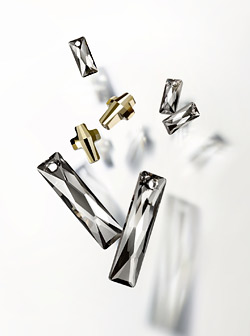 HE DARKNESS OF DESIRE (Glamour)
Finding relief in the fantastical and the mystical, 'The Darkness of Desire' focuses on intuition and mysticism—that richly imagined repository of our deepest emotions, a dark realm of superstition, spells, shadowy secrets and unspoken passions. Jewelry takes on an enigmatic feel: eclectic shapes with tiny irregularities created from heritage materials are juxtaposed with antique beads, pendants and pearls, while tarnished finishes replicate dark desires. The mysterious new Cross Bead, with its echoes of gothic fashion and dark romance, emerges from the subculture onto the international catwalk. It is joined by Queen Baguette Pendant, a majestic newcomer whose timeless cut adds sophistication to both masculine and feminine designs. With Smoky Mauve and Crystal Paradise Shine lending depth and distinction, the whole effect is one of richly ornamented, vintage glamour that is perfect for eveningwear.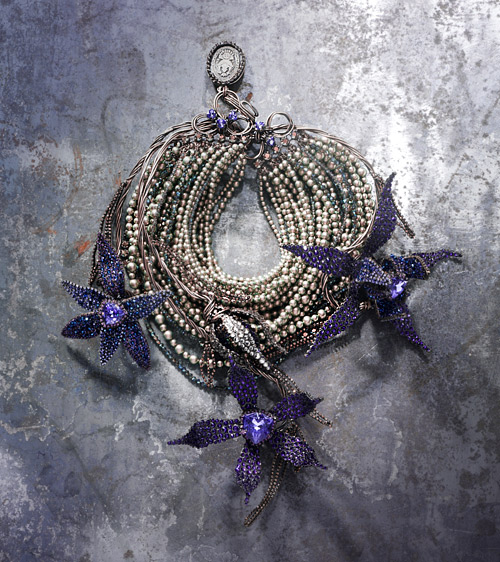 Atelier Munsteiner for Swarovski: Vision Designer Edition
The new Vision Designer Edition marks the first-ever collaboration between Swarovski and Atelier Munsteiner, a German design house renowned for its multi-award-winning gemstone cuts, fine jewelry and sculptures. Combining the uncomplicated appeal of simple cuts with the playfulness of mirrored reflections, these ingeniously crafted crystals bring to mind frozen water, with mysteriously encapsulated air bubbles forming a perfectly geometrical, flower-like shape within the crystal. Available in three of the most popular shapes for Jewelry and Accessories—the round, square and hexagon—it offers endless design possibilities.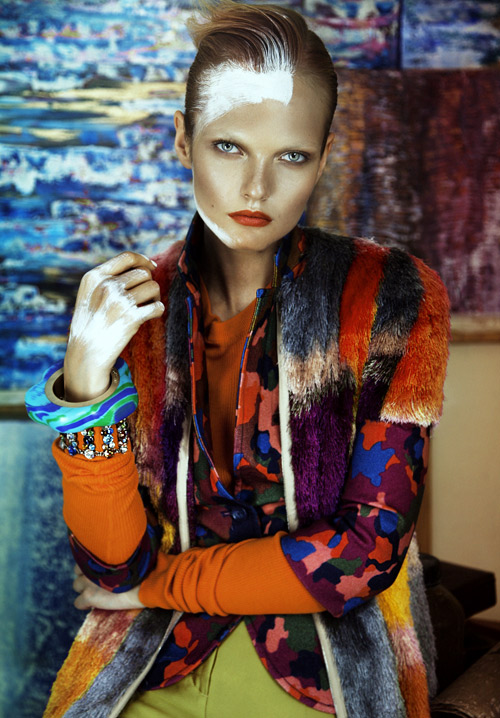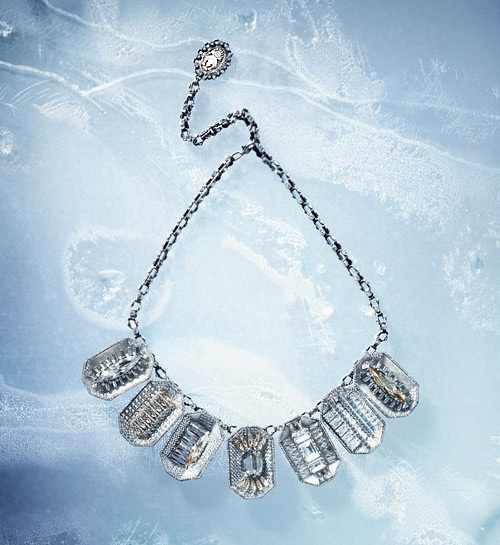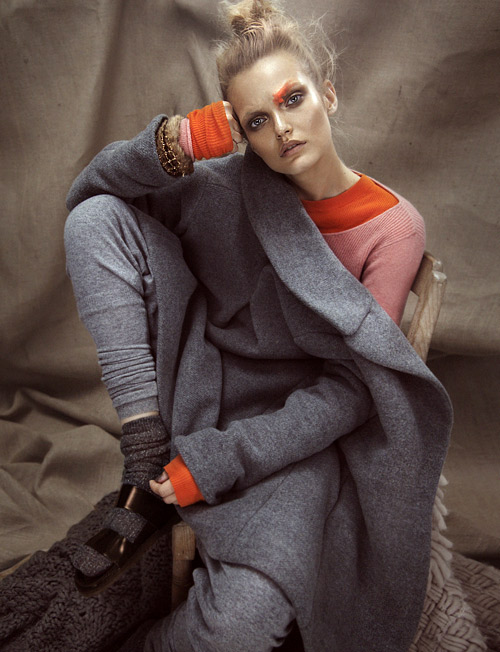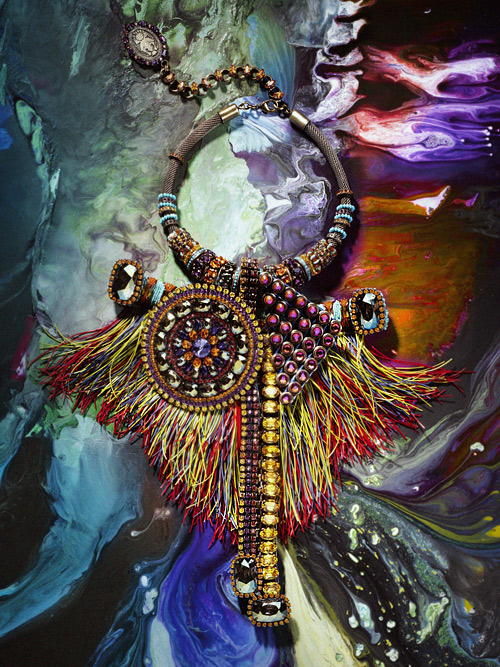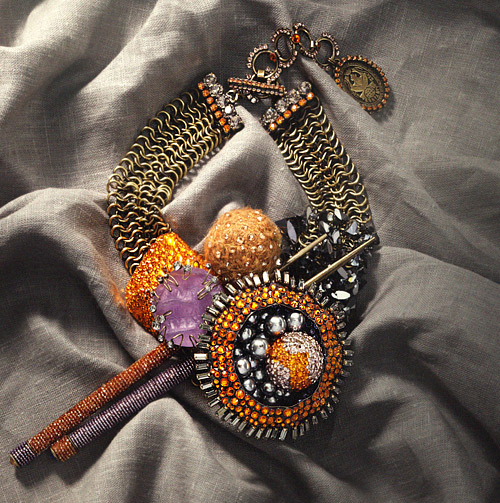 Hits: 18709 | Leave a comment